What do you call a gathering of automotive enthusiasts that meets early on a Saturday morning to show off their rides? Well, if they're drinking coffee while on site, there is a very good chance that you stumbled upon a Cars and Coffee event.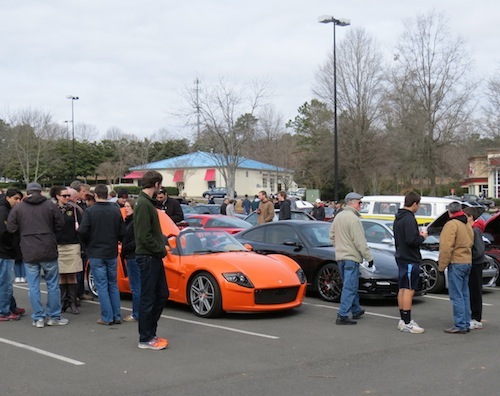 Cars and Coffee Contacts
Calling Cars Coffee an "event" bothers some people who consider these meet ups an informal gathering. For these participants, putting an "official" stamp on them seems to take away the very democratic nature of the function which says, "you bring your car and I'll bring my car." Such gatherings are held across the country and a number of organizers have set up Facebook pages and websites to tell people about their local shows.
My first visit to a Cars and Coffee event was in Nov. 2013, when I stumbled upon one in Cary, NC, not far from my home. That meet up was held at the upscale Waverly Place shopping center until this past spring when complaints about some of the participants and controversy over charging people to attend future gatherings forced its cancellation. Happily, a nearby gathering in Raleigh still goes on.
A monthly gathering of car enthusiasts in Cumberland County, NC.
---
What a difference a day makes. Friday was wet and cold, with snow mixing in at times. Saturday started off cool, but quickly warmed up with an assortment of cars descending upon Millstone Town Centre for Cars and Coffee Fayetteville (NC), a monthly gathering of car enthusiasts and their rides.
I was joined by my two teenage sons, Thomas and Andrew, lured out of bed early with the promise of breakfast on the road and a few bucks for helping Dad out with pictures and notes.
Taking us there and back was a 2014 Dodge Durango Limited, a weekly loaner with generous amounts of room and ample power for the 160-mile round trip. It was our first visit to the Fayetteville event, sandwiched between one in Cary the first Sat. of the month and a new Raleigh event starting up this month, next Sat. to be precise.
Cars and Coffee Fayetteville
The Fayetteville gathering meets faithfully on the second Saturday of each month, year 'round. It is a small group of enthusiasts numbering 80 to as many as 100 during some months. If a special event is going on, such as a car-related movie, the numbers swell to more than 200. On Sat., fewer than 50 cars were on the lot, an assortment of classic Volkswagens, sports cars, tuner models, and one Fisker Karma.
Jessica Hullender organizes the Fayetteville group and spoke with Auto Trends briefly. The group started gathering about five years ago, composed mostly of friends of the original organizer. Unhappy with its low turn out, the responsibility for planning and managing the event was turned over to Hullender, a business manager with the Cumberland County Public Library. She launched a Facebook page to help spread the word and the crowds began to grow.
When asked, "What makes this event cool?," Hullender replied, "Everyone here is really cool with each other and they love checking out each other's rides. It doesn't matter what they have and that's something pretty neat here."
Need for Speed Movie Event
Next Sat. (March 15, 2014), an extra Cars and Coffee gathering will be held at the Fayetteville location. As usual, the lot will begin receiving cars at 9 a.m.
Instead of continuing until noon, the group will stop early to take in a special 11 a.m. showing of the "Need for Speed" movie at the Millstone 14 theater where the monthly meet is held. Cars and Coffee Fayetteville has arranged for a special screening and discounted ticket pricing. Other special events are planned from time to time.

All photos copyright Auto Trends Magazine.
While much of the eastern part of the nation remains locked within winters icy grip, mild weather throughout the southeast has allowed monthly Cars and Coffee meetups to continue throughout much of the Carolinas and extending all the way to Texas. Cars and Coffee Cary (NC) is one event that has continued uninterrupted throughout the colder months despite a pair of snowstorms in Jan. that paralyzed the Raleigh area.
This past Sat., the Cars and Coffee faithful gathered at the upscale Waverly Place shopping center, on a gray, chilly morning. Several hundred drivers and their cars showed up, bringing with them an assortment of antique, classic, performance, and modified rides for display.
Cars and Coffee Cary
Just as it did last month, a McLaren MP4-12C showed up, a two-door convertible that retails for $265,750. Clearly, it was the hit of the show, with dozens gathering around the sports car, sitting inside, or simply admiring its sleek design including its alluring dihedral doors.
Snapping away with liberality, Auto Trends captured dozens of the cars in attendance including the ones pictured here. At the very end of this story, please read up about a new event in Raleigh as well as updated information about two more North Carolina show and tells that begin or return this month.
Jump to: Cars and Coffee Raleigh
Cars and Coffee Raleigh
The Cary, NC gathering regularly fills the allotted parking lots, demonstrating strong local interest in automotive meetup events. That has led to the formation of Cars and Coffee at the Raleigh Grande, a monthly gathering that will supplement, but not replace Cars and Coffee Cary.
Beginning on Sat., March 15, 2014, at 4840 Grove Barton Road in northwest Raleigh, display and spectator parking will be available for this monthly show. Auto Trends talked with Dave Marsic, one of the new events organizers, learning that more than 500 display and parking spaces will be available. The concession stand at the Raleigh Grande will be open during the show with attendees invited to take in a movie afterward. You can learn more about the Raleigh event by clicking here.
Cars and Coffee Greensboro (NC) will also resume on March 15 after a four-month break. And Cars and Coffee Charlotte is also back (now meeting on the second Saturday of each month) despite having been canceled following the stupid antics of a few drivers that wrecked it (literally). Visit the Facebook pages of (Greensboro) and (Charlotte) to learn more.
---
See Also — Spotlight: American Children's Home Show-off Show
Photos copyright Auto Trends Magazine. All rights reserved.