If you are looking for an informal meetup of car enthusiasts, then a Cars and Coffee event is the place to go. This past Sat., I happened upon the local gathering in Cary, NC, featuring more than 100 vintage, classic, exotic, Asian, European and American models.
Cars and Coffee
Cars and Coffee events are held around the country, indeed at locations around the world. Where I live, the Waverly Place Shopping Center on Kildaire Farm Road in Cary is the venue for a group that meets on the first saturday of the month. As the name implies, you simply drive in with your car, grab a cup of coffee and showcase your vehicle for about two hours beginning at 9 a.m. The local group has a Facebook page that provides more information.
The event is well attended with hundreds of people milling about two lots including the larger lot abutting Colonades Way and the smaller lot along New Waverly Place near Whole Foods. As cars arrive, they are organized by type with muscle cars in one area, super cars in another section, and sections devoted to showcasing antique, classic, Asian and European cars.

Model Variety
You're probably not going to want to show up with your late model Ford Fiesta unless it has been tricked out. People are looking for the unusual or hard to attain models, although the organizers do say that this event is all inclusive. Your local club may have different requirements.
Out of dozens of photos taken, Ive included some of the models that caught my eye. By no means is this an even representation of the vehicles on hand. There were a lot more Porsche, BMW, Mercedes-Benz and other European models on hand; my limited time precluded me from taking multiple shots at every section. In any event, two dozen shots are included herein. Feel free to use these for your own purposes as long as you give attribution to autotrends.org.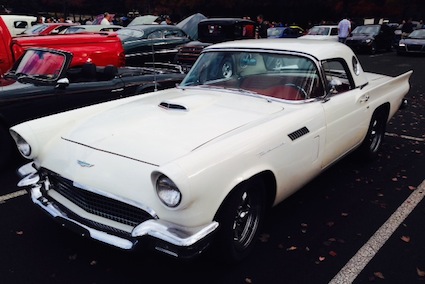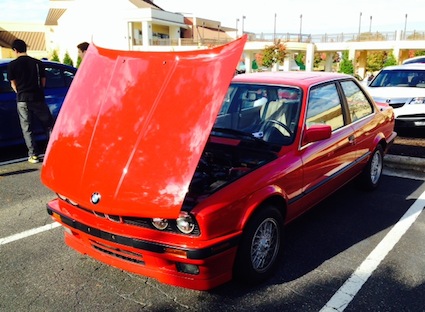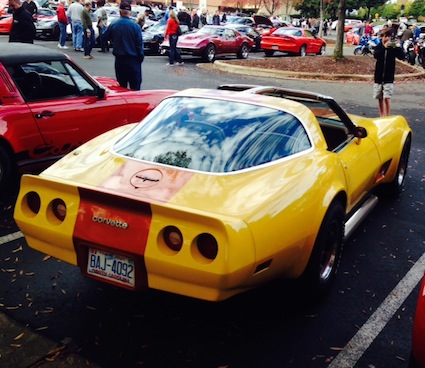 Photos copyright Auto Trends Magazine. All rights reserved.
In keeping with the "auto trends" theme of this website, once in a while, we offer our speculation on where the industry is headed, including specific manufacturers. Some bloggers, however, make sport of speculating, to the point where they make it difficult to separate the baseless from the possible. Lack of credibility, anyone?
Ford Brand Dominates
The Ford Motor Company has been enjoying a surge in business, both here and abroad. Its Ford brand product line accounts for more than 96 percent of its US business with the Ford Edge alone outselling the entire Lincoln product line. That Lincoln is of little consequence to the success or failure of Ford is not necessarily a bad thing, although it does reveal that if this "luxury" brand continues to erode (sales are down by 6.3 percent over 2012), its future is in jeopardy.
Auto Trends believes that Lincoln has some life left in it with a new product possibly announced as early as next month at the 2013 Los Angeles Auto Show. That product would be the Lincoln MKC, a model that shares the same platform underpinning the Ford Escape.
Lincoln followers, few that there are, know that the thin differentiation between Ford and Lincoln products in recent years has been reflected primarily in one area: trim level. Sure, the Lincoln MKZ uses unique sheet metal and much more refined styling characteristics than the comparable Ford Fusion, but underneath it is all Fusion.
2015 Ford Mustang Debut
When the 2015 Ford Mustang makes its debut on April 17, 2014, it will coincide with the 50th anniversary release of the original model. The new model will take a dramatic departure from the current edition with a more modernistic look, one that should appeal to an audience that goes well beyond North America.
It will also be underpinned by rear-wheel drive architecture, putting to rest once and for all the rumors that it might share its platform with a front-wheel drive Ford, such as the Fusion. That also means that Ford won't invest more than $1 billion solely for a car that likely will not sell more than 150,000 units annually worldwide without it also producing some other models.
You only need to look at the Dodge Challenger as one example of rear-wheel-drive platform sharing, a sport coupe that shares much with the Dodge Charger and the Chrysler 300. Another example is the Chevrolet Camaro, a sport coupe that was expected to spawn rear-wheel-drive sedans for Cadillac and Buick. Financial chaos at GM killed that initiative, but the Zeta platform has been used by Holden which has brought to us the Chevrolet SS.
---
See Also — Book Review: Mustang by Design
---
Lincoln Product Initiative
Lincoln's resurrection is likely hinged on at least one other model and that vehicle could very well share parts derived from the Ford Mustang. That vehicle could be a sedan, a model tasked to take on the BMW 3-Series and the Cadillac ATS, to name a few. It may be similar in size to the MKZ, but it won't supplant the entry-level Lincoln. Instead, Ford may rip a page out of Toyota's Lexus playbook and offer three entry points to the Lincoln brand: MKC, MKZ and the new rear-wheel-drive sedan. Lexus serves up the IS rear-wheel-drive sedan, the ES 350 front-wheel-drive sedan and the hybrid CT200h, what has proven to be a successful three-prong approach to snagging aspiring Lexus owners.
But, do not expect Ford to end its Mustang expansion project there. The Ford Taurus and the Lincoln MKS product cycle is now in its fourth year with new models needed by 2016. Add six inches to the Mustang's wheelbase and a foot overall and you have the new Taurus/MKS. Ford will have to bump out its width by two or three inches to make it work, but the cost of doing so would be far cheaper than creating all new products on a fresh platform.
Why a rear-wheel-drive Taurus and MKS? For two reasons: Dodge and Chrysler has one and, Chevrolet offers one through Holden. The other reason is that large front-wheel-drive sedans do not have the same appeal as RWD sedans. Even with optional all-wheel drive, serious luxury shoppers just do not give the Lincoln MKS serious consideration.
China and Beyond
Building out the Mustang platform also keeps with Ford's promise to reduce its current 15 platforms to nine by 2017. Its a cost-saving move, but it is also the right approach to take if Ford is to remain competitive. And with Lincoln entering China in 2014 and more new products in the offing, Ford's premium brand may receive a boost from its iconic stallion, to serve up just the right platform mix that might yield one or two new products.
---