Ford's F-Series brings in huge profits.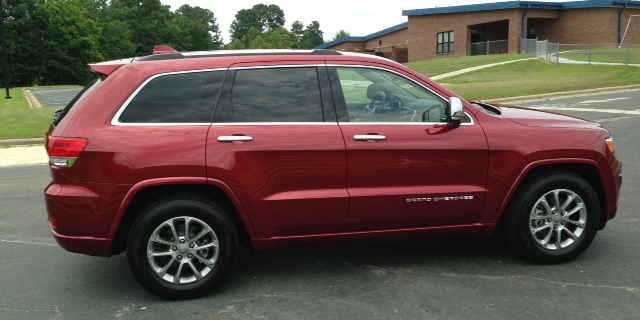 Imagining Fiat Chrysler as part of the Volkswagen Collective.
Speculation about a possible blockbuster Volkswagen Fiat Chrysler merger has come up again. Last summer, Volkswagen and Fiat flatly denied that they were discussing a merger, despite a high-level meeting between key executives.
This week, former Hyundai CEO John Krafcik speculated in his address to the Automotive Press Association at the Detroit Athletic Club that such a merger between the companies would be a "brilliant" move. He noted that the combined entity would provide a better mix of vehicles, one better split among cars, utilities, pickups and luxury vehicles.
We're not saying such a merger would happen or that it even should happen. Still, it isn't hard to grasp what benefits might come out of such an arrangement.
1. Economies of Scale
The bigger you are the better job you can do in spreading your costs around. Volkswagen has invested tens of billions of dollars in modular platforms, what makes it possible for the automaker to build a variety of different vehicles on the same footprint. The upfront cost is daunting, but once implemented it can yield huge savings.
Fiat Chrysler is struggling to enter different segments, something they would be able to do faster by harnessing Volkswagen's flexible platforms. Product development overhead would be reduced, giving the newly-expanded Volkswagen Group a competitive advantage.
2. Deeper Market Penetration
Volkswagen is big on producing mass-market cars, utilities and luxury vehicles. Where it is nearly completely absent is in pickup trucks. Sure, you have the Amarok, but the big profits are in the large trucks, such as with the Ram 1500. By absorbing Fiat Chrysler, Volkswagen gains another market segment and a highly profitable one at that.
Ram Trucks with Volkswagen Group backing would be better able take on Ford and General Motors, the two top pickup truck producers. And if the midsize truck segment strengthens, Volkswagen backing could enable Ram to bring back the Dakota or something like it.
3. Improved Product Mix
The better your product mix, the more likely you will attract customers. In the previous section we touched on market penetration, but it is product mix that can expand your customer base.
Take one look at most Fiat Chrysler brands and they're missing a product or two that could make a difference. With Volkswagen backing, each brand could fill out its product lines and become better suited to take on its competitors. The Chrysler brand could become a formidable competitor to Toyota, Chevrolet, Honda, Nissan and Ford. Jeep might push into Land Rover territory by sharing an SUV platform with Audi. Options that were not attainable before would suddenly be made manifest.
4. Volkswagen Brand Problem Solved
Let's be clear about one thing: the Volkswagen brand is struggling mightily in the US. Successful nearly everywhere else, VW cannot let loose the baggage that has held it back, namely perceived lower quality cars sold at a premium price. Besides, not too many people are excited about the Passat.
A merger wouldn't necessarily benefit the Volkswagen brand stateside. Even so, it probably wouldn't matter. The Volkswagen Group could reposition VW in the US and Canada to take on a more premium status, along the lines of Buick and Subaru.
5. Consolidate Brands
Volkswagen currently manages 12 brands and is doing a much better job of it than GM did when it had 8 brands. Some have criticized Volkswagen for being brand top-heavy, but that hasn't hurt them.
Likely, Volkswagen will seek some sort of brand consolidation if it snaps up Fiat Chrysler. The least painful decision would be to fold Ram back into Dodge. Or, Dodge might be eliminated, Ram kept and Dodge products moved to Chrysler.
The Jeep and Fiat brands look good to go, but if one had to leave that would be Fiat. A doubtful decision, but a possibility. More likely, Volkswagen would eliminate Lancia, keep Alfa Romeo and if Ferrari and Maserati are part of the deal, those brands would survive too. Without any brand elimination, the consolidated Volkswagen Group would comprise 20 brands. That's hard to imagine!
Volkswagen Fiat Chrysler
What are the chance of a blockbuster Volkswagen Fiat Chrysler merger taking place? That's hard to say. There are some people who think that there are cultural obstacles, but they are equating Daimler (an earlier owner of Chrysler) with Volkswagen. Not all Germans are alike…or are they?
Likely, Sergio Marchionne would retire if such a merger was agreed upon. And Chrysler executive salaries would undergo scrutiny, a cost that always raises eyebrows with foreign manufacturers.
Mary Barra's appointment as GM CEO surprised some industry analysts when Dan Akerson announced his retirement last month. But for close observers Barra was already one of a handful of possible Akerson replacements, with Dan hinting as much last summer.
Barra's ascendancy, as significant as it is, may be rivaled by another top level change made as December drew to a close. And that would be John Krafcik's sudden departure as US CEO for Hyundai and his replacement by Dave Zuchowski, vice president of sales.
John Krafcik and Hyundai
Krafcik's departure was sudden and not expected. Moreover, he has been credited with orchestrating Hyundais upsurge, expanding it beyond its budget brand limits to become a comprehensive company encompassing mass appeal, premium, and even luxury models under the Hyundai appellative.
John Krafcik joined Hyundai in 2004 as vice president of Product Development and Strategic Planning, and has been credited by the automaker for reshaping its American strategy and product lineup with strengths in design, innovation, and value. In 2008, Krafcik was named US CEO.
Hyundai Assurance Program
Among the highlights of Krafcik's tenure, what followed stints with the Ford Motor Company and the joint Toyota-GM NUMMI venture, was the launching of Hyundai Assurance, a consumer program highlighted by a 10-year, 100,000-mile powertrain warranty. In Jan. 2009, Hyundai expanded the plan to permit customers to return their newly purchased vehicles if they lost their jobs within the first year of ownership. That program was ended in spring 2011 with 350 customers taking advantage of the offer according to Consumer Reports. Its buy back program generated tremendous goodwill for Hyundai during a tough economic time. Indeed, along with Kia and Subaru, the three brands were the only ones to enjoy continued sales increases for the duration of the Great Recession.
John Krafcik was at the helm as Hyundai rolled out several blockbuster products. In 2009, its Genesis sedan raised Hyundais visibility considerably and resulted in the brand garnering its first-ever North American Car of the Year award. Three years later the Hyundai Elantra took those honors. In the interim, Hyundai launched several new or updated models including the Genesis Coupe, the Sonata sedan, and its high-end Equus sedan.
Krafcik's tenure wasn't flawless. In 2012, Hyundai and Kia agreed to reimburse approximately 900,000 owners of select 2011 to 2013 models for overstating mileage numbers. Following consumer complaints, the EPA launched an investigation and determined that highway fuel economy numbers were exaggerated by 1 to 6 mpg. Hyundai blamed procedural errors for the mistake, what will ultimately cost the two companies hundreds of millions of dollars.
Lagging Hyundai Sales
Hyundais US sales have also flagged this year, falling behind the industry's pace as capacity constraints and import limitations weighed in. Yesterday, Auto Trends speculated that Hyundai and Kia will resolve their mutual constraints by building a new factory in the United States.
John Krafcik earned a reputation for being likable and approachable, with the CEO dispensing his thoughts via Twitter updates and chats. Even prior to his sudden departure, Krafcik was rumored to be in the running for one or more undisclosed positions with competing manufacturers. Whether those rumors led to Krafcik's departure is not clear. However, his contract with the automaker was ending on Dec. 31, 2013.
Dave Zuchowski Ascends
Zuchowski has been with Hyundai since 2007 following a long career with the Ford Motor Company. Addressing the change in leadership was Im Tak Uk, executive vice president and chief operating officer of Hyundai Motor Company, During his time at Hyundai, Dave has been instrumental in our growth, especially among our dealers. He exhibits a rare combination of passion, intelligence, creativity and diligence, and we are confident that he is the right choice to build on John's momentum and take Hyundai to new and greater heights.
Those greater heights include rolling out Hyundais fuel cell program when the 2015 Hyundai Tucson FCV hits the market this spring.
John Krafcik photo courtesy of Hyundai Motor America.
When Hyundai made it known in 2008 that it had no plans to launch a separate luxury brand to market its top of the line vehicles, this writer and many others did not expect that its marketing strategy would succeed. Five years have passed and we've been proven wrong as both its Genesis coupe and sedan, and its Equus sedan have enabled Hyundai to extend its reach into the premium segment.
Premium Market
Indeed, Hyundai claims that its Genesis line and Equus sedan enable Hyundai to claim 9 percent of the premium market or well above the 5 percent market share the entire Hyundai brand enjoys.
In 2012, Hyundai sold 33,978 Genesis units and 3,972 copies of its top-of-the-line Equus, seeing its share of the premium market increase from 8.8 to 9.0 percent. Within that market are the three segments where Hyundai competes: entry-premium coupe (Genesis coupe), mid-luxury (Genesis sedan) and premium luxury (Equus).
HCD-14 Concept
At the 2013 North American International Auto Show in Detroit, Hyundai revealed the HCD-14 Genesis concept, a vehicle it says provides a hint at the future technologies its premium models could offer. The concept reveals a stunning sedan design that could presage the next generation Genesis sedan or an all-new model, perhaps both.
John Krafcik, president and CEO, Hyundai Motor America told NAIAS media representatives that the success of its current premium models …paves the way for a new generation of rear-wheel drive premium products. Krafcik added that the HCD-14 gives an …indication of the focus were placing on driving dynamics and technology.
Fluidic Sculpture Design
In recent years Hyundai has been using the term fluidic sculpture to describe the sculpture or body lines evident in its current design language. That design is most popularized in its midsize Hyundai Sonata sedan and is evident in its other cars. A variant of that language is apparent in its SUVs.
The HCD-14 attempts to update that design language, at least for its top of the range models. The concepts face is described as bold with sporty LED headlamps flanking the sides. Deep fog lamp ports and a muscular hood advance this models premium look. The grille is as pronounced as you would find in an Audi, but with its own design characteristics present.
The concept features a familiar sedan profile with a sharply tapered cabin and shore rear deck. Notably, the almost coupe-like look of the sedan offers hint of something unusual rear pivoting rear doors that provide ease of access to the second row. Such suicide doors are not commonly used these days, but have been played with by designers from time to time.
Cabin Comforts
Inside, the designers worked to make the cabin more ergonomically useful for the driver. Gone is the traditional center stack, replaced with a driver interface that Hyundai says is intuitive and offers 3-D hand-gesture recognition. The system makes use of eye-tracking, thumb controls and gesture recognition to control infotainment, audio, climate commands, navigation and smartphone access. A windshield head up display reduces driver distraction.
Hyundai explains that its proprietary interface represents the companys vision for its premium vehicles, one that …sets a new benchmark in active driver safety technology.
Engine and Transmission
The HCD-14 concept is powered by Hyundais 5.0-liter TAU V-8 engine, an award-winning 32-valve motor currently available in the Genesis sedan and standard in the Hyundai Equus. That engine is paired with an eight-speed automatic transmission with manual shifting capabilities. The concept is equipped with paddle shifters for more engaged driving.
As far as concepts go, Auto Trends sees this model going into production, perhaps without the rear pivoting rear doors. That latter change would be a shame as so-called safety concerns eliminate what we see as an important design characteristic for this handsome sedan.
---
See Also — Second Look: 2017 Genesis G80
Photo courtesy of Hyundai Motor America.