You were driving down the road and – oh no! – you heard it. Crack. A stray pebble got kicked up by the car in front of you and it put a neat little crack in your windshield.
So what do you do? Obviously, it needs to be fixed, since it's a huge safety hazard and you could get into a lot of trouble with the authorities if you're caught driving around with a cracked windshield. You can take it to a dealership or an auto body repair shop; sometimes though the cost is astronomical and you are tight on cash this month. If you're the kind of person who enjoys doing home auto repair, though, then replacing the windshield on your own might be the way to go.
Supplies You Will Need:
A new windshield, a painter's knife and sealer (available at auto parts stores or online), a scraper blade, suction cups, a gasket sealer and a rubber hammer. And if you can, get a friend to come over and give you a hand.
Step 1: Purchase a Replacement Windshield
If you check online, there are sites that sell replacement windshields. Be wary and skeptical before forking over your credit card number it might be the wisest option to just call. That will also be helpful when it comes to price, because if you have a live human being on the phone, there's a good chance you can haggle on the cost. If you do not like any of the prices online, another option is to try to find a second-hand windshield. While not as commonplace as side windows, there are still whole windshields out there, if you know where to look. Try salvage yards first. If that yields nothing, try looking around on Craigslist in the auto parts section (or post your own ad saying that you're looking for one – it's free and easy).
Step 2: Remove Windshield Wipers
It might seem obvious, but nonetheless, remove the windshield wiper assembly on the car before you go for the glass. Make sure you remove the trim and then unscrew the bolts which attach the wiper to the car.
Step 3: Remove Molding
With your painter's knife, carefully remove the molding that surrounds the windshield. Take care not to damage it, as you will be reusing it later.
Step 4: Remove Gasket and Existing Adhesive
At this point, it's important to note that your new windshield should be set up on a pair of carpet-covered saw horses. It's also important to put a padded barrier between the glass and the wood so that the glass isn't scratched and the wood isn't messed up by the sealer that will go on later.
The rubber gasket needs to be peeled off the channel and set aside. You can start removing the existing adhesive now, taking care to do a thorough job with a scraper blade. The key is to make sure you get all of it, as any remaining old adhesive will prevent the new from being properly installed. Also, check both the exterior and the interior for the old adhesive.
Step 5: Remove Old Windshield
Now the really fun part: it's going to be heavy, but you're either a big tough guy or lady or you nabbed a friend to help, right? Use the suction cups to lift off the old windshield and set it aside. With any luck, it will stay in one piece while you do this.
Step 6: Prepare the New Windshield
Clean the new windshield so that it's smudge free (around the edges especially). At this point it's a good idea to reapply the gasket, working it around the perimeter of the windshield. Apply gasket sealer by pulling back the edge of the gasket and brushing it on so that it's between the gasket and the windshield. Don't miss any spots and don't fuss that it's messy. The central thing is that you create a good seal.
Step 7: Reinstall New Windshield and Molding
Now you can use those suction cups on the new windshield and carefully lift it into place. Lay it on the frame, pressing with even pressure. If necessary, use the rubber hammer to "seat it." Then you can reinstall the molding, by setting it in place and pushing it down. That rubber hammer might come in handy again, too, right about now.
That should do it! It's always a good idea to check for leaks when you're done, too.
---
See Also — Where Can I Find My Cars Paint Code?
You understand the importance of assembling a tool kit for your home, but do you have a tool kit for your car? With a brand new car, it is easy to overlook the need for such tools, but if you're in an accident something as simple as duct tape or a charger for your cell phone can come in handy.
Assembling a tool kit for you car includes those items that will enable you to make repairs to your automobile as well as those things that can ease your wait while help is on the way. Lets take a look at the essential tools you can keep in your car.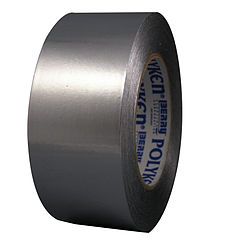 1. Duct tape — Useful for mending just about anything, duct tape can seal a leaking hose or reattach a light or bumper that comes dislodged from your car. Not the prettiest tool in the tool box, but perhaps one of the most essential and cost effective items your emergency kit can include.
2. Scissors — You may be able to rip the duct tape to get the pieces you need off, but a pair of long nose scissors can do the trick quickly and effectively. Scissors can be put to other uses to including cutting gauze if you are injured.
3. Multi-head screwdriver — You don't have room to carry a set of screwdrivers in your car, but a quality multi-head screwdriver can do the trick. Look for a 10-in-1screwdriver/nut driver set that feature both Phillips and flathead screwdrivers of varying sizes along with nut drivers and torx head drivers.
4. Pliers — Both needle nose and wire cutting pliers can come in handy if your car breaks down. The needle nose plier can slip into tight spaces where your hands cant reach. The wire cutter pliers can be useful for fixing wiring that works loose such as the connection to your personally-installed audio system.
5. Hammer — An indispensable tool to handle most any repair project, a ball-peen hammer or mallet can be useful in tapping a part that has worked its way loose in your car. That old hub cap on your classic car can stay in place with some careful tapping of this hammer.
6. Work gloves — Any type of emergency project with your car requires the use of a good pair of work gloves to protect your hands. Not the cheap cotton kind that simply cover your hands, but the padded leather or synthetic leather pair that gives you a better grip of your hand tools.
7. Adjustable wrench — Look for a three-piece wrench set for your adjustable wrench. A wrench comes in handy when you need to adjust bolts that have worked loose. Gain access to that nut you otherwise wouldn't be able to reach with a pair of pliers or a regular wrench.
8. Fire extinguisher — A car can go in flames within seconds if an oil leak is undetected and suddenly ignites. A compact extinguisher is suitable for your car, one that issues dry powder to handle a variety of fires including electrical. Your car contains a number of combustible materials including upholstery, wood products, cloth and paper. A fire blanket can come in handy too, representing a sheet of fire retardant that can cover small flame ups.
9. Bungee cords — What on earth would you use a bungee cord for? Lots of things including keeping everything secure on your roof rack and act as a map holder when affixed to your car door. Use a bungee cord to hold something in place where duct tape just won't do.
10. Flashlight with batteries — Invest in a high-quality flashlight, one that is water-resistant, discharges a bright light and is easy to grip. Consider a light that can be fixed from the inside of your open car hood or one that has a twistable base and can rest on your radiator or car battery. A rechargeable light can work wonders or a battery flashlight can do the trick, but bring along several backup batteries for your standard flashlight.
11. Car charger — You bring your cell phone with you wherever you go. To keep it charged, you need a quality recharger that can be hooked into your car's cigarette lighter. Look for one with a 20 amp to handle all of your recharges including your cell phone, laptop, iPhone, iPad, you name it.
12. Jumper cables — Never skimp when it comes to jumper cables. Choose heavy-duty, 4-gauge cables to provide the durability you need. Short cables won't do, choose 25-foot cables ideal for times when you don't want to push the car out for a jump.
Additional Tools
If you drive long distances and your trip takes you through remote places, a car emergency kit is ideal too. Such kits should include drinkable water, nonperishable food, an emergency thermal blanket, beacon flares, and a first aid kit. You can buy these items separately or purchase a kit containing everything that you need.
---
See Also — You Can Put Together a Car Emergency Kit
How to assembly a do-it-yourself kit for you car.
Retail stores including auto parts retailers sell car emergency kits that contain many of the essentials you need in the event of a breakdown. Some new cars come equipped with these kits or they can be ordered as a special, but expensive option. Putting together your own emergency kit is simple to do and can save you a bundle compared to the ready-made store variety.
Buy a duffle bag — First things first! You'll want to purchase a container to hold your kit and a small duffle bag can do the trick. That bag should come with handles and straps for ease of holding, and may include pockets and compartments to separate your items. A strong bag can be had for $20 or less and is available from most any general merchandiser. This bag can be placed in your trunk or behind the last row seat in your SUV or van.
Let there be light — Keep a working flashlight in your glove box or in the front console storage compartment. You can also place a backup light in your emergency kit with an extra set of batteries. Use the same battery grade for both flashlights and keep unused batteries in a sealed container within the bag to prevent leakage.
Jumper or booster cables — No car should be without jumper cables and an 8-gauge 10-foot or longer heavy duty booster cable is ideal. Don't scrimp here as low-quality cables can fail you when most needed.
Flares and triangles — Imagine that your car has broken down on a desolate, foggy road with the occasional vehicle sweeping by at high speeds. A pack of three road flares, especially those designed to stay lit under extreme weather condition, is essential. You can line these up behind your vehicle at 100- or 200-foot intervals and alternate them with reflective red and orange emergency triangles.
Tools of the trade — The problem with most store-bought emergency kits is that the quality of tools are cheap, typically the $1 "made in China" variety sold at flea markets. Likely, you have extra screwdrivers, hammers and pliers you can put in your kit. If not, invest in quality Craftsman, Stanley, Husky, Klein Tools and DeWalt products to have dependable tools on hand.
Miscellaneous, but still important — Other items you can include in your car's emergency kit include work gloves, electrical tape, scissors, an air compressor, air gauge and maps. A backup battery or recharger for your cell phone might be best left in the glove box or center console.
Other items — What about a first aid kit or essentials such as bottled water or long-life food? Those items can be packed separately — your emergency kit is something you want to have by your side as you work under the hood or change a flat tire, with first-aid kits and the essentials brought out to replenish the body.
Considerations
Place each item in your duffle bag with flares and other vulnerable items kept in dedicated, padded compartments. Check your kick regularly, at least once annually and alway before a major trip, to verify that everything is in place and in working condition. Replace aged batteries and old flares as needed. A written or printed list of kit items can make taking inventory a quick process.
---
See Also — Essential Tools to Keep in Your Car
Photo: Dvortygirl