The long-awaited Ford Bronco Raptor was officially unveiled today, the range-topping model for this off-road SUV. The Raptor features an additional 4.8 inches of ground clearance, an 8.6-inch wider track, and an upgraded four-wheel-drive system.
Powered by a 3.0-liter twin-turbocharged V6 engine paired with a 10-speed automatic transmission, the Bronco Raptor features a reinforced frame to withstand punishing off-road conditions.
---
---
The Ultimate in Power
Designed and built by Ford Performance, the automaker describes the Bronco Raptor as the "world's first Ultra4 racing-inspired SUV." Ford claims that the specialty model is "capable of highway-speed desert-dune conquering and Baja rock-crawling." The automaker says the Bronco Raptor is the "most powerful street-legal Bronco ever." Customers may begin to place their orders in March, although most of the models will go to existing reservation holders.
If you want one, prices start at $69,995, including the $1,495 destination charge. That's just over double the price of the base four-door model.
---
---
An Aggressive Appearance
The Bronco Raptor features a more aggressive look with massive fenders and flares. Indeed, the Raptor is 9.8 inches wider than the standard model. The changes allow for 37-inch BF Goodrich all-terrain tires. Notably, those tires are two inches larger than those offered in the Jeep Wrangler Xtreme Recon. Yes, Ford not only intends to battle the Wrangler but to establish the Bronco as the leader in all matters of off-roading.
From the front, the most noticeable change involves the grille with huge "FORD" lettering. This results in a larger opening for enhanced cooling. The Raptor has its own bumper while the front skid plate is large and outfitted with a pair of tow hooks. At the lower corners are a pair of HID LED lights. They're not street legal, therefore they come with removable caps to use while rock crawling. Functional vents on the front fenders and hood supply improved breathing for the engine. A rock rail with steps eases entry and exit. That's a wise move as the Bronco Raptor boasts 13.1 inches of ground clearance.
Under the Hood and Chassis Support
To the surprise of absolutely no one, Ford harnessed one of its EcoBoost-brand engines to motivate the Bronco Raptor. Specifically, a 3.0-liter turbocharged V6 engine generating at least 400 horsepower (with premium fuel) works with a 10-speed automatic transmission to send power to all four wheels. Ford Performance added intercooling and air-induction systems to withstand elevated ambient desert conditions. This model has a 4,500-pound tow rating, a 1,100-pound payload limit, and weighs 5,733 pounds.
A high-performance off-road stability suspension (H.O.S.S.) system with Live Valve technology features FOX 3.1 internal bypass semi-active dampers (3.1-inch diameter), uniquely tuned for the front and rear, and includes integrated reservoirs up front and remote reservoirs in the rear. The Bronco Raptor comes with suspension height sensors and other sensors at the corners. All are tasked with monitoring conditions and making hundreds of adjustments per second, thereby adjusting suspension tuning appropriately.
Other features include exclusive Ford Performance-designed front and rear control arms. These supply maximum wheel travel of 13.0- and 14.0-inches front and rear, respectively. Ford says that translates to 60-percent more play upfront and 40-percent more over the rear compared with the standard Bronco model. Further, F-150 Raptor influences are evident, particularly with the electric power steering rack and housing and the larger-diameter inner and outer tie rod ends. Each was upgraded to outfit the Bronco Raptor.
---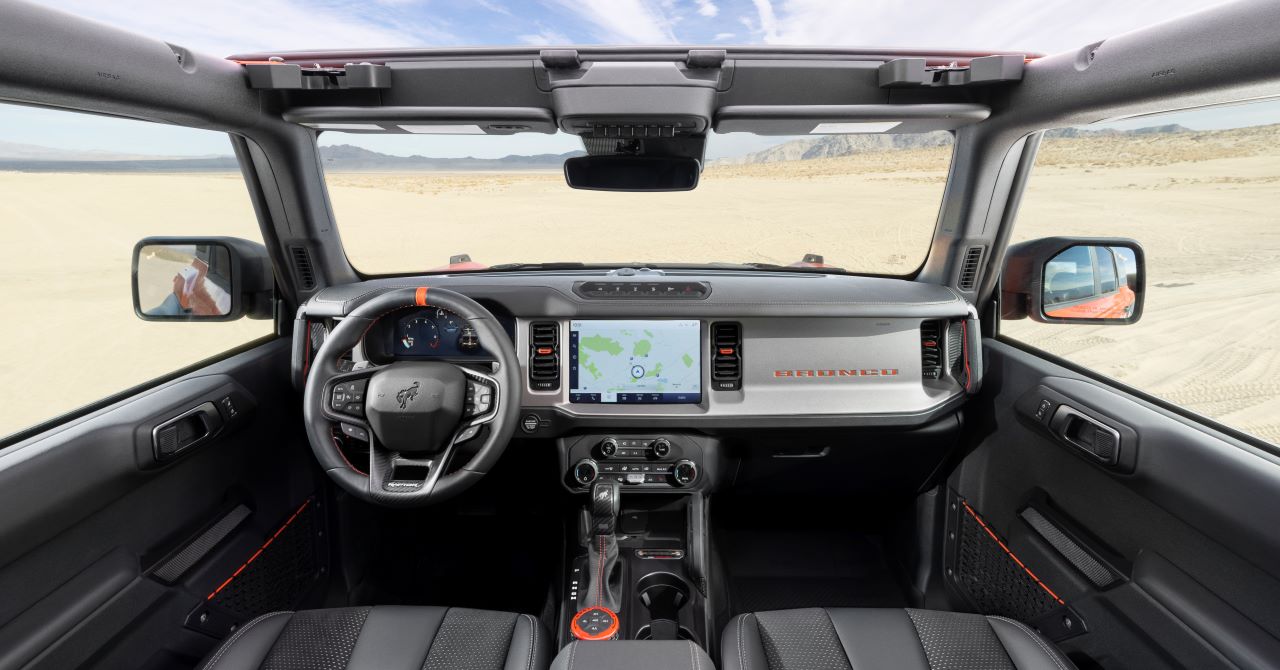 ---
---
Interior Enhancements
Numerous upgrades dot the Bronco Raptor's interior beginning with the 12-inch all-digital instrument panel set within the heritage-inspired wrap. On the standard model, are Black Onyx marine-grade vinyl seats along with rubberized washout flooring. The Ford Performance Code Orange accents offer a fitting contrast to the dark interior. Other enhancements include a rotary dial, dash vents, door netting, and steering wheel stitching embellishments as well as a Bronco logo on the instrument panel. Further, the grab handles, steering wheel light surround, and gear shifter sport low-gloss carbon fiber highlights.
Among the are laser-perforated Black Onyx Neo suede seats, vinyl-wrapped instrument panel topper, leather-wrapped outer seat bolsters, and carpet flooring. Also available is a chunkier and sport-contoured steering wheel with magnesium paddle shifters with a gloss black Raptor logo center.
---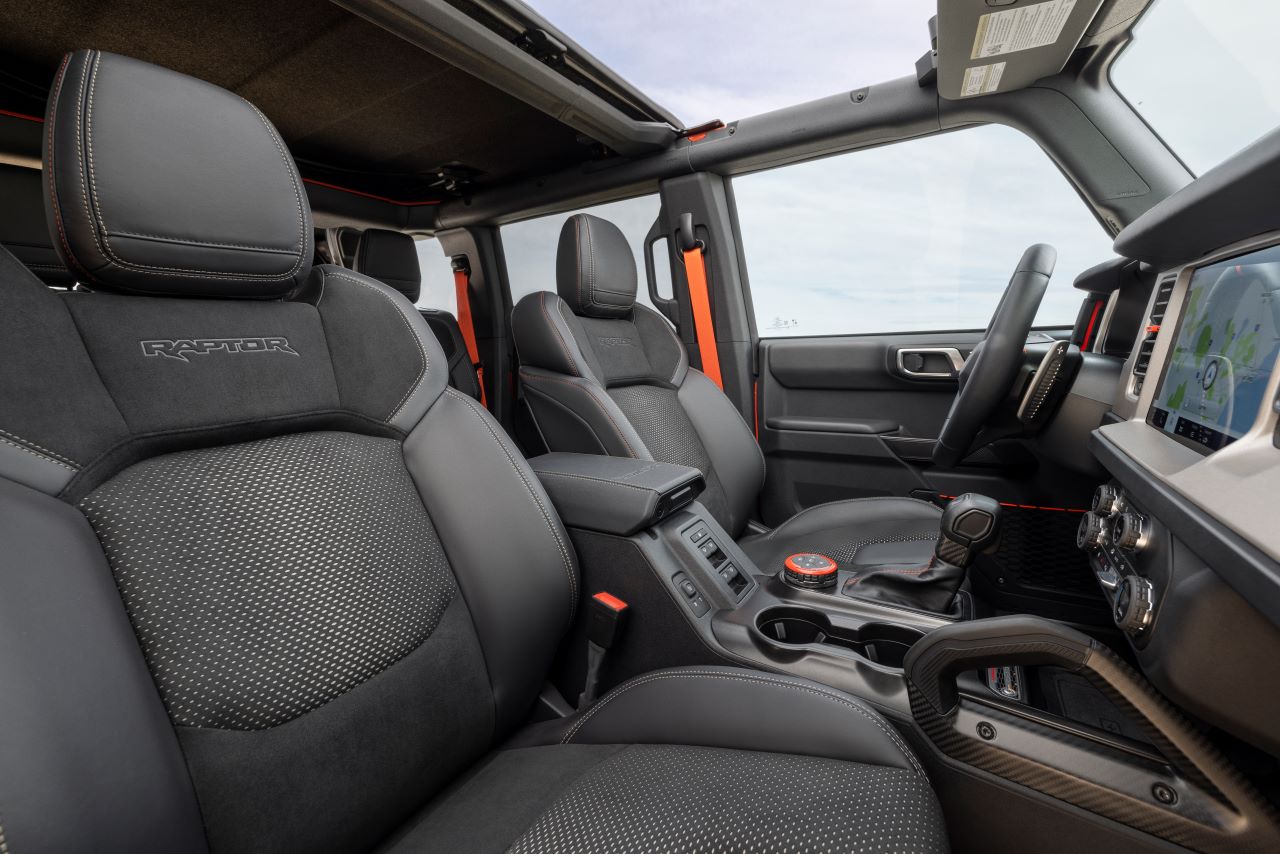 ---
The Ford Performance-designed front seats are exclusive to this model, devised with uncompromising foam side bolsters to supply the ultimate support on the most challenging terrain.
A 12-inch touchscreen center display with swipe capability, the latest SYNC interface, and enhanced voice recognition are included. An exterior camera with 360-degree viewing capability is standard. An available Lux Package brings in such features as a 10-speaker B&O audio system and adaptive cruise control.
Ford Bronco Raptor Considerations
Fully outfitted, the 2022 Bronco Raptor may approach $80,000. That price is not for the faint of heart. Nevertheless, its appeal for racing enthusiasts is evident. For those wanting a sneak peek of the new model, a visit to the King of the Hammers in the Johnson Valley in California is in order. That's where the Bronco Raptor will be on display on Feb. 3. Lastly, Ford and Bronco will continue as the official truck and SUV of the Ultra4 series.
---
---
See Also — In Photos: 2021 Ford F-150 Raptor!
Photos courtesy of the Ford Motor Company.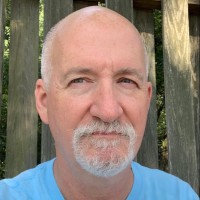 Latest posts by Matthew Keegan
(see all)