Hurricane Sandy left a trail of destruction as it slammed the northeastern U.S. coastline in late October. Weeks later, the damage is still being totaled as insurers are paying claims expected to exceed $50 billion. Among the claims filed are for storm-damaged cars, including vehicles that may look fine on the outside, but were destroyed by flood waters. Unsuspecting car shoppers should be aware that some of these vehicles might be resold, with the National Insurance Crime Bureau warning that affected cars may be passed off as undamaged.
Flood-Damaged Vehicles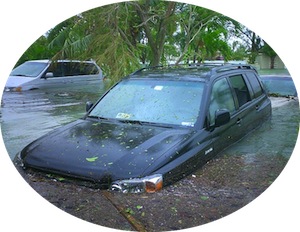 "Unscrupulous salvage operators and dealers often try to conceal from potential buyers the fact that vehicles have been damaged by a natural disaster," said NICB President and CEO Joe Wehrle. Wehrle's organization is working with law enforcement professionals to identify these vehicles so that they are not entered into the National Motor Vehicle Title Information System or NMTIS. That system currently includes more than 88 percent of the U.S. vehicle inventory.
The problem of salvaged vehicles being passed on to consumers came to a head in 2005 following Hurricane Katrina. That storm, plus Hurricane Rita, destroyed hundreds of thousands of vehicles, some that were later cleaned up and retitled in other states. To counter this problem the NICB developed what is known today as VINCheckSM, a service that enables consumers to learn if a vehicle has been declared salvage by a participating member insurance company. That information is available for free to consumers on the NICB website.
Fraud Warnings
Following Hurricane Sandy, the NICB has been working with law enforcement officials while warning that unscrupulous towing companies might take advantage of insurance companies and consumers. The NICB also notes that home contractors will often descend upon a disaster area, promising to make repairs, but taking homeowners cash without doing the work.
In addition to checking the NICB database, consumers can also have a vehicle inspected to ensure that it hasnt been damaged in a flood. Tell-tale signs include carpeting that may have been replaced, lights that are not working, electronic accessories that are malfunctioning as well as signs of a water mark in the trunk, in the cabin or underneath the hood (see How to Check for Flood-Damaged Cars).
Mechanic Inspection
Finally, consumers should always have a used car inspected by a reliable mechanic before following through on a deal. Your mechanic can put your vehicle on a lift, inspect its suspension, brake and emissions systems, and evaluate the vehicle for possible signs of trouble including alerting you to possible damage from flood waters.
---
See Also — Truck Tailgate Thefts Are on the Rise