The state of California continues to demonstrate leadership in advancing a sustainable energy policy with its Clean Vehicle Rebate Project the cornerstone from which it advances this initiative. Funded by the California Environmental Protection Agency's Air Resource Board, this California Center for Sustainable Energy managed program provides state rebates of up to $2,500 per eligible vehicle. Purchased and leased vehicles are covered under its program.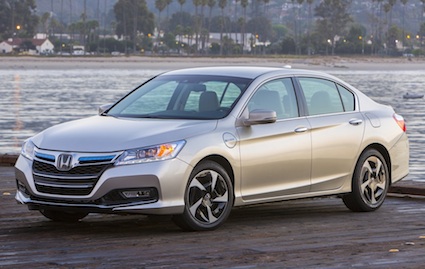 Clean Vehicle Rebate Project
The Clean Vehicle Rebate Project was designed with the sole purpose to encourage and accelerate zero-emission, on-road vehicle deployment and technology innovation.
Eligible vehicles must have been bought new to qualify for a California tax break. Three categories of electric vehicles are covered: battery electric vehicles (BEV), plug-in hybrid electric vehicles (PHEV) and fuel cell vehicles (FCEV). Standard hybrids such as the Toyota Prius c and the Lincoln MKZ Hybrid are not part of the project.
Purchase, Lease Requirements
The project applies only to vehicles that were purchased or leased from March 15, 2010. Such vehicles must be ARB certified and are restricted to a gross vehicle weight of up to 8,500 pounds. While this requirement excludes converted heavy duty pickup trucks, the project encompasses cars, zero emission motorcycles and neighborhood electric vehicles.
To qualify, individuals and businesses as well as government entities and nonprofit organizations must be based in California. Those businesses or groups with a California based affiliate are also eligible provided that the vehicle is registered in the Golden State. Applicants must own or lease a vehicle for a minimum of 36 months. If a California DMV-registered vehicle is sold or returned ahead of time, ARB approval must be given first and the tax credit prorated and returned to the state. No vehicle, however, can be sold for a profit during that 36-month period.
Eligible California Vehicles
California identifies a large number of vehicles that are eligible under CVRP. For instance, the Honda FCX Clarity, an FCEV, can garner lessees a $2,500 tax rebate as can the Mercedes-Benz F-Cell. Your battery electric vehicle options are more numerous and include the CODA Sedan, Honda Fit EV, Mitsubishi i-MiEV, Smart Fortwo EV, the Tesla Roadster, Toyota RAV4 EV and vehicles from Ford, Think, Wheego, Nissan and BYD. The state tax rebates here are for up to $2,500.
A handful of PHEV models are also eligible including the Chevrolet Volt, Honda Accord, Ford Fusion Energi, Ford CMAX Energi and the Toyota Prius PHEV. California tax rebates in this category are $1,500. Lastly, qualified ZEV motorcycles and neighborhood electric vehicles may also be eligible for a $900 California tax rebate.
---
See Also — Fuel Efficient Vehicles and Federal Tax Incentives