Hurricane Sandy will go down as one of the costliest storms to ever hit the United States mainland, a primarily northeastern tempest that raked New Jersey and New York in October 2012, with damage felt from North Carolina to Maine. Thousands of homes were damaged or destroyed, while more than one-quarter of a million vehicles were also damaged, many beyond redemption.
Hurricane Sandy Flood Vehicles
Unfortunately, salvaged vehicles are sometimes reconditioned and sold to unknowing car shoppers across the country. Sandy-damaged cars have been reported from North Carolina to Maine, and include light-duty vehicles from Washington, DC, Pennsylvania, West Virginia and Ohio. To date, some 250,500 vehicles sustained Sandy damage according to the National Insurance Crime Bureau. Of those, New York and New Jersey have accounted for 210,000 claims.
The figures offered are both an indicator of the gravity of the damage sustained and the long time it has taken to record these losses. Indeed, the NICB expects that the numbers will continue to rise as additional claims are received and processed by insurers.
Consumer Disclosure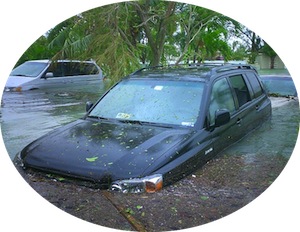 The NICB data is for insured losses and includes claims for minor damage to body surfaces, as well as to cars that were submerged and deemed total losses. Many flood-damaged vehicles are repaired and resold, including some that have been written off by insurers.
Flood vehicles can be bought and sold, provided that both buyer and seller are aware of the vehicle's status. However, the NICB asserts that full disclosure is not always the case, with some buyers certain to be defrauded.
Telltale Signs
Last November, Auto Trends warned consumers about flood-damaged cars, noting several steps that car shoppers should take to avoid getting ripped off. Begin by researching the vehicle's history and then examine its interior for signs of water damage, pulling up the carpeting and turning on the heater. Other clues can be found by checking the ignition and lights, keeping an eye out for residue and rust. You may also want to take the car to a mechanic for a thorough inspection.
As always, any consumer that believes that he has been defrauded should file a complaint with the police, the state office of the attorney general and the Better Business Bureau.
Raising Awareness
The NICB's tally at publishing includes 15 states and the District of Columbia. Sales of flood-damaged cars, however, can take place across the country, as unscrupulous individuals seek to traffic damaged vehicles where the awareness of the problem is low.
---
See Also — Should I Repair or Replace My Car?