EcoBoost is Ford's proprietary engine line, gasoline-turbo direct fuel-injected motors that are big on power, small on footprint and efficient on fuel. These engines have been in production since 2009 and are found throughout most Ford and Lincoln model lines. Its widespread availability means that this automaker has banked its future on the technology, and is something that it wants customers to review and test when shopping for a new vehicle.
Ford EcoBoost Challenge
Ford is not relying exclusively on its dealers or various marketing campaigns to bring EcoBoost to its customers. This summer, the company will hold what it calls a "13-City Ford EcoBoost Challenge," an event that will allow people to get behind the wheel of one or more EcoBoost-powered vehicles and give them a spin.
The events begin on June 22 at Gillette Stadium in Foxborough, Mass., and will conclude on Sept. 21 at Canterbury Park in Minneapolis, Minn. Other metropolitan areas served include Washington, DC; Chicago, San Francisco; Los Angeles; New York, Charlotte; Atlanta; Dallas; Orlando, Fla.; Houston and Miami. A special Ford EcoBoost Challenge website has been set up for online registration to this free event. Spots are limited and Ford says it is on a first come, first served basis.
Available Ford Models
Each stop will feature several models including the all-new Fiesta ST sport subcompact, the Escape crossover SUV and its Fusion midsize sedan. Competing Escape and Fusion products will also be made available, enabling guests to compare these vehicles on the spot. The ST Performance Academy will be on hand to teach hyper-mile techniques to demonstrate how drivers can squeeze more gasoline from their drives.
There is always a risk for any company when it puts its products side-by-side with its competitors. Ford, however, is confident that its current line of vehicles are highly competitive, something that has been confirmed in recent years through its strong sales. Indeed, the Ford brand sells the most vehicles in America, topping Chevrolet and Toyota.
Said David Mondragon, general marketing manager for Ford and Lincoln, "Throughout this tour, we will let consumers experience the technology that helps deliver better fuel economy and engaging driving than the competition."
EcoBoost Product Availability
Ford now offers eight model lines with EcoBoost technology and also serves up five electrified vehicles and two plug-in hybrids. In May, Ford already broke its previous annual hybrid sales records and is on pace to more than double that record by year's end. Also by the end of 2013, Ford expects that 90 percent of its North American lineup will feature EcoBoost availability. Those engines range from a 3.5-liter V-6 to a 1.0-liter three-cylinder motor. Three four-cylinder EcoBoost engines are also available.
To meet increased demand for its vehicles, Ford will raise third-quarter production by 10 percent. The company has been operating at near capacity in recent years and will be able to produce more by adding shifts and limiting summer plant shut downs. Fusion demand is up by 21.7 percent year to date and that model is on pace to sell 330,000 units in a segment led by the Toyota Camry, Honda Accord and Nissan Altima.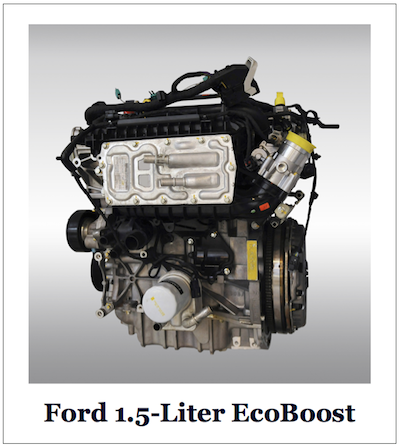 ---
See Also — At a Glance: 2.7-Liter Ford EcoBoost Engine
Photos courtesy of the Ford Motor Company.