Electric vehicle maker extends its supercharger network.
Burlington, NC, may not be an instantly recognizable location for people outside of the Tarheel State, but it is a city that is strategically located halfway between Winston-Salem and Raleigh. It is also near where interstates 40 and 85 intersect, making it the ideal location for Tesla Motors to set up its very first supercharging station in the state. Tesla has done just that, choosing a parking lot at the Alamance Crossing mall where vehicle owners can quickly recharge their vehicles.
Extending the Range
The North Carolina station is located near the Carousel Luxury Cinemas complex. It features eight charging stalls and is open 24 hours a day. Tesla owners won't find signage pointing them to the station, instead they'll find it by means of an app.
When hooked up to the supercharging stall, a Tesla Model S can take in up to 120 kilowatts of power to obtain half a charge in just 20 minutes. And with it strategically located near shops and restaurants, owners can get a bite to eat and return ready to resume their trip.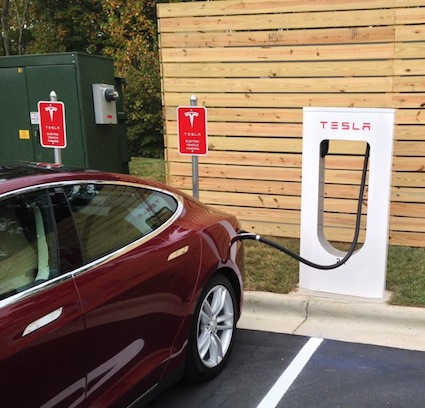 Supercharger Station Assistance
Without access to a supercharger, Tesla Model S owners would be restricted to a maximum 265-mile driving range depending on the model. That's much longer than other electric vehicles, but it does limit long distance travel.
To eliminate range anxiety, Tesla is installing superchargers along three major "highways" across North America. One will connect Vancouver to San Diego and a second one will connect Boston to Miami. The third one is its most ambitious project: providing supercharging stations to make it possible to drive from Los Angeles to New York City on electricity only.
Second North Carolina Station
On Tues., Auto Trends spoke with Patrick Jones, communications manager for Tesla Motors about the company's vision. Jones said that the supercharging network will be completed by the end of this year with gaps filled in next year. Those gaps include connection points between other major cities. For example, from Chicago to Houston. In the meantime, a second North Carolina station is in progress and will open near Rocky Mount later this year.
Establishing a supercharging network requires a collaborative effort, something Tesla received with the assistance of CBL Properties, owner of the mall, electric supplier Duke Energy, and other partners. Said Jones, "We selected this location because there is a lot of shopping around. Customers can come, get out and go to Dillards, grab pizza or a burger while they plug in and charge and then get back on the road." Jones noted that Tesla owners would be able to make it Charlotte, the largest city in the Carolinas, by recharging at its Burlington station.
A number of dignitaries including Burlington mayor Ronnie K. Wall, and city council member Celo Faucette were on hand for the ribbon cutting ceremony. Duke Energy, the state of North Carolina, and Alamance County also sent representatives. Tesla owners, electric vehicle enthusiasts and members of the media populated the assembly of no more than 100 people.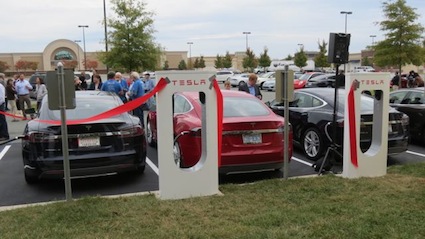 Supercharger Station Partnership
CBL & Associates Properties Inc. is the owner of Alamance Crossing. This past June, CBL launched a partnership with Tesla Motors to install superchargers at five of its properties. Besides North Carolina, Tesla Supercharging stations will be built at CB Malls in Rockford, Ill., El Centro, Calif., Fort Meyers, Fla., and Port Orange, Fla.
---
See Also — Tesla Motors Unveils Supercharger Network
Photos copyright Auto Trends Magazine. All rights reserved.