The Los Angeles Auto Show is in the enviable position of kicking off the North American portion of the global auto exposition each Nov. From late summer to early spring, enthusiasts follow auto shows around the globe including those held in Moscow, Frankfurt, Sydney, and Buenos Aires.
2013 Los Angeles Auto Show
The L.A. show begins this week, one of four major shows of note held across the United States. Increasingly, it has siphoned away debuts that might have been held elsewhere including in Detroit, Chicago and New York, with this year's show chock full of exceptional introductions.
European manufacturers have benign honing in on the L.A. auto show and this year is no exception — southern California remains a top market for several brands. Jaguar, Porsche, Mercedes-Benz, and BMW are poised to make North American and global debuts this week, and they will be joined by Kia, Chevrolet, Subaru, Ford, Nissan, Acura, and others.
The BMW 4 Series line will expand as a new convertible model is introduced. The cabriolet replaces the BMW 3 Series convertible, coming in longer, wider and lower than its predecessor. BMW will offer both its twin-turbo 2.0-liter four cylinder engine and its twin-turbo 3.0-liter straight six engine with this model. Auto Trends recently reviewed the 2014 BMW 435i Coupe.
Mercedes-Benz has its S65 AMG sedan waiting in the wings, timing its introduction to coincide with its debut at the Tokyo Motor Show. This sedan will be joined by two other AMG models and will share the spotlight with a new concept vehicle.
BMW Fighter: Kia K900 Sedan
Kia's ascendancy into the premium market has been unfolding over the past few years. Its Optima midsize sedan has won critical acclaim and its Cadenza large sedan has enjoyed similar accolades. At the Los Angeles Auto Show, Kia will unveil its first model to do battle with the BMW 7 Series: its luxurious K900 sedan. Like its corporate cousin, Hyundai and the Equus line, Kia will be treading on hallowed ground with the K900 — we' shall see how customers receive the most expensive Kia model yet.
Chevrolet has been enjoying increased interest in California, a market that has long favored Japanese models. Its most important debut this week will be a product targeting America's heartland, however — the 2015 Chevrolet Colorado, a small pickup truck last produced in 2012. The Colorado and its GMC Canyon twin will feature body-on-frame construction, in a bid to match the durability offered by the Toyota Tacoma and the Nissan Frontier.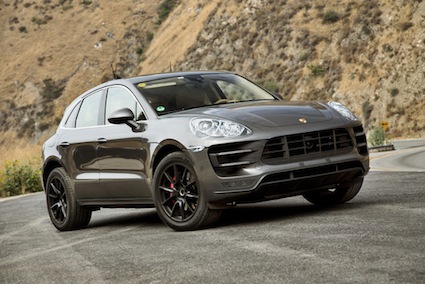 Porsche's success in sunny California has long been documented and that is why the Porsche Macan will make its global debut in Los Angeles this week. It is a small sport utility vehicle, the fifth model in the brand's expanding model line. A turbocharged four cylinder engine is expected to be standard; a supercharged six cylinder engine will also be offered. No diesel variant will be offered, at least not initially. Expect the Macan to continue to receive the same reception that both the Cayenne SUV and Panamera sedan experienced and the strong sales to go along with it.
More Auto Show News
The L.A. show kicks off with a one-day conference and three-day expo for autonomous driving. The "Connected Car Expo" will feature current innovations and trends shaping this technology. On Wed. and Thurs., manufacturers will reveal their latest models and concept vehicles to the press. On Thurs. evening a charity preview will be held. The show opens on Friday and runs through Dec. 1 at the Los Angeles Convention Center.
Auto Trends will focus on the Los Angeles Auto Show debuts for the rest of this week, including the "Green Car of the Year" announcement on Thurs.
---
See Also — Audi A6, A7 Revealed Ahead of the Los Angeles Auto Show
Photos courtesy of the respective car manufacturers and the Los Angeles Auto Show.