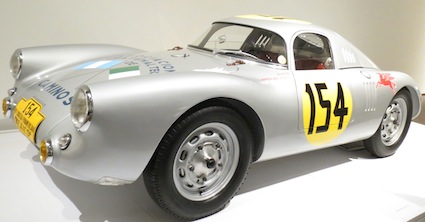 Porsche By Design: Seducing Speed
The North Carolina Museum of Art in Raleigh is winding down its critically acclaimed design exhibit — Porsche by Design: Seducing Speed. The display, which features 22 historic Porsche models, opened on Oct. 12, 2013, and is set to end on Jan. 20, 2014. The NCMA is showcasing all but one model in its East Building and is open every day except on Mondays. However, the museum will have special Monday hours on its final day.
Second Porsche Raffle
Since opening the exhibit the museum has been holding regular events including a pair of "hoods up" previews, lectures, and seminars.
The NCMA also reports that its raffle of a 2014 Porsche Boxster S sold out quickly, therefore it is offering a second raffle, this one for a convertible in a Sapphire Blue finish. Tickets cost $100 a piece and only 2,000 tickets will be sold. You can learn more by visiting the museum's raffle page.
Special Family Tours
On Saturday and Sunday, Jan. 11-12, 2014, the NCMA will hold special family tours of the Porsche exhibit. These interactive tours will be led by museum family guides and are aimed to reach families with children or grandchildren aged 6 to 12. Exhibition tickets are required, but the tours are free. The family tours will be held at 12:30 pm, 1 pm, and 1:30 pm each day.
The exhibit features cars owned Janis Joplin, Ralph Lauren, and Steve McQueen. The Porsche Museum in Stuttgart, Germany, also contributed a one-of-a-kind Panamericana concept car. An exhibition catalog (hard copy book) featuring 13 essays and scores of photos and posters is available for $50 in the museum's book store.
Ken Gross, an automotive journalist and museum consultant, and former director of the Petersen Automotive Museum, is the exhibition curator. Barbara Wiedemann of the NCMA is its managing curator.
Additional Porsche Events
Other events planned over the coming weeks include "Friday Night Sound Bites: Travel through Time" on Jan. 3, 2014, what focuses on a single work of art: Thomas Hart Benton's painting, "Spring on the Missouri." The presenting docent will offer a casual, in-depth exploration of Benton's work and discuss how the automobile has changed society. The event is free and is also tied in with the exhibit.
Special tech tours will be held on Jan. 3, 10, 13, 15 and 17, with Porsche Club of America docents leading 30-minute tours for "the mechanically challenged among us." As visitors tour the Porsche exhibit, the docents will discuss the "aesthetics, engineering, and history" that make Porsche so distinctive.
Other events tied in with Porsche by Design include a lecture and reception at The Arts Council of Fayetteville/Cumberland County by Konrad Jarausch, Lurcy Professor of European Civilization, University of North Carolina at Chapel Hill on Jan. 11. Jarausch will look at Porsche's history from its earliest days during the Nazi era and beyond. Senior events, an evening art show, and a film, The Porsche Way, will help conclude the exhibit.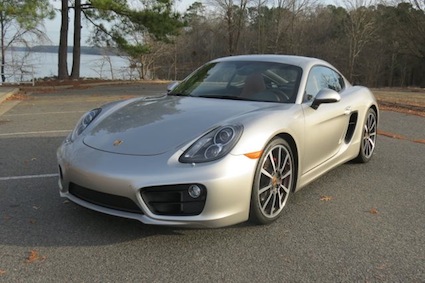 Related Reading
Raleigh Art Museum Opens Porsche Exhibit
Deal Done: Porsche Now Part of the VW Group
Porsche photos copyright Auto Trends Magazine.