Anyone that has followed Auto Trends for some time knows that we look backward as well as forward. Not just to the new, upcoming and futuristic models, but at the antiques and classics that have shaped the auto industry for more than a century.
Throw out information about a classic car show and this writer's interest is piqued. Place that show within a few hours of his North Carolina address and he will seriously consider stopping by.
Cars and Coffee in the Sandhills
Just hours after learning that a new Cars and Coffee event was being held within an easy drive, your intrepid reporter decided to check it out. That event is officially known as "Cars and Coffee in the Sandhills," an Aberdeen, North Carolina, meet up held on the second Saturdays of the month from 8 a.m. to 11 a.m.
As it turns out, the July 2014 gathering was its second one. The first meet up attracted about 20 vehicles and about 50 to 60 were expected for July. My count came in to around three dozen (before I left at 10:30 a.m.), including several classics from the 1950s, 60s and 70s. Three motorcyclists showed up, including a 1940 Harley.
Bob Stearns, a local car enthusiast and horse farm builder, organized the event. It is held on the Leith Honda used car lot adjacent to a Sonic Drive-In at 11049 US 15/501 North in Aberdeen or about one-eighth of a mile north of the Route 1 interchange.
Stearns told Auto Trends that he worked for several months to get the Honda dealer (Leith Honda Aberdeen) to provide space. His Leith contacts agreed and have promised up to 350 spots, as needed. The allotted area runs along the Sonic property line, making it easy for people to stop in and get food and drinks as desired.
All Vehicles Are Welcome
Starting a Cars and Coffee event in the Sandhills was a sensible move noted Stearns, considering that the Cary gathering shut down and a Raleigh meet up took over.
That Raleigh gathering is about 75 miles to the north; other gatherings can be found in Fayetteville, Greensboro and Charlotte, lengthy drives for people that call Pinehurst, Southern Pines, Aberdeen and other Moore County towns their home.
Stearns encourages everyone to come out and says that all vehicles are welcome. He said, "…it doesn't have to be muscle cars, it doesn't have to be old cars, it can be all of the above as well as new cars — anything that you are proud of you may bring, enjoy, come meet people, come talk to people, come look at cars.
Spectators are absolutely welcome, you don't need a car to be here, just show up and enjoy."
Downtown Night Out and Cruise-In
Several of the attendees also planned to head out to St. Pauls, North Carolina, a small community on State Highway 20 just east of I-95. From March through October, the local chamber sponsors a "Downtown Night Out and Cruise-In" series — a classic car cruise-in that also welcomes pickup trucks, motorcyclists and others to stop by.
Live music, local food and other special family-friendly events are held from 4 p.m. to 8 p.m., on second Saturdays. Saint Pauls is approximately 40 miles southeast of Cars and Coffee in the Sandhills.
---
Additional Cars and Coffee Articles
Photos copyright Auto Trends Magazine.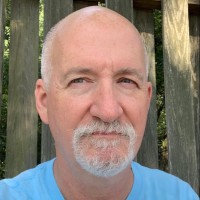 Latest posts by Matthew Keegan
(see all)