The Jeep Grand Cherokee is a leading crossover sport utility vehicle, a five-passenger model sold in 4×2 and 4×4 configurations. Laredo, Laredo E, Limited, Overland and Summit models are available plus a special edition SRT8 equipped with a 6.4-liter HEMI V-8.
I've had a chance to drive both the SRT8 and the Overland 4×4, the latter representing my latest weekly drive.
2014 Jeep Grand Cherokee Overland 4×4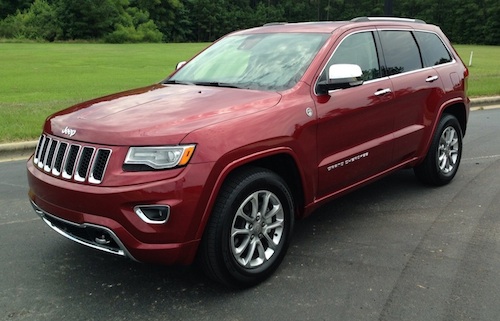 There is a very good reason why more than 150,000 Grand Cherokees are sold annually in the United States. This model is more than the quintessential crossover, rather it blends the best of on-road driving with off-road utility.
No, I did not get a chance to enjoy rock climbing with the Overland 4×4, but I did push my way across clay terrain that I wouldn't have felt comfortable traversing in most any other crossover. That clay is in abundance throughout my area of North Carolina, soil that is especially messy following a rain storm.
Jeep introduced the Grand Cherokee in 1993, following up its early Cherokee and previous Grand Wagoneer models with its first car-based platform. That was a risky, but wise move back then as the SUV craze was building.
Still, when it came to people buying SUVs, the numbers began to tilt to Jeep-like vehicles that were better suited for road and show then for off-road utility. That gave Jeep the opportunity to build a model that does both especially when outfitted with a Quadra-Trac four-wheel drive system.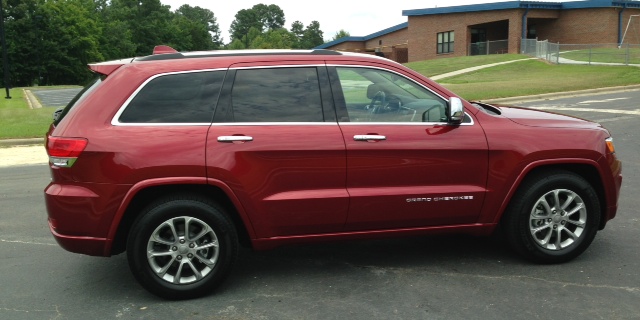 That system, especially the on-demand version found in the Jeep Grand Cherokee, engages the front-drive shaft as needed. Its closer to an all-wheel drive system, but it also allows you to operate in 4WD all the time. When additional traction is needed, it electronically engages the clutch pack to direct full torque power to the appropriate axle.
On the Trail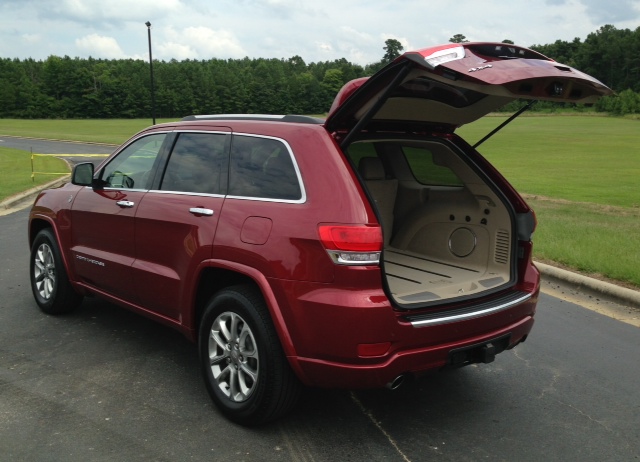 The Overland 4x4s trail rated certification comes through its ability to ford streams, grip snow, mud and gravel, and maneuver around or over tough obstacles including rocks. The Jeep Grand Cherokee is outfitted with 18- or 20-inch wheels set within Michelin Latitude Tour tires.
These tires are better suited for on-road work, enabling the Jeep to enjoy very good traction under a variety of conditions. Opt for all-terrain tires if off-road duty will be a regular part of your driving experience.
Changes for 2014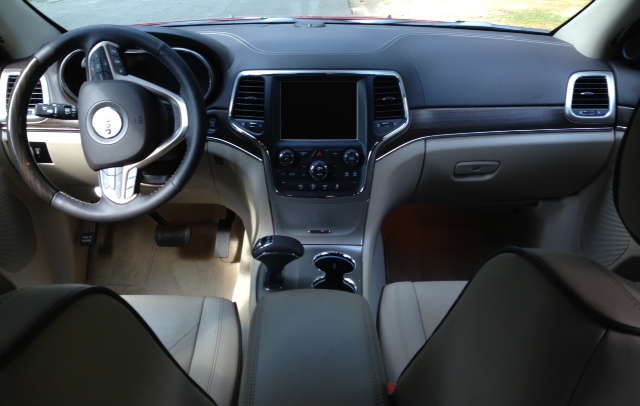 Jeep is not sitting on it laurels with the Grand Cherokee. The latest generation was introduced for 2011, but Jeep is keeping this model relevant by making several changes. First, the Summit is now its top-of-the-line standard model with the SRT8 representing its performance edition.
Second, the Grand Cherokee comes with an eight-speed ZF-licensed automatic transmission across the entire model line. That line offers a 3.6-liter V-6, a 5.7-liter HEMI V-8, and an all-new to the Chrysler Group 3.0-liter turbo diesel engine. The diesel comes by way of its Fiat partnership, what provides 730 foot-pounds of torque and 30 mpg on the highway.
The tested model had the 3.6-liter V-6 gas engine, a motor that in recent years is the go-to powerplant for all Chrysler Group (Dodge, Jeep, Ram and Chrysler brand) models. This engine makes 290 horsepower and works in the tandem with the transmission to shift through all eight gears.
Yes, it can be operated manually, with a flick of the transmission stick or by way of the paddle shifters. I tried both, but must admit I miss a clutch!
The Grand Cherokee Overland 4×4 shines in most areas with the UConnect system bringing information and entertainment together on one 8.4-inch color display. Easy to understand and easy to use, you can operate the system by touch, by voice command or by accessing related switches and dials.
The only oddity was when I hooked up my smartphone and it immediately defaulted to music. Moreover, when it attempted to give out directions, the first few words were cut off. Oh, to have time to sift through a couple of manuals to figure it all out….
Jeep Grand Cherokee Overland 4×4: Deluxe Utility
View manufacturer details and pricing
Very Different Grand Cherokees
One thing you quickly learn when you survey two very different Grand Cherokee models is that the road manners are starkly different. Both the Overland 4×4 and the Grand Cherokee SRT8 thrive on solid pavement, but the latter model is entirely suited for the race track with its beefy 20-inch wheels encased within its summer tires.
The Overland looks smart, while the SRT8 looks sharp, evidenced by its ability to handle the twistiest roads with aplomb. You also have the security of Brembo brakes and Bilstein dampers with the SRT8, just a few of the advantages this performance model offers.
Yet, the Overland 4×4 likely meets the criteria of most shoppers. It comes in at near the upper end of the pricing spectrum and that means, fully equipped the test model approached $50,000.
Certainly, a base 4×2 model can be had for less than $30,000, but that means cloth seating instead of leather, manually adjusted seats, a tilt and telescopic steering column and a host of audio features including the navigation system. Yes, even the delightful panoramic sunroof is not part of the Laredo's available package.
The Jeep Grand Cherokee seats five comfortably with zone climate control, numerous storage compartments, local lighting and in-door beverage holders galore. If the Chrysler Group adds a seven-passenger version it will do so by adding five inches to the wheelbase ala the Dodge Durango. And that move may only fuel interest in Jeeps largest and most capable SUV.
2014 Jeep Grand Cherokee Overland 4×4 Specifications
Sticker price from $45,995
Seats 5 occupants
3.6-liter DOHC 24-valve V-6 engine
290 horsepower @ 6,400 rpm
260 foot-pounds of torque @ 4,800 rpm
3.77 inches bore by 3.26 inches stroke
Engine compression ratio: 10.2-to-1
8-speed automatic transmission
Wheelbase: 114.8 inches
Length: 189.8 inches
Width: 76.5 inches
Height: 69.3inches
Passenger Volume: 105.4 cubic feet
Storage Volume: 68.3 cubic feet
Towing Capacity: 6,200 pounds
EPA: 17 mpg city, 24 mpg hwy.
Fuel Tank: 24.6 gallons
Curb Weight: From 4,984 pounds
Vehicle Assembly: Detroit, Mich.
See Also – Delivered: 2015 Jeep Cherokee Limited 4×4
Photos copyright Auto Trends Magazine. All rights reserved.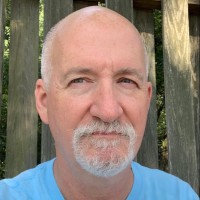 Latest posts by Matthew Keegan
(see all)