Heated seats, power accessories and a CVT.
---
Survey Nissan's product line and you will find multiple models priced from under $20,000. That price point is important for some consumers, especially people who simply do not want to pay anywhere near the current $31,200 average price for a new car.
2014 Nissan Versa Note SV Review
Nissan's lowest priced cars are its subcompact Versa sedan ($11,990) and the Versa Note hatchback ($13,990). The compact Sentra sedan is priced from $15,990 and its Cube multi purpose vehicle retails for $16,900.
Even its polarizing Juke utility vehicle can be had for $19,170. To say that Nissan wants to win new customers by offering several points of entry is an understatement — the company's five-point strategy is not matched by its chief competitors. Not Toyota, Not Honda. And not even Ford.
Last August, a 2014 Nissan Versa Note SV was delivered for a week of testing. That same make, model and trim level made its return 10 months later, but in a darker shade of blue and with a charcoal gray interior. I checked my records and found that this was the first time a full repeat was sent out right down to the model year and trim.
No matter, send a car my way and I'll give it a whirl. Typically at least 250 miles of mostly highway and rural driving, sometimes much more if I have places to go, things to do and people to see.
For the Budget-Minded Consumer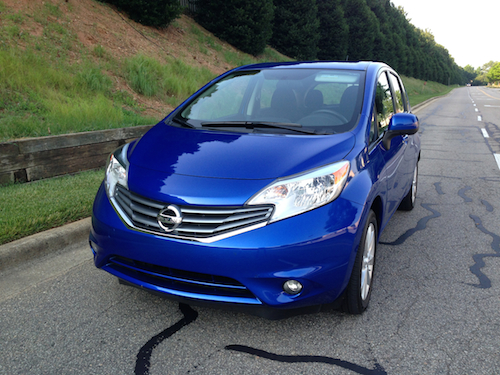 As before, I entertained a few questions about the Versa Note that I will address herein. Allow me to get this out of the way first: unless you have a budget minded car in mind, you may find the Versa Note disappointing.
Its best attributes are its interior room, fuel economy and versatility. The engine is raspy, the transmission comes across stretchy and the ride is jarring — and we do not have too many potholes here in North Carolina.
That said, I found that the driver's seat wasn't as uncomfortable as last time. The same kind of seat was offered too, but it provided good support. No tilt and telescopic steering wheel column just as the last time, but I managed.
What you do get is a lot of plastic — across the dashboard, around the instrument panel, down the center stack, on the doors and even on the many switches and door handles. Sure, the look and strength of the plastic differs, but it is what you get. And it is everywhere. Cloth seats and a leather-wrapped steering wheel take the edge off of the overall look.
Disappointing Audio System
The one problem I had with the Versa Note that I struggled to overcome was the audio system. Specifically, the tinny vibration that accompanied most songs and rattled throughout the dash. One work around was to drop the bass settings a few notches, but then the treble caused the same vibration.
It isn't just a minor annoyance either — you will have to work very hard to eliminate the vibration and at risk to audio quality. And as someone who tunes into SiriusXM satellite radio faithfully, I expect a clear and pleasant sound.
That audio system is accessible via a standard 4.3-inch monitor or a slightly larger one that also serves as a backup camera and a navigation system. The nav system was okay, but I did have difficulty keying in an address.
If you knew the type of place you wanted to go, such as a restaurant or other point of interest, it works just fine. But, I could not key in my home address and found that point frustrating.
With a base price of $15,990, the Nissan Versa Note SV is the highest trim level for this model. Come 2015, SR and SL trim levels will be added, providing more package options underneath each trim level banner.
As equipped, the test model came with an SL package ($1,700). That package includes 16-inch aluminum-alloy wheels, a smart key, push button start, front fog lights, heated front seats, SiriusXM satellite radio, an upgraded audio system with navigation, a rear seat armrest with cup holders and a nifty "divide and hide" adjustable floor — a storage area that puts small items outside of easy view.
This model also came with carpeted floor mats and a cargo mat ($175) and a rear cargo cover ($900). For an additional $800 you can snag the technology package that brings in a larger screen, an around view monitor and heated side mirrors, in addition to multiple audio system enhancements such as Google, Pandora and Bluetooth compatibility.
Engine Noise and Transmission Funk
Take to the road and the engine fires up and doesn't let up. It is an always present sound and not necessarily a pleasant one at that. Raspy, growly and gravelly are among the adjectives I can think of to describe it.
That noise level only increases the moment you step on the gas. And at highway speeds the din can be quite noticeable — fortunately, the audio system was at the ready to cancel the sound out — or at least replace it with its own tinniness.
A standard 5-speed manual transmission is replaced with a continuously variable transmission. The CVT meets the usual expectations in that the rubber-band pulling effect is apparent as you step on the accelerator.
Nissan does a good job in rectifying this problem in certain other models — the Altima comes to mind — but in its less costly models you need to be prepared for that sensation.
The Versa Note handles as well as any other car in its class. In other words, you get the typical small, front-wheel-drive frame to work with. Every twist and turn of the road was handled with ease, with only minimum body roll — yes, you will want to brake as you ease into every turn.
Happily, the Versa Note does not lack for power. Sure, 109 horsepower is not an amazing number, but when you're moving fewer than 2,500 pounds plus payload, it gets the job done. The raspy engine and rubber band CVT do have a nice benefit: a 31 mpg city and 40 mpg highway rating. That beats the manual transmission and its 27 mpg and 36 mpg rating easily.
Room Interior and Storage Options
There are a few areas where I can give the Versa Note high marks or at least a better rating than many of its competitors and that is in rear seat comfort. There is room for three, but the back seat is best enjoyed by two with the center position folded down for your drinks. Lots of leg room there — even better than some midsize sedans. The headroom is quite good too and the seat support is also good.
The other area I like is the hatchback, a feature that should seriously be considered by anyone needing concealed storage and additional storage space with the rear seat folded down. Sure, it matches what its competitors offer, but the hidden storage area is something you may want to opt for.
I haven't had full access to to every Versa Note competitor, so comparing it to other models limited me to the Fiat 500L, Ford's Fiesta and the Chevrolet Sonic. My preference is the Sonic followed closely by the Fiesta and then the Versa Note or 500L.
For shoppers of value-oriented cars such as the Versa Note, test driving several models is a smart decision, in a bid to assure them that their purchase simply isn't something to be tolerated, but enjoyed.
2014 Nissan Versa Note SV Specifications
Sticker price from $15,990
Price as tested: $19,545
Seats 5 occupants
1.6-liter 16-valve four cylinder engine
109 horsepower @ 6,000 rpm
107 foot-pounds of torque @ 4,400 rpm
3.07 inches bore by 3.29 inches stroke
Engine compression ratio: 9:8-to-1
Continuously variable transmission
Wheelbase: 102.4 inches
Length: 163 inches
Width: 66.7inches
Height: 60.5 inches
Passenger volume: 94.1 cubic feet
Storage volume: 18.8/38.3 cubic feet
Towing capacity: Not Rated
EPA: 31 mpg city, 40 mpg highway
Regular grade gasoline
Fuel tank: 10.8 gallons
Curb weight: From 2,482 pounds
IIHS safety rating: Not Yet Rated
Limited vehicle warranty: 36 months/36,000 miles
Powertrain warranty: 5 years/60,000 miles
Corrosion warranty: 5 years/Unlimited miles
Vehicle assembly: Aguascalientes, Mexico
---
2014 Nissan Versa Note photos copyright Auto Trends Magazine. All rights reserved.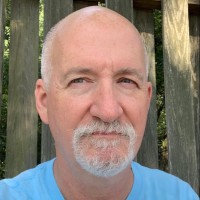 Latest posts by Matthew Keegan
(see all)