Porsche Cayman S delivers the bite.
Second Generation Cayman
The Cayman line has been updated for 2014, retaining the styling cues that have defined this mid-engine sports car since its 2005 debut. The Cayman is the coupe version of the Boxster cabriolet, itself introduced in the late 1990s. Thus, these two models are mechanically the same and are treated as a singular model line by Porsche itself.
Among German sports car faithful you may hear dark whispers that the Cayman does a better job of upholding the brand's iconic good looks than the 911, the quintessential Porsche line that celebrated its 50th anniversary in 2013.
Those whispers may be received as blasphemy for Porsche purists who define authentic Porsches as those with a rear-engine, rear-wheel drive layout. Yet, there is an element of truth here too: the current 911 is slightly larger than the previous generation model although its mechanical underpinnings remain true to the original Porsche.
As for this intrepid writer, he knows better than to insert himself in any controversy that cannot possibly deliver an irrefutable response, one he prefers to leave for the purists and enthusiasts to debate.
Instead, just hand him the keys and he'll slide behind the wheel, acquaint himself with the ignition layout, start the engine and promptly take to the road and put it through the paces.
Those paces are enjoyed with the larger of two boxer (horizontally-opposed) engines sitting in the middle of this sports car: a 3.4-liter flathead six cylinder making 325 horsepower at 7,400 rpm and 272 foot-pounds of torque at 4,500 rpm.
The standard Cayman is outfitted with a 2.7-liter boxer engine making 275 horsepower at 7,400 rpm and 213 foot-pounds of torque at 4,500 rpm. Both engines are paired with a 6-speed manual or can be equipped with an optional 7-speed dual-clutch automatic with steering wheel-mounted paddle shifters.
2014 Porsche Cayman S
The tested Porsche Cayman S (priced from $63,800) carried an $88,835 sticker price including a $6,730 infotainment package highlighted by a deliciously magnificent Burmester audio system — more about that later.
There is another argument about sports cars that I would like to see laid to rest: "there is no replacement for displacement." True, higher displacement engines typically bang out more horsepower and torque, and drive faster.
Then again, with direct fuel injection, turbochargers, and valve lift technology, smaller engines can provide much power too and in some cases outperform larger engines. Ford has demonstrated this point with its line of EcoBoost engines.
For Porsche, you don't see turbochargers for the Boxster/Cayman. What you do get is direct fuel injection and VarioCam Plus, the latter combining intake-side camshaft control (VarioCam) and intake side valve lift switchover (Plus) to maximize power and improve the engine's torque characteristics. No longer available is the Cayman R with its free-flowing exhaust system and 10-hp boost.
Rumored to make an appearance at the 2013 Frankfurt Motor Show was a turbocharged Porsche Cayman S. With four cylinders. That vehicle did not appear nor were the rumors of an upcoming turbocharged version quelled.
So, let me say this: as delightful that its engine is, the Cayman's performance is trumped by its exemplary steering and emotional handling. Of course the two go hand-in-hand especially when you're pushing up the rpms.
And the easy shifting transmission shifter is as balanced as this sports car is capable, what allows the driver to handle every twist and turn of the road with equanimity and the parking lot doughnuts you may try with its stability control shut off. And should you stall out the engine in one of your romps, it'll automatically restart when the clutch is engaged.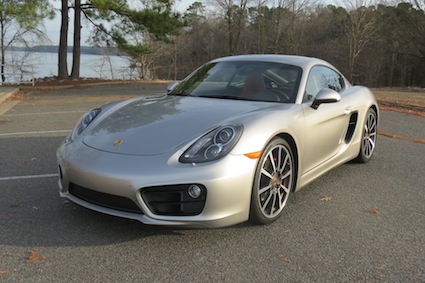 Porsche makes the most of a diminutive cabin by equipping the Cayman S with seats that are comfortable, highly supportive, and adjust in 14 ways.
Insane changes in December ambient temperatures meant giving both the seat heating and cooling features a work out, mostly to extend the comfort level for those longer drives. There was no back massager present, but enough heat was dispensed to limit the attendant sports car stiffness.
Several performance upgrades and in-cabin amenities added $25,000 to the Cayman's sticker price. It may seem difficult to fully appreciate the difference that it makes, but the Burmester Highend Surround Sound audio system provided the best audio clarity I have ever heard inside of a car or elsewhere as a matter of fact.
Forget going to Carnegie Hall — the acoustics were phenomenal with every dazzling note and vibrating beat accentuated. And the timing at Christmas was especially welcome — Yes, "repeat the sounding joy!"
The front and rear storage areas are small, but add up to 15 cubic feet of storage room or what the average midsize sedan delivers. You can place a pair of average size duffle bags in the rear compartment and boxes or other square containers in the deep hole found in the front compartment.
Two deep covered storage trays also sit in the rear compartment, large enough to hold your stash of…. Okay, let's not go there.
Porsche swiped the wheels from the 911, outfitting this model with 20-inch Carrera wheels. Low-profile Pirelli P-Sport tires were the right fat boys for this ride, offering a practical complement to the wheels or as one friend exclaimed, "those tires are sick! "
And the distinctive air scoops fore of the rear tires are both a strong design statement and act as air inductors for the engine. This athlete is ripped and has the six-pack abs to cover its polished frame.
While there yet remains clear distinctions between 911 and Cayman, it should be noted that the upstart model has its place in the Porsche line. Its design is phenomenal, delivering the requisite eye candy and enough intimidation to get everyone to notice.
Its net storage areas trump the 911 and while its muscle-pumping performance is overshadowed by its iconic sibling, its driving characteristics may have you seriously considering the second generation of the newer arrival.
Come summer 2014, a fifth Porsche model will hit the market: the Macan — a small sport utility vehicle. With a starting price around $40,000, the newest model will mostly likely outsell Porsche's current best selling Cayenne SUV.
The Porsche brand is changing, but when it comes to sports cars the Porsche Cayman S has the bite and moves worthy of its name.
2014 Porsche Cayman S Specifications
Sticker price from $63,800
Price as tested: $88,835
Seats 2 occupants
3.4-liter 24-valve six cylinder boxer engine
325 horsepower @ 7,400 rpm
273 foot-pounds of torque @ 4,500 rpm
3.82 inches bore by 3.05 inches stroke
Engine compression ratio: 12.5-to-1
Six-speed manual transmission
Wheelbase: 97.4 inches
Length: 172.4 inches
Width: 70.9 inches
Height: 51 inches
Passenger volume: N/A
Storage volume: 15 cubic feet (5.3-ft. front; 9.7-ft. rear)
Towing capacity: N/A
EPA: 20 mpg city, 28 mpg hwy.
Premium grade gasoline
Fuel tank: 16.9 gallons
Curb weight: From 2,910 pounds
Vehicle assembly: Osnabruck, Germany
---
Porsche Cayman S photos copyright Auto Trends Magazine.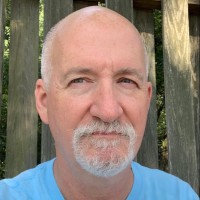 Latest posts by Matthew Keegan
(see all)