Sweeping revamp and expansion of several product lines announced.
Nearly five years have passed since Chrysler went bankrupt, restructured, and was thrust into the arms of waiting Fiat. Essentially, Chrysler was given up for dead with Fiat afforded the opportunity to revive the automaker and rebuild it.
That rebuilding process was centered on an ambitious five-year plan that transformed each American brand, introduced Fiat and Alfa Romeo, and created Fiat Chrysler Automobiles, N.V. (FAC), the parent of this now global automaker.
The Measure of Success
By every measure the Fiat Chrysler merger has worked out quite well with most new and updated products executed as planned. One glaring exception, the Dodge Dart, should be noted. However, it is clear that the company's strengths are with its traditional American brands while its classical Italian brands are in need of more work.
The reworking of every FAC brand will continue as the company announced today its next five-year master plan, what may make this automaker a truly global powerhouse. Certainly, not on the scale of Toyota, General Motors and Volkswagen, but better able to compete with Hyundai-Kia, Ford, and Renault-Nissan. And it plans to do so by building sales well beyond Europe, its official home base as well as its weakest market.
Growth Projections by Brand
The centerpiece of FAC's expansion quest will be its Jeep brand, with 1.9 million annual sales forecast by the end of 2018, more than doubling its current sales. FAC will market Jeep globally and expand its line up. A new compact model will arrive in 2016, replacing the current Patriot and Compass, and a three-row Grand Wagoneer is to be added in 2018 reports Carscoops. Its smallest model, the Renegade; arrives stateside in 2015; updates to the Grand Cherokee and Wrangler are also scheduled.
The Chrysler brand has suffered tremendously even as FAC's other brands were improved and thrive. FAC says that Chrysler will be the lone seller of its all-new minivan and will include a hybrid variant that will achieve 75 mpg on the highway. A larger crossover and a compact "100" model will also be added. FAC's intent is push the Chrysler brand more mainstream. These changes would raise brand sales from 350,000 units in 2013 to 800,000 units in 2018. Reaching that goal would help Chrysler attain the sales level it last enjoyed as recently as 2005.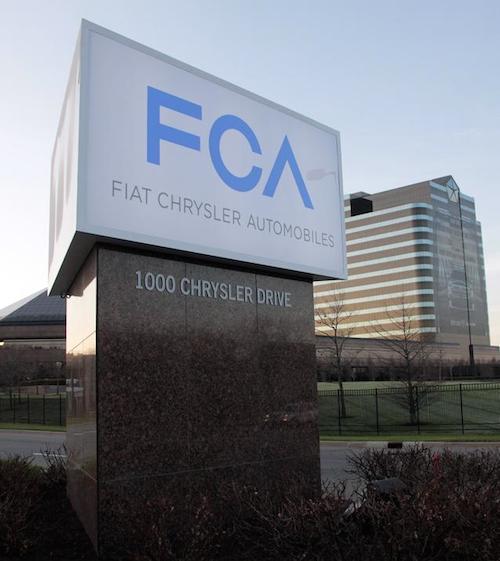 FAC intends to use Alfa Romeo to compete against Mercedes-Benz, Audi, BMW and other luxury brands. CEO Sergio Marchionne plans to double the brand's four vehicle line up to eight models by 2018, adding midsize, utility and full-size models to the mix. With these changes FAC expects A-R to grow five-fold within five years.
The one brand that has long represented mainstream Americana is Dodge. However, with Chrysler now assuming that position to compete with Toyota, Ford and Chevrolet, the Dodge brand will now represent American muscle. The refreshed for 2015 Dodge Challenger and Charger models will lead in that department, but will also be rejoined by a former halo product, the SRT Viper. SRT will now be folded into Dodge with Viper assuming its previous relationship. Dodge will also say good-bye to the Avenger and so long to the Grand Caravan, updating the Dart by adding all-wheel drive and SRT variants. New Journey and Durango models will also roll out and a B-segment (subcompact) sedan and hatchback will be introduced by 2018.
With only the 500 and 500L to show for it, the North American Fiat offerings have been weak. Although Fiat brand plans show much stronger growth abroad, particularly in Europe, we'll see the 500X crossover here next year. That model will share its underpinnings with the Jeep Renegade, itself an all-new model. Likely, Fiat will also get a speciality vehicle, a sports car, co-developed with Mazda. That will still make for a limited US line up, but it could raise customer interest in Fiat further with new products following.
The rest of FAC's lineup includes Ram, its truck line. Marchionne announced that a ProMaster City van will arrive early next year, based on the current Fiat Diablo. The only other change has its big pickup trucks overhauled in 2017, a year later than originally scheduled.
Both Maserati and Ferrari will continue as FAC properties with only Maserati slated for expansion. New crossover, coupe and convertible models are planned with an all-new Grand Turismo model arriving by 2018. Maserati's current sales are 15,000 per year and should rise to 75,000 under the FAC formula. Ferrari, on the other hand, will be restricted to just 7,000 units annually reports Automotive News.
Fiat Chrysler Strategy
Clearly, Marchionne has an aggressive growth strategy in place, one that relies on continued growth in the US, stability in Europe and the expansion of its global reach with Jeep leading the way. That makes for an ambitious plan, but so was the original five-year strategy, one that revived two weak automakers, transforming both into a much stronger singularity.