New facility showcases Honda's history in America.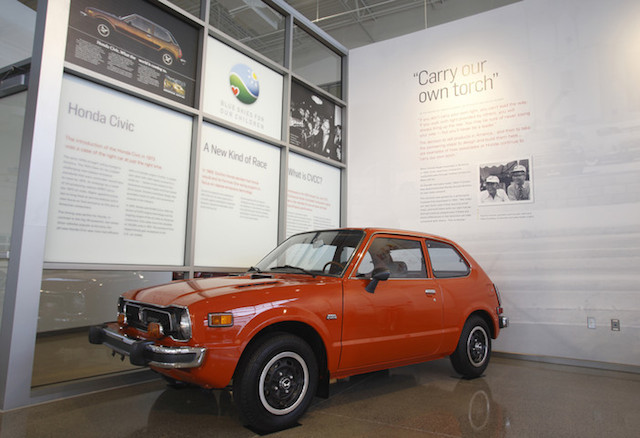 Many people understand that Honda is a Japanese car manufacturer, but the depth and breath of its business extends out much further than that. The company has been doing business in the United States for 55 years and was the first of the "big three" Japanese automakers to build a car manufacturing plant in North America. Truly, Honda is a global operation.
Honda Heritage Center
More than a decade before selling its first cars stateside, Honda established itself as a power equipment and powersports manufacturer. When it came time to build a car factory in the United States, the company chose Marysville, Ohio, for its first location. Since then, Honda has opened other plants, a technical development center and additional facilities. Last week, Honda turned yet another chapter in its US-based history by opening the Honda Heritage Center in Marysville.
On hand at the dedication was the chief operating officer of Honda's North American regional operations, Takuji Yamada. He was joined by Ohio Gov. John Kasich, state and community leaders, and other Honda officials in dedicating the $35 million, 160,000 square-foot building. The facility is composed of a museum, a technical development center and offices for the automaker.
The museum portion will welcome its first visitors in January and pay tribute to "Honda's unique tradition" and feature the many products made and achievements reached over the past half-century and more. Visitors will see how Honda has progressed technologically on a number of fronts, including motorcycles, power equipment and automobiles, with some of those products on display.
Part of the museum space will also showcase such innovative technologies as a replica of its ASIMO humanoid robot and the HondaJet. The latter is new with customer deliveries to start in 2015.
Technical Development Center
The technical development center was designed to assist Honda engineers, equipment service technicians and production associates in automotive production across North America. Its mission is to ensure that Honda associates are able to carry out the company's advanced technology requirements. Essentially, Marysville will play a greater role in helping Honda with the development and production of global Honda models. The upcoming Acura NSX is just one example of such a new model.
Explained Tom Shoupe, chief operating officer and executive vice president of Honda of America Mfg. Inc., "As we introduce more sophisticated technologies in our products and in our plants, we are working to ensure that our associates are equipped with the skills required for the manufacturing demands of the future. We view this investment in Honda people as critical to our future success."
The State of Ohio provided grant money through its JobsOhio program to help launch the technical development center. The center has five full classrooms, including robotic manufacturing cells to provide more hands-on training for technicians. The curriculum is composed of several elements ranging from maintenance math and frequency drives to advanced training for die molds and machining. The state believes the center will serve as both an important focal point for Honda as well as augment regional labor pool development.
Detroit Debut: 2016 Acura NSX
Besides its heritage center announcement, Honda's Acura division made some news of its own as it announced that its second-generation NSX sportscar will make its production version debut at the North American International Auto Show in Detroit this January.
The new model will be underpinned by a hybrid powertrain outfitted with a twin-turbo 3.5-liter V6 engine and multiple electric motors. Global production of the 2016 Acura NSX will take place exclusively in Marysville, Ohio, with the first deliveries to customers expected in late 2015. Additional product information will be offered at the Detroit auto show with official pricing coming later in the year.
Photos supplied courtesy of Honda North America.
Additional Honda News
Honda Beats Nissan With a CR-V Stick
Honda Debuts FCV Concept Fuel Cell Electric Vehicle