Hyundai's approach to the automotive market is an unusual one, as this Korean automaker serves a passel of mainstream and upscale models within the same showroom, what follows a debatable decision the company made not too long ago.
Specifically, that arrangement does not dissever Hyundai's premium offerings from its conventional products, with the automaker instead chewing to integrate all of its models — ranging from the low-cost subcompact Accent to the luxurious Equus — under one roof.
Thus far, Hyundai's marketing strategy has worked as individual dealers have learned how to personalize service for owners of its high-end model lines, without neglecting the core customer substructure.
That blueprint makes for a tough balancing act, but it also saves the company money and has lifted the value of the Hyundai dealer nexus.
2015 Hyundai Santa Fe Review
On the midsize utility vehicle front, Hyundai does not offer the equivalent of an Audi Q5, a Lexus RX or a Mercedes-Benz GLK-Class. Nevertheless, it does provide the Santa Fe — available in Sport (5 passenger) and extended wheelbase 6- or 7-passenger configurations — with many of the same accouterments offered by those very same premium brands.
I discovered the Santa Fe's luxury aspirations when a 2015 Hyundai Santa Fe Sport Ultimate 2.0T edition was delivered to my drive on a frigid, ashen January afternoon. This Santa Fe Sport is a transcendent model for Hyundai, one that successfully bridges the premium gap without overtaxing the budget.
The Hyundai Santa Fe is a relative bargain in the crossover utility vehicle mix, retailing from $24,950 for the standard (Sport) wheelbase edition and from $30,150 for the stretched wheelbase model.
However, your final price can easily top $40,000 if you choose the larger model with the Ultimate package. My test model came in around $36,475 or about $4,000 below what you would pay for a base Lexus RX 350.
Before you get your knickers twisted in a wad over my Lexus comparative, consider this point: the Ultimate package brings in a generous assemblage of much-desired accessories for just $4,350 ($4,650 in the stretched wheelbase edition).
These include: HiD Xenon headlights; 19-inch alloy wheels; premium door sill plates; a panoramic sunroof; heated and ventilated front seats; a heated steering wheel; a 12-speaker, 550-watt premium audio system; a navigation system with an 8-inch color display; and rear parking assist.
Certainly, that makes for a level of refinement the higher-end brands also provide and at savings of up to $10,000. If you are not especially brand conscious, then the Hyundai Santa Fe may have everything you need in a premium, midsize utility vehicle.
Powertrain Choices: Standard and Turbocharged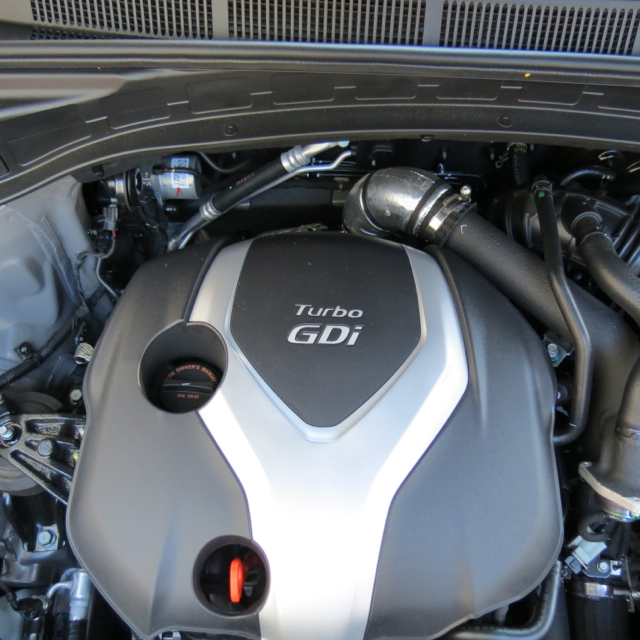 In the Santa Fe Sport, Hyundai provides two engine choices.
First, there is a 2.4-liter in-line four-cylinder engine making 190 horsepower and with an output of 181 foot-pounds of torque, what should provide adequate and proportionate power for most buyers.
And it also delivers up to 20 mpg in the city and 27 mpg on the highway, numbers that fall within the range of vehicles such as the Ford Edge, Chevrolet Traverse and Nissan Pathfinder.
Second, there is also a 2.0-liter, turbocharged four-cylinder engine, what most likely satisfies the performance demand of other shoppers, by delivering 264 horsepower and 269 foot-pounds of twist.
Both engines are paired with a six-speed automatic transmission; the gearbox can also be operated in manual mode and manage preset shift patterns to handle performance driving, inclement weather and uphill pavement. Importantly, you enjoy nearly identical fuel economy with the turbo, achieving up to 19 mpg in the city and 27 mpg on the highway.
Select either model and you have 3,500 pounds of towing capacity at the ready. Although the standard engine and front-wheel drive provide a satisfying drive, consider investing $1,700 for the all-wheel drive option when choosing the turbocharged model — even if your drives are typically on level surfaces and free of snow or ice.
With so much force at the ready in the 2.0T, you may often find yourself wrestling with the steering wheel as torque steer kicks in. That sensation, inherent in turbocharged front-wheel drive vehicles, is largely eliminated with all-wheel drive as power is transferred to the slipping wheels for enhanced grip. Likely, your AWD Santa Fe will have a better resale value too.
Only six months separated my initial review of the Santa Fe 2.0T with the most recent drive. I invite you to learn more about that earlier test drive here. Suffice to say, the Ultimate package with the current model makes a very good model better.
Spacious and Luxuriant Interior
Slip behind the wheel of the Santa Fe and you will take in a dashboard that is deftly designed and pleasing. In my earlier write up, I compared the crossover's interior to Hyundai's large Azera sedan and that design is largely unchanged for 2015. Behind the tilt and telescopic steering wheel column are a pair of analog displays — tachometer and speedometer — what encompass a digital driver's information center.
Moreover, there are steering wheel-mounted switches present to control the display, with additional switches for cruise control, audio and navigation.
The center stack is a tight, but sensible design punctuated by a color display for managing audio, climate control and navigation systems. Hyundai's navigation system is one of the better ones on the market, as it comprehends voice commands, serves coherent directions and supplies access to SiriusXM satellite radio.
Furthermore, the Blue Link system behind it all makes it possible to sync your smartphone, obtain monthly vehicle health reports, call for emergency help, and if you are incapacitated the system will summon aid for you automatically.
Beneath the touchscreen display are buttons and knobs to control the system manually, an oversized dial to heat or cool the cabin, switches to heat or cool your side of the cabin, and a large open storage area for your smartphone with the attendant connectivity points.
Between the front seats is the transmission stick, itself compassed by switches to heat or cool the front seats.
Two cup holders are found just fore of the center storage compartment, itself a deep unit large enough to accommodate a purse or a camera case. Furthermore, a fairly sizable glove box, in-door storage compartments with bottle holders and a large storage area behind the rear seat should also be recognized among the Santa Fe's other storage highlights.
Among the updates Hyundai made for 2015 include an available feature that is sure to please anyone who might approach their vehicle grasping a child in one hand, groceries in the other and with keys buried deep within the pocket.
To illustrate, approach this crossover from the rear and stand a few feet from the bumper and the vehicle will sense your presence, provided your key fob is on your person.
Listen for the beeps and, voila!, the liftgate is released and moves skyward just as it would had you activated the button. The detection system is better than the one offered by Ford, what requires you to move your leg in a side-to-side motion underneath the rear bumper.
Those motions do not always activate the liftgate on the first undertaking, adding to any parent's frustration when a young child is in the midst of throwing a fit.
Other notable changes made for 2015 include the installation of a 32-bit microprocessor to enhance the electric power steering system for steering wheel precision. For even firmer steering, simply select the "Sport" setting.
Also retuned for 2015 were the front wheel bushings for improved lateral stiffness with the front suspension. Corresponding changes to the rear suspension give this model reinforced lateral stiffness. To put another way, that is what provides a more composed driving experience.
Further, your driving experience is enhanced by comfortable leather-appointed seats, a leather-wrapped steering wheel and the previously mentioned heating and cooling elements.
In addition, the 2.0T package brings in standard equipment that costs extra in the base model and includes: dual-zone climate control, a power front passenger seat, manual rear side window sunshades, blind spot detection, rear cross-traffic alert, and lane change assist.
The Bottom Line
Certainly, some premium crossover shoppers won't give Hyundai a second look as brand consciousness dictates the very marque that will occupy their driveways.
However, for people who want the amenities without the fancy badging, the Hyundai Santa Fe Sport contributes the right combination of value and warranty support that should not be easily dismissed.
2015 Hyundai Santa Fe Sport 2.0T
Sticker price from $31,250
Price as tested: $36,475 (estimated)
Seats 5 occupants
2.0-liter 16-valve Inline-4 turbocharged gasoline engine
264 horsepower @ 6,000 rpm
269 foot-pounds of torque @ 1,700 to 3,000 rpm
3.39 inches bore by 3.39 inches stroke
Engine compression ratio: 9.5-to-1
6-speed automatic transmission
Wheelbase: 106.3 inches
Length: 184.6 inches
Width: 74 inches
Height: 66.1 inches
Passenger volume: 108 cubic feet
Storage volume: 35.4/71.5 cubic feet
Towing capacity: 1,650 to 3,500 pounds
EPA: 19 mpg city, 27 mpg highway
Regular grade gasoline
Fuel tank: 17.4 gallons
Curb weight: From 3,569 to 3,706 pounds
IIHS safety rating: Good — moderate overlap front, side, roof strength, and head restraints & seats
Limited vehicle warranty: 5 years/60,000 miles
Powertrain warranty: 10 years/100,000 miles
Corrosion warranty: 7 years/100K miles
Vehicle assembly: West Point, Georgia
---
Hyundai Santa Fe photos copyright Auto Trends Magazine.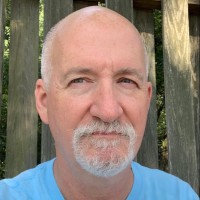 Latest posts by Matthew Keegan
(see all)