The most prestigious of the annual car of the year awards is held annually in conjunction with the New York International Auto Show. The World Car Awards (WCA) is announced at the start of the second media day and is a program initiated and organized by journalists from around the world.
World Car: A Journalist-Driven Award
Unlike other awards that are affiliated with a publication, manufacturer, auto show or a commercial entity, the World Car Awards is comprised entirely of journalists from Asia, Europe and North America. Candidate vehicles must be sold on at least two continents to qualify. Thus, a few of the candidates, including finalists, may comprise vehicles not sold in the United States.
Some 75 journalists from across the globe, individuals recognized for their professionalism, compose the jurists who offer their expert opinions on the vehicles under consideration. In conjunction with the earlier Geneva Motor Show, the finalists are announced, with voting taking place before New York. KPMG tallies the votes and the winner remains sealed until the press conference.
Mercedes-Benz Excels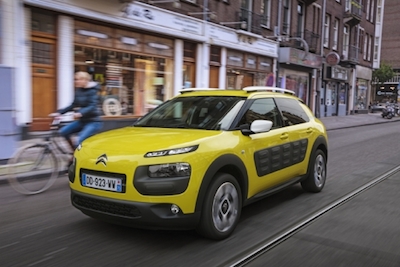 Mercedes-Benz was the big winner this year, pulling down three of the five awards, including World Car of the Year honors for the Mercedes-Benz C-Class. The Mercedes-Benz S-Class Coupe nabbed World Luxury Car honors and the Mercedes AMG GT took the World Performance Car award.
The Citroen C4 Cactus, a brand and a vehicle not sold in the United States, won the World Car Design of the Year award, finishing ahead of the Mercedes-Benz C-Class and the Volvo XC90.
The World Green Car honors went to the BMW i8 with the Mercedes-Benz S 500 Plug-in Hybrid and the Volkswagen Golf GTE as the other finalists.
The Mercedes-Benz C-Class beat out the Ford Mustang and Volkswagen's Passat to win its award. The Mercedes Benz S-Class Coupe finished ahead of the BMW i8 and the Range Rover Autobiography Black Long Wheelbase models for World Luxury Car.
The BMW M4 Coupe/M3 Sedan and the Jaguar F-Type R Coupe were the runners up in the World Performance Car category.
New York International Auto Show
Most of the winners are on display under their respective manufacturer's banners at the New York International Auto Show. The one exception is Citroen C4 Cactus as parent PSA Peugeot Citroën no longer has a presence in the American consumer market.
New York Auto Show News
Chevrolet Malibu is Larger, More Efficient
Scant Details About the Lincoln Continental Concept
Next Generation Kia Optima Bows in New York
Elio Motors Presents at the New York International Auto Show
World Car photos courtesy of the respective manufacturers.