Dodge's entry pulls a fast one.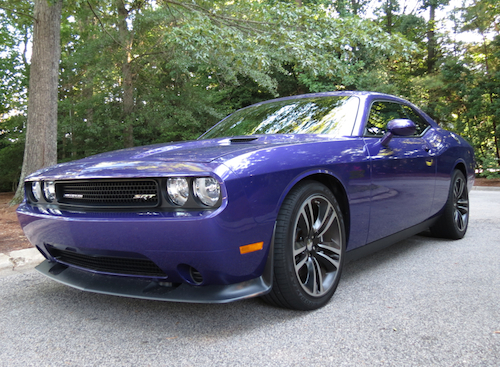 The Dodge Challenger is No. 1. Or at least it was in June 2017. In the annual battle for pony car supremacy, the Ford Mustang continues to lead the Chevrolet Camaro and Dodge Challenger in US auto sales, but last month the Challenger overtook the two to finish first.
And that's no small feat for Dodge's sport coupe. Long a distant third-place finisher, the Challenger is living up to its name and is within striking distance of overtaking the second-place Camaro.
Pony Car Sales Through June 2017
What's especially significant here is this Challenger is the same generation model released in 2008. Moreover, both of its American competitors are newer, with the most recent Mustang released in 2015 and an all-new Camaro in 2016.
The Dodge Challenger is the lone car bright spot among the major brands in the Fiat Chrysler Automobiles portfolio. Specifically, sales are up 4 percent through the first six months of 2017, while sales of the similar Dodge Charger sedan are down 11 percent.
Mustang sales are plunging, dropping 29.2 percent through June. Comparatively, Camaro sales are nearly flat, slipping just 0.7 percent during that time. There's an opportunity here for both Mustang foes to pick up sales this year, but we'll see how Ford chooses to respond before making predictions.
Pony Car Sales Breakdown
New and Specialty Models
So, how is Dodge managing to wring out sales from the Challenger, now in its 10th year of production? By releasing a slew of new and speciality models.
In 2008 — its first model year since the 1970-1974 pony car run (let's never mention the heretical Mitsubishi model of the late 1970s and early 1980s) — Dodge limited production to 6,400 units and nearly all sold in advance of production.
Throughout the intervening years, Dodge expanded the Challenger product line as new engines joined the portfolio. Special package options, including Drag Race, Rallye, and Rallye Redline joined in, giving shoppers even more reason to consider this model.
And Along Comes the SRT Demon
Even as its competitors prepared and released new models, Dodge kept the pedal to the metal with the Challenger. Notably, in 2015 Challenger sales reached a record 66,365 units as a special edition Hellcat variant making 707 horsepower rolled out. The novelty of this before-unheard-of model sparked sales. Also, Dodge's decision not to limit production fueled interest.
Earlier this year, Dodge threw new attention on the Challenger as it announced an SRT Demon wide-body variant. The specialty model comes packed with a 6.2-liter V8 engine outfitted with a 2.7-liter supercharger with an output of 808 horsepower. Fill this machine with 100 octane racing fuel and 840 horsepower is at the ready.
The interesting thing here is that the first Demons have yet to arrive at Dodge dealers. That'll happen in the fall and the allotment of 3,000 2018 models should add further impetus to Challenger sales.
Meanwhile, Dodge continues to enjoy outstanding buzz based on its latest super model, no doubt a contributing factor in its sales increase so far this year. Another factor is the Challenger GT, the model's first-ever all-wheel drive variant.
Ford, Chevrolet Respond
Neither Ford nor Chevrolet is likely to allow Dodge to steal their thunder without putting up a fight.
For one thing, the 2018 Mustang gains a Pony Package, offering 19-inch polished wheels, side stripes, and other embellishments. Other yet-to-be-determined changes will have to await the release of the 2018 Mustang product sheet in the coming weeks.
As for the Camaro, a high-performance ZL1 1LE Extreme Track package debuts, outfitted with a racing-based suspension and aero technologies, while delivering a blistering 650 horsepower and 650 pound-feet of torque. Importantly, Chevrolet matches this engine with a six-speed manual gearbox only.
It may be a few more years before we see an all-new Challenger, bringing the current-generation model run to at least 12 years. That's long for any car, but still a few years short of the 15-year model run (1979-1993) of the third-generation Fox-body Ford Mustang.
---
See Also — 2018 Dodge Challenger SRT Demon by the Numbers
Sales statistics verified with each manufacturer.