The 124 Spider in Abarth guise.
---
Small car manufacturer Fiat is struggling in a market where consumers want their big vehicles. Since its return to the US in 2011, sales peaked in 2014, but have fallen steadily through the ensuing years.
Some consumers, though, would do well to reconsider smaller and lighter vehicles going forward as gas prices have reached levels we haven't seen in years. For those that have not explored the Fiat range in as many years, a fun little model joined the lineup in 2017.
That model is none other than the Fiat 124 Spider, a roadster supplied courtesy of Mazda. Indeed, the Mazda MX-5 Miata serves as the foundation for this sporty Fiat, a vehicle offering its own take on the roadster segment.
2018 Fiat 124 Spider Review
Fiat offers the rear-wheel drive 124 Spider in Classica ($24,995), Lusso ($27,495) and Abarth ($28,195) trims. All three come with a turbocharged four-cylinder engine paired with a six-speed manual or a six-speed automatic transmission.
After a 32-year absence, Fiat reintroduced the 124 Spider in 2017. Light package changes accompany the 2018 edition, which otherwise is a carryover.
As for Fiat's relationship to the Mazda, both vehicles are built at Mazda's manufacturing plant in Hiroshima, Japan. The Fiat takes the Mazda's superb handling and comfortable ride and adds Italian flair and turbo power. This doesn't mean the Fiat is better than the Mazda — it just establishes its own take on the tapestry.
For the record, I like both models. Very much so. You can call it a day and quit your reading right now or press on to find out a few more details about this Fiat variant.
Exterior Overview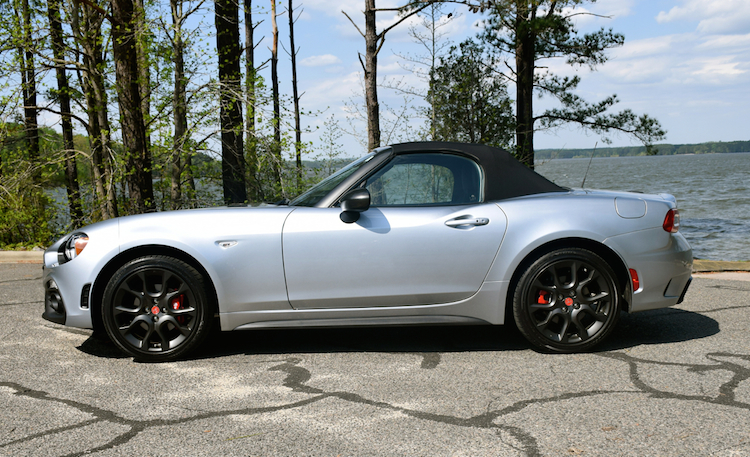 The Fiat's canvas is small, crisp and sporty. The rounded headlamps and squared tail lamps hearken to the original model. The front fascia couldn't be more different than the Mazda.
Whereas the Miata has a pretty Japanese girl's face, the Fiat has a tougher image, not unlike some of Europe's finest sports cars. I'm sure I've offended someone by the Miata descriptor — no offense intended.
The Abarth model, the very one tested, expands on the handsome theme by adding several touches unique to it. It starts with its body-colored front fascia and includes gunmetal-colored side mirror caps and roll bar cover. Gun-metallic 17-inch aluminum wheels, Brembo brakes with red covers and bright quad exhaust tips complete the look.
Otherwise, all models come with projector headlamps, power side mirrors, a soft-top convertible roof and various aluminum wheel choices. Optional equipment includes fog lamps, LED automatic leveling headlamps, headlamp washers, heated side mirrors and an available red-top roof.
Speaking of the roof, it is easy to drop down and pick up. You'll do this with the car idle — simply unhook it from the inside in the middle and drop it down until you hear a click.
Reverse the process by first hitting the release lever near the glove box, then move the roof into position. Once you start the process, if the windows are open, they will automatically slide half way down to avoid a potential glass-cracking catastrophe.
Interior Highlights
Inside, the cabin is well, snug. The following are four points I have pulled out covering the interior.
1. Not for Tall People
If you are tall and have drooled over the Miata or the 124 Spider, you may wonder if you can fit inside. Comfortably, that is. Likely, if you are somewhere north of 6-feet-tall, this little Fiat just will not work for you.
At a shade under 6 feet, I found the getting in difficult — back end first helps. The cabin is tight with very little room to maneuver. But do not take my word for it — attempt to slip behind the wheel to find out for yourself.
2. Not a Square Inch Wasted
Some vehicles have what seems like acres of wasted space on the dashboard, but this Fiat roadster makes use of every tiny corner. It has to. it causes a few odd placements, though, including the immovable and protruding cup-holder on the passenger side.
As for the driver's drink-holder, it is located between the seat-backs in front of the glove box. Retrieving your drink takes patience and some skill as you reach over with your left arm while steering with your right. You might find wedging a bottle between the seat and door a better option.
3. Comfortable, Sporty Seats
The seats are reasonably comfortable and bolstered, just as you would expect. There is no seat extender, but then movement is quite restricted. The steering column tilts, but it does not telescope. Again, room is extremely limited, which explains the restricted movement of both the seat and column.
4. An Assortment of Touches
The hand-brake seems like a throwback to another era. An electronic brake switch would seem like the better choice here as it would consume less room. Alas, it is not offered.
The vent dials are circular as are the main controls for everything else. Further, storage is minimal, but you will find a place to tuck or stack smartphones and connect to two USB points to keep them charged.
Safety & Technology Features
Small models are typically thin on the amenities, especially one so reasonably priced as this Fiat and its Mazda cousin. It does come with a rearview camera and offers blind-spot monitoring and rear cross-traffic alert. A rear parking sensor is also available, but driver-assist technologies are not offered.
Most models come with a four-speaker audio system and Bluetooth. Upgrades include satellite radio, a 7-inch color display and HD Radio. Choose a package upgrade and you'll score a 9-speaker Bose audio system with GPS navigation.
On the Road: Fiat 124 Spider Abarth
Any chance you can (especially whenever the weather cooperates) you will want to drop the top on this Fiat. The prime reason for many to own a Fiata — Fiat/Miata — is to soak up the sun and connect with the road.
That connection is amplified in the Abarth with its humming engine and a pleasant exhaust note. The note corresponds nicely to the engine's size — no overwrought tune to make you go hmmm….
My test model came with the automatic transmission (sigh), but I made work of the paddle shifters from time to time. The Fiat's engine is unique to it, a 1.4-liter turbo, generating 164 horsepower and 184 pound-feet of torque.
That is considerably better than the 155 hp/148 lb.-ft. for the Miata. Both engines offer an available six-speed short-throw manual gearbox.
The fun continues as the Abarth enjoys a sport-tuned suspension versus the usual touring suspension. Add in a limited-slip differential for improved control and handling and you'll see this roadster means business.
Fire up the ignition and the little engine that could delivers a boomlet, while the exhaust purrs. Step-off acceleration is even, turbo lag is not a big drag and moving up to highway speeds is fun. The exhilaration begins on the twisty roads where this little roadster hugs the pavement, pushes into each turn with abandon and leaves corners with ease.
Steering is sufficiently weighted and handling is a true joy. Close your eyes (well, don't) and you might imagine yourself behind the wheel of a far costlier model. Then again, the truth is in the horsepower and you will quickly come to your senses that this is not a Porsche 911. But with just 2,500 pounds present, this tiny Fiat is tossable with a big "T."
Parting Thoughts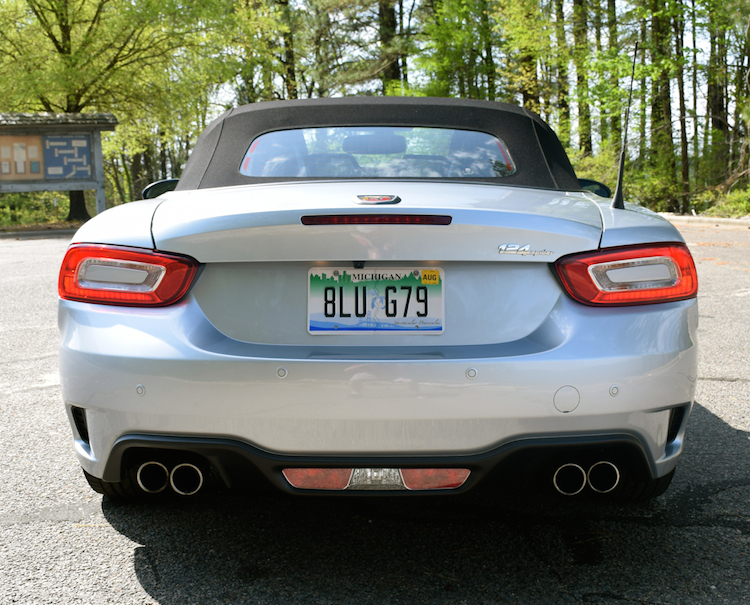 Will the 124 Spider save Fiat? No. What it does do is burnish its image. Yes, Fiat turned to Mazda to produce the model and that makes for a compromise some may find deplorable. At the same time, it shows how competing manufacturers can find a common ground — Mazda gets some cash, while Fiat receives a halo model.
As for the consumer, the 124 Spider adds a wrinkle to the roadster segment, essentially creating a competitor to the Mazda. But the duo remain unique in this world, with only the hardtop Subaru BRZ/Toyota 86 offering the closest competition, especially to the Miata RF, a hardtop exclusive to Mazda.
Pay more (a lot more in some cases) and the Nissan 370Z, Porsche 718 Boxster/Cayman and the Audi TT, might also be examined. It really is not a fair fight as the Fiata duo simply undercut and in some ways overwhelm the competition.
---
2018 Fiat 124 Spider Specifications
| Fiat | 2018 124 Spider |
| --- | --- |
| Segment | Roadster |
| Base Sticker Price | $24,995 (plus $995 destination fee) |
| Price as tested | $29,290 |
| Standard Engine | 1.4-liter, turbocharged inline-four |
| Horsepower | 164 @ 5,500 RPMs |
| Torque (lb.-ft.) | 184 @ 2,500 to 3,200 RPMs |
| Transmission | Six-speed automatic |
| Seating | 2 |
| Curb Weight (pounds) | 2,516 |
| Wheelbase (inches) | 90.9 |
| Length (inches) | 159.6 |
| Width (inches) | 68.5 |
| Height (inches) | 48.5 |
| Head room (inches) | 37.4 |
| Leg room (inches) | 43.1 |
| Shoulder room (inches) | 52.1 |
| Hip room (inches) | 52.0 |
| Storage (cubic feet) | 4.94 |
| Gross vehicle weight (pounds) | NR |
| Towing (pounds) | NR |
| Payload (pounds) | NR |
| Fuel | 91 octane recommended |
| Fuel Tank (gallons) | 11.9 |
| EPA Fuel MPG (city/highway) | 25/36 |
| Manufacturing Plant | Hiroshima, Japan |
See Also – On the Road With a 2017 Fiat 124 Spider
---
Fiat 124 Spider photos copyright Auto Trends Magazine. All rights reserved.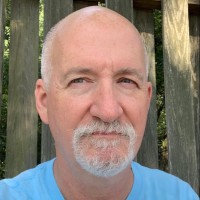 Latest posts by Matthew Keegan
(see all)