Children need special protection when riding in a car.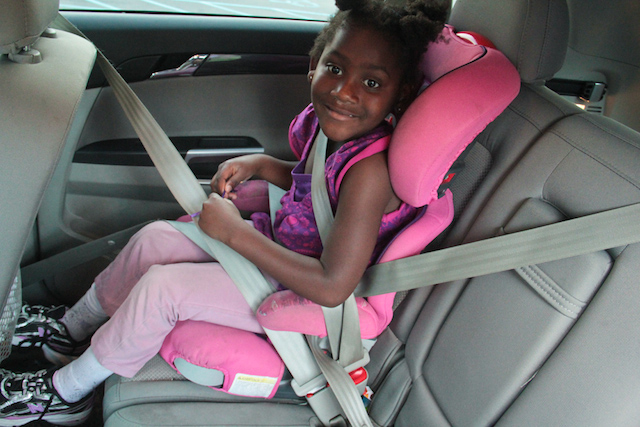 ---
More than 30,000 Americans die in car crashes each year, including 1,300 children aged 12 and younger. Car safety begins by properly buckling in all occupants with special consideration given to ensuring that children are adequately protected. The kind of protection used varies by age with the federal government recommending that all children under 13 sit in the back seat if one is available.
Vehicle Occupant Basics
Children aged 12 and under should ride in the back seat if there is one. Moreover, in some states such as California, Georgia, New Jersey and Wyoming, state law mandates using a rear seat for younger children if one is available. For the past 25 years new cars have been equipped with airbags, a safety protector for adults, but a lethal weapon that can kill kids according to the Centers for Disease Control and Prevention (CDC).
Babies and Toddlers
From birth thorough age 2, kids should be placed in a rear-facing child safety seat. That safety seat should carry a five-star rating from the National Highway Traffic Safety Administration (NHTSA) to provide the protection your kids need and the instructions you can understand. Specifically, the Ease-of-Use Ratings furnished by the NHTSA go beyond seat safety to cover four essential areas: evaluation of instructions, vehicle installation features, evaluation of labels and securing the child. The NHTSA notes that child safety seats "must fit right to work right."
---
See Also — Child Heatstroke Dangers and Your Car
---
Pre-Kindergarten Children
When young children outgrow their first child safety seat, a larger forward-facing seat should be used. Such seats hold children who weigh up to 40 pounds and must be used with the seat's harness. Some of the newer seats have a higher weight limit and provide protection for kids older than the customary four-year-old child limit.
Your School-Aged Children
Children from about aged four to aged eight can move to a booster seat once they reach the height and weight limits of their child safety seat. Belt-positioning booster seats provide adequate protection and should be fitted with the upper (shoulder) strap crossing the chest and out across the shoulder near the neck. Kids should sit up straight with their knees bent at the seat's edge advises the Insurance Institute for Highway Safety.
Preteen Vehicle Occupants
Once children reach 4 feet 9 inches tall, a booster seat is no longer needed. Instead, youngsters should use seat belts just as an adult does. The lap portion of the belt should cross the upper thighs and the shoulder belt portion should cross the chest and out across the shoulder near the neck.
LATCH Requirements
To make it easier for parents to strap their kids in, the federal government mandates that car manufacturers install lower anchors and tethers for children (LATCH) system to make it easier to attach child restraints to vehicle seats securely. Check your vehicle's owner's manual for instructions on how to connect child safety seats and booster seats.
Child safety seats and booster seats can help reduce injuries and death, but they're only as effective as they are used properly. Keep tabs on the safety of your seats by following the seat recall list and responding to those recalls immediately.
---
See Also — Pet Safety: Subaru Goes for the Dogs
Photo credit: Steven DePalo