America's love affair with the Corvette began in 1953 and continues today. It is this country's quintessential sports car, something neither the Ford GT nor the Dodge Viper can rightfully claim. Indeed, aside from skipping the 1983 model year, the Chevrolet Corvette spans seven generations, with the eighth-generation model set to debut.
Fittingly, a 2019 Chevrolet Corvette Grand Sport coupe found its way to me, then left on the eve of the C8's unveiling. In between, I reveled in all things Corvette, by thoroughly enjoying the model at hand while eagerly anticipating what's on the horizon.
The Last Hurrah: 2019 C7 Corvette Review
So, exactly what is a Corvette? Today, it represents a line of sports cars with each model (or trim) appended with a unique name. Every model of this front-engine, rear-wheel-drive, two-seat sports car has a 6.2-liter V8 engine. The engine is either naturally aspirated or supercharged, depending on the trim. Customers have a choice of 7-speed manual or 8-speed automatic transmissions.
For 2019, you'll find the standard Corvette Stingray ($55,900), followed by the Corvette Grand Sport ($65,900), Corvette Z06 ($80,900), and the pace-setting Corvette ZR1 ($123,000). Add $1,095 for the destination charge.
If you prefer a convertible, your base price rises by $4,500 across the model line. Lastly, the ZR1 incurs a $2,100 gas guzzler tax, the only Corvette model so punished. Then again, with 755 horsepower at the ready, the tax is a trifle inconvenience to deep-pocket individuals.
Corvette Grand Sport Style

What's so special about the Corvette Grand Sport? Well, as Chevrolet would tell it, this model has Corvette Racing DNA. Corvette Racing, which launched in 1999, represents the on-track performance aspirations of this sports car thanks to Pratt & Miller Engineering, which builds Corvette race cars and operates the program for Chevy Racing.
Notably, Corvette Racing has garnered more than 100 first-place finishes down through the years and is a regular participant in the 24 Hours of Le Mans and the IMSA season, the latter known as the WeatherTech SportsCar Championship.
Inspired by Corvette Racing, the Grand Sport pulls in several special features, including an aerodynamics package, performance suspension components ported from the Z06, and Michelin Pilot Super Sport performance tires. The naturally aspirated V8 engine benefits from a few tweaks too, which pushes it to 460 horsepower and 465 pound-feet of torque (compared to 455 h.p. and 460 lbs.-ft. in the Stingray).
Beyond the aero kit upgrades, the Grand Sport has model exclusive front fender inserts, a Z06-style grille, and wider rear fenders. Inside, the Grand Sport has lightweight and supportive GT bucket seats.
For $1,995, Corvette fans may upgrade to a set of Competition Sport bucket seats, which are ideal for performance driving. Specifically, these seats offer enhanced fit and bolstering for high g-cornering.
Leather seats are the standard, although various upgrades bring in perforated Napa leather, including some with sueded microfiber inserts. Both seats offer 8-way power control and, to my surprise, supply enough room to maneuver to make it possible to enhance comfort — the lumbar controls are most certainly welcome.
Also, a tall driver can sit inside without compromise and that's not something every sports car offers. Yes, the power-controlled steering column helps here.
Let's Go Racing!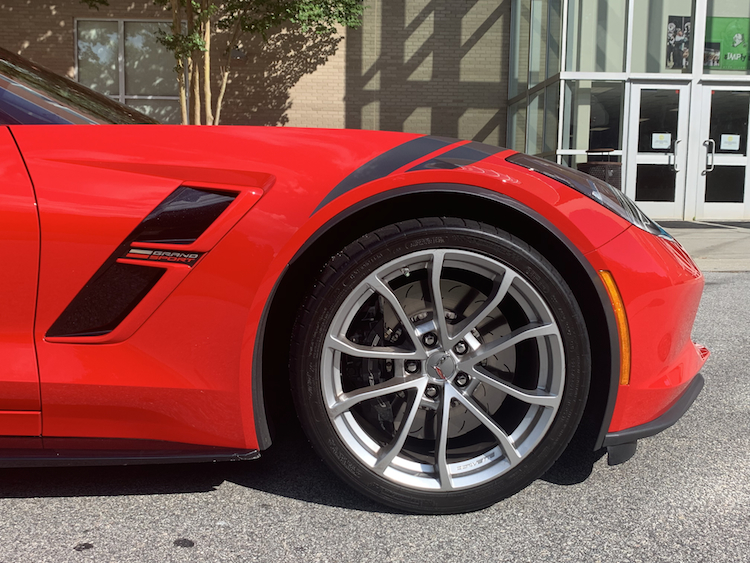 I've been asked whether I take models such as the Corvette to the track. The answer is a resounding no. My only allowable track time is under the auspices of the manufacturer and that happened only once: at Rockingham Speedway with the 2014 Lexus IS sedan.
Let's just say I've gone faster on the street than I have on the track, including in a few non-performance models. Even so, I'm much more cautious about my speed after getting ticketed when driving the Charger Hellcat last summer. Why haven't you heard about this before? I have my reasons!
Within the confines of the law, there are a few things you can do with this Corvette that aren't likely to raise the hackles of law enforcement personnel. Tackling a freeway ramp is one such pastime, including the twisty on-ramp to Route 1 near my home.
When the coast is clear, it offers an ideal test of this model's 0-60 mph time and supplies a taste of its steering and handling capabilities. Under full throttle the Corvette sighs and booms, its quad exhaust system drawing attention.
The Vette's low-to-the-ground placement, wide stance, and big tires (285/30ZR19 (front) and 335/25ZR20 (rear), combine to provide excellent connectivity to the pavement. It's stupid easy, actually: all you have to do is apply pressure to the pedal and a slight touch to the steering wheel — the Corvette makes a novice driver seem like a professional.
I've driven this generation Corvette with both the seven-speed manual and the eight-speed automatic. My test model had the automatic which does, of course, remove an important element from the driving experience.
Oddly, though, I would have preferred just six forward gears with the manual — the seventh seems unnecessary, an arrangement the Porsche 911 uses too. Sadly, this may be the last Corvette with an available manual.
Technology
One thoroughly nifty tech feature is the available performance data and video recorder. This system records video and real-time performance data for playback and analysis. You can even share the results. The way this works is through a windshield-mounted HD camera which captures everything for replay on the color touch screen or saved to an SD memory card.
When operating the Corvette in track mode, it records video, audio and synchronized performance data, including your speed, g force, track maps, lap times, and start/finish line. The Sport mode simplifies the data, including speed and g force information. The Touring mode simply records your scenic drives.
There is also a performance mode, which may be the most useful of all: it records your 0-60 mph, quarter-mile and elapsed time as well as your 0-100 and 100-0 runs. Finally, owners should be pleased with the valet mode as it effectively spies (records) what others are doing with your car when not in your hands.
When not lapping or taking in the many performance attributes of the Corvette, it performs as a nice cruiser. Yes, it can serve as your daily driver — it is that comfortable and in some ways it is economical for a V8. Thanks to cylinder deactivation technology, the Corvette shuts down half its cylinders, operating as a V4 during those times.
The changeover is apparent right on the instrument panel, but it can also be felt while driving. Switch on cruise control while on your journey and operate in economy mode and you'll soon average about 20 mpg. That's better than your fuel-gulping pickup truck and nearly equals some turbocharged six-cylinder models.
Parting Thoughts: C7 Corvette
Three different C7 Corvettes later and I'm still quite pleased with this model. The Corvette's look, feel, and performance are top-notch. It isn't perfect — the removable targa roof is heavy and the interior doesn't rise to world-class standards (but at least it is a major improvement over previous models). What this one does is place a handsome capstone on the model range.
To appeal to a new generation of consumers, the Corvette will go through its most important transformation when the C8 model debuts and goes on sale later this year. I had thought that Chevrolet might build both models, but the end is nigh for the C7 and the next-generation model will carry the banner for many years ahead.
If you're shopping for a Corvette, the standard Stingray is a logical place to start. The other two models above the Grand Sport supply outstanding performance, with the ZR1 representing one of the fastest production vehicles you can buy.
2019 Chevrolet Corvette Grand Sport Specifications
Sticker price from $66,995
Price as tested: from $79,530
Seats 2 occupants
6.2-liter 16-valve V-8 gasoline engine
460 horsepower @ 6,000 rpm
465 foot-pounds of torque @ 4,600 rpm
4.06 inches bore by 3.62 inches stroke
Engine compression ratio: 11.5-to-1
7-speed manual or 8-speed automatic transmission
Wheelbase: 106.7 inches
Length: 176.9 inches
Width: 73.9 inches
Height: 48.8 inches
Passenger volume: 52 cubic feet
Storage volume: 15 cubic feet
Towing capacity: NR
EPA: 15/16 mpg city, 25 mpg highway
Premium grade gasoline recommended
Fuel tank: 18.5 gallons
Curb weight: From 3,298 pounds
IIHS safety rating: NR
Limited vehicle warranty: 3 years/36,000 miles
Powertrain warranty: 5 years/100,000 miles
Corrosion warranty: 6 years/100,000 miles
Vehicle assembly: Bowling Green, Kentucky
---
See Also – Book Review — Legendary Corvettes
2019 Chevrolet Corvette Grand Sport photos copyright Auto Trends Magazine. All rights reserved.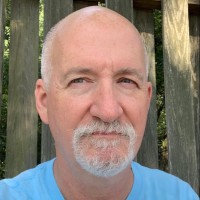 Latest posts by Matthew Keegan
(see all)