Nissan's Frontier is at the end of its second generation. A new model follows in 2021, but for its swan song the current one receives a new engine and transmission.
---
We're at the end of the second generation for the Nissan Frontier. The current model was rolled out in late 2004 for the 2005 model year and is now in its sixteenth year.
Although Nissan hasn't said as much, we believe the delay has everything to do with this automaker launching its full-size Titan/Titan XD pickup trucks a few years back. It was a big project for a manufacturer best known for its extensive line of cars and crossovers.
Soon, we'll see an all-new 2022 Frontier (the 2021 did no happen due to the pandemic), launching this midsize truck's third generation.
We don't know much about the new truck, but Nissan did something highly unusual for the last year of the current model: it rolled out the powertrain slated for the future truck to close out the second generation.
2020 Nissan Frontier Review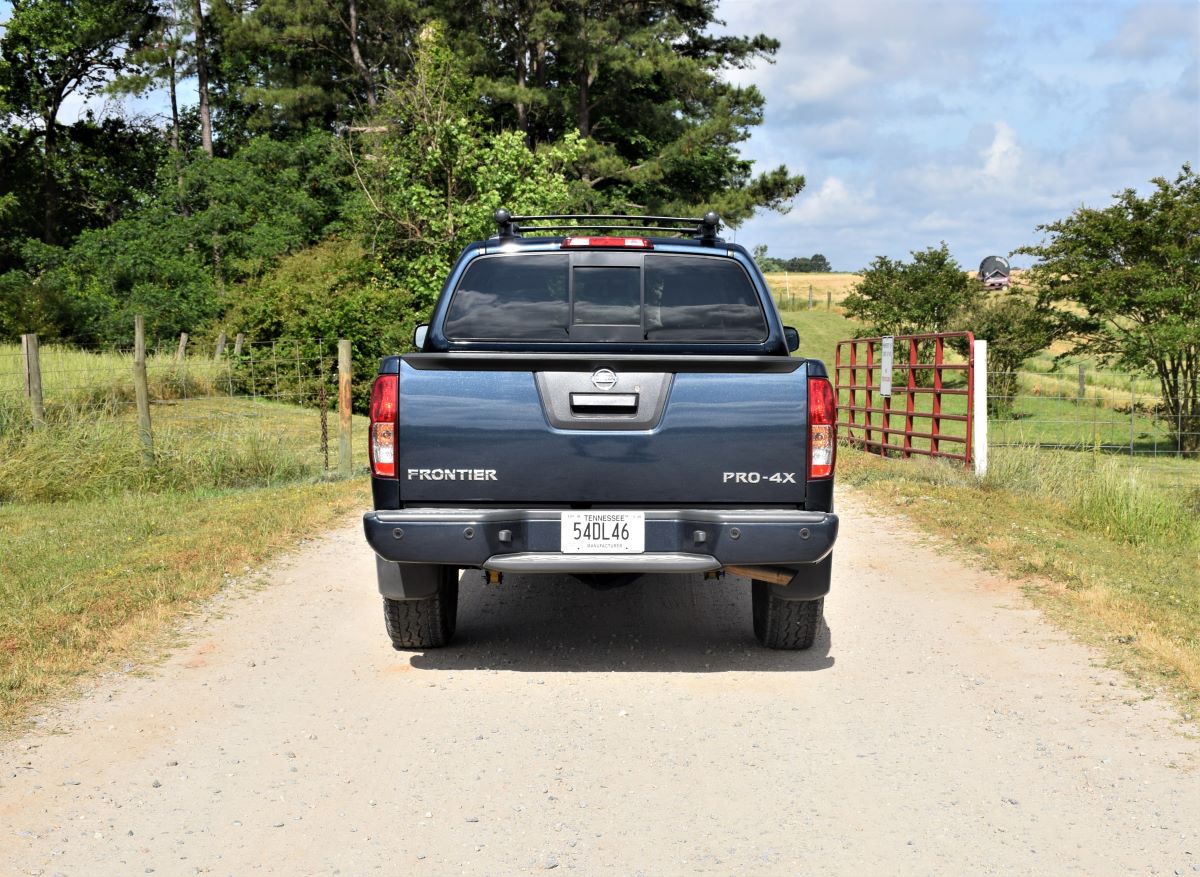 Nissan offers the 2020 Frontier in King Cab and Crew Cab configurations. Prices range from $26,790 to $30,560 for the King Cab and from $27,900 to $37,490 for the Crew Cab. Add $1,095 for the destination charge. The Frontier comes in standard rear-wheel drive (4×2) and available four-wheel drive (4×4).
Production delays due to the coronavirus pandemic mean the 2020 model won't enter Nissan showrooms until July. Likewise, it'll be a brief model year run with the 2021 Frontier arriving early next year.
Exterior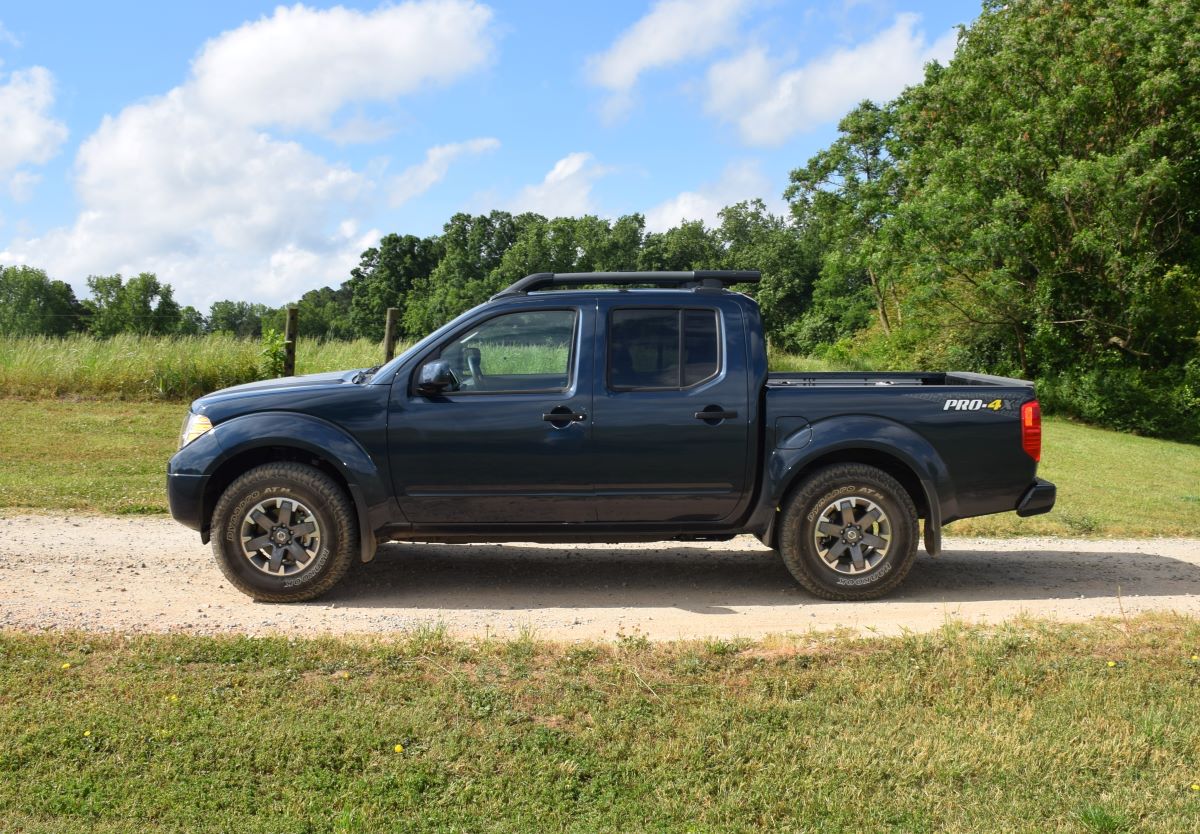 The current Frontier is slightly smaller than other models in this segment. That said, it is about the right size for its class, at least in my opinion. Immediately, I noticed the difference as some of the newer models are slightly wider and longer. Odd as it may seem, this is the first time I've ever driven a Frontier.
Size is an important component and the current Frontier will fit inside most garages without a problem, while the larger Titan may not. The Frontier's look is straightforward with a tamer version of Nissan's V-motion grille present. Upright pillars. A high beltline. Distinct wheel wells. These are some of the attributes of the Frontier.
Our test PRO-4X model went a step further with its all-terrain tires, sporty wheels, special decaling, unique roof rails, and underbody cladding. It's the look you'd expect with any truck, will trail-pounding in mind. As for the bed choices, you'll find either 5- or 6-foot options, depending on the style.
Interior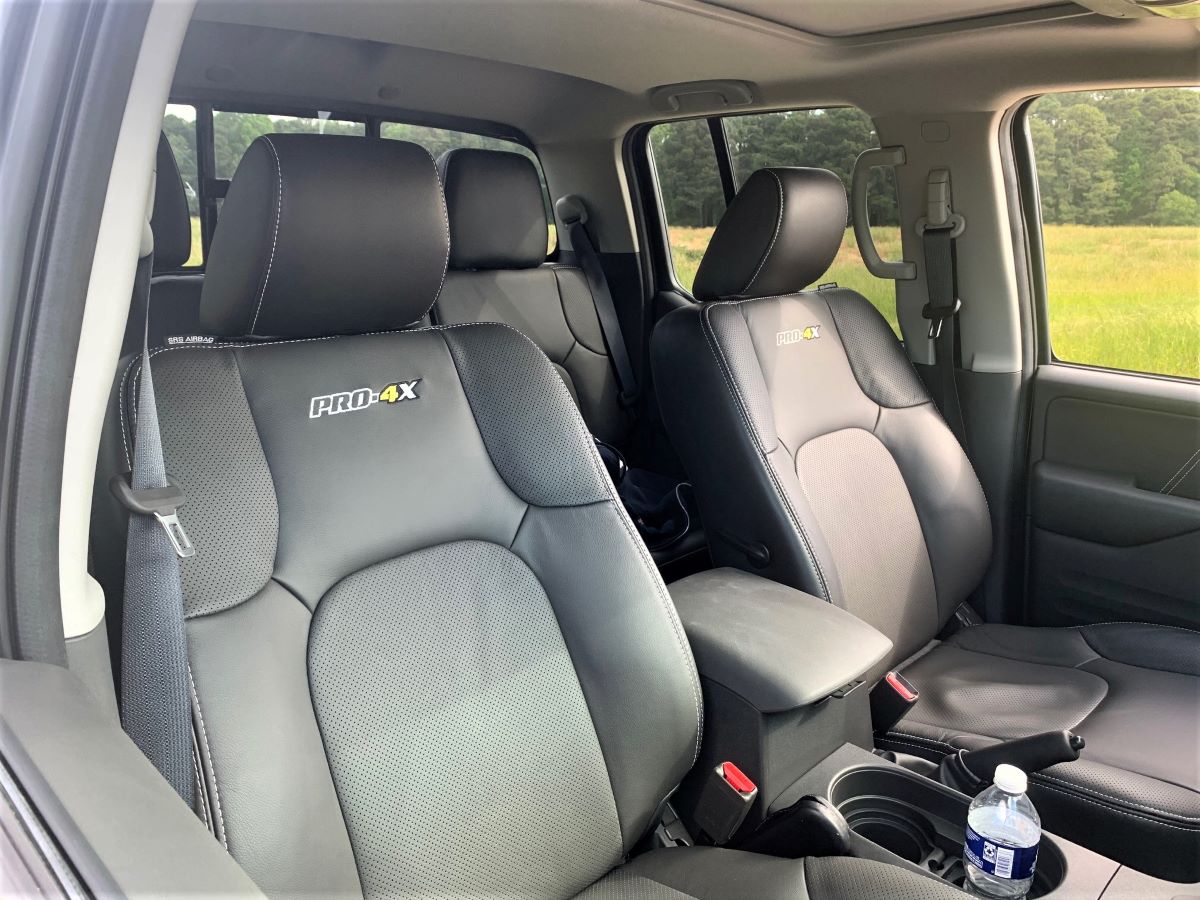 The Nissan Frontier seats up to five, but even then those sitting in the back seat should be small in stature and not especially picky about legroom or space between the passengers. The best seats are, of course, upfront – both offer generous back and hip support.
The cabin itself seems dated and it is. The layered dashboard offers a combination of soft and hard surfaces. The instrument panel is an older design, but its analog displays are bright and therefore easy to read. Our text model had attractive orange highlights – you'll find dual accent stitching and perimeter trim on the vents.
Other features of note include the wide door pockets upfront and the fold-up split-bench seat in the rear. That's standard fare for the segment.
Safety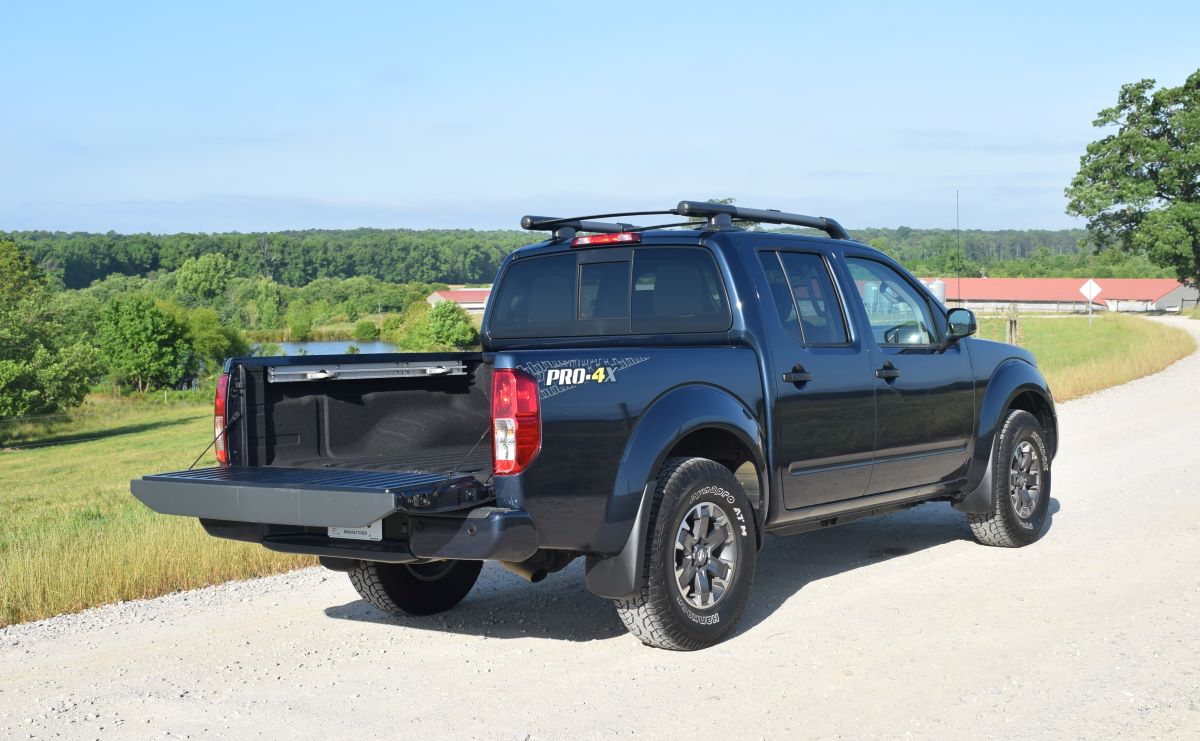 We looked at the Frontier's safety scores and they trail every model in the class. This is where the Frontier's age is apparent – a new design should mean that it offers superior protection in various crash-test and rollover scenarios.
What's frustrating is the total lack of advanced safety gear. Beyond the mandated suite of airbags and rearview camera, you won't find the usual features, including lane warning assist, automatic emergency braking, and rear braking. It may not be a showstopper for a cohort of pickup truck drivers, but it will to others.
Technology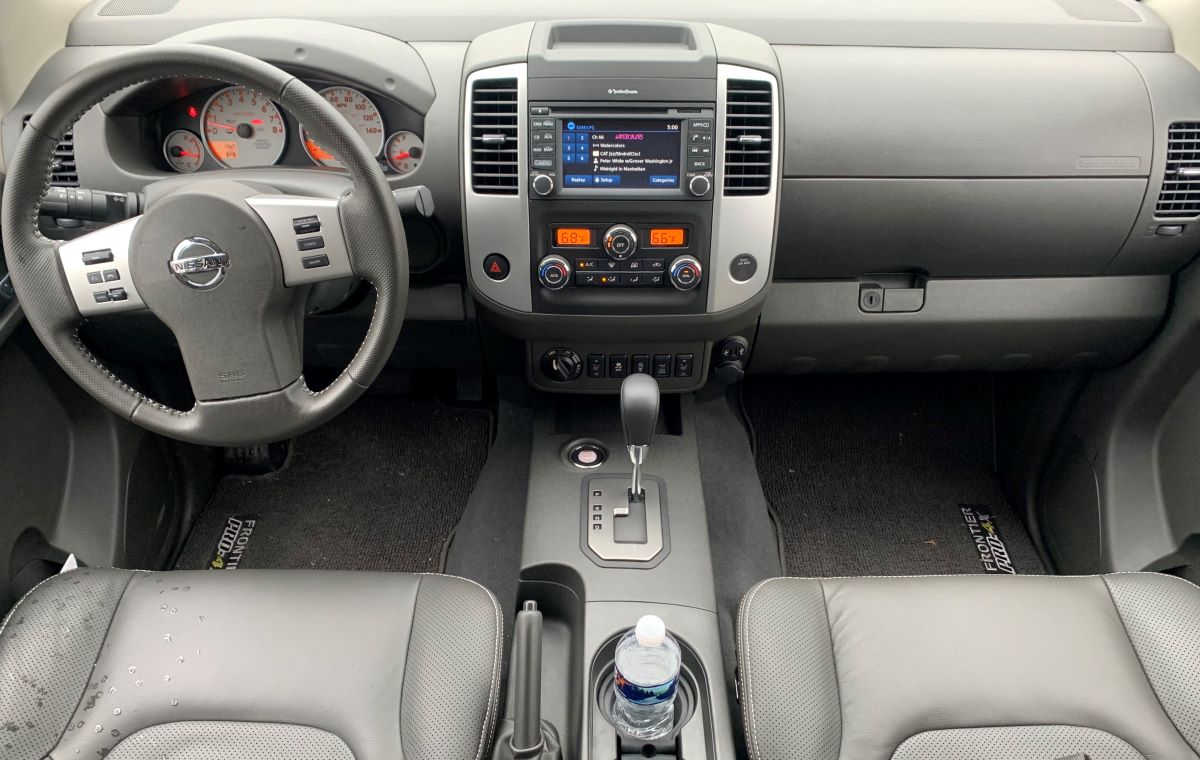 Nissan's tech also trails the competition, but not nearly as bad as it does in safety. For one, you get several features including a small touch-screen display, one USB port, Siri Eyes Free, and Bluetooth connectivity. The list of options include an upgraded audio system and navigation.
There were a few features missing from the options list. One was surprising: a 110/120-volt power outlet. The other was a wireless charging pad. We're thinking the new model will offer both. Additional USB ports, an app suite, and a modern touch-screen display are other features we want.
Performance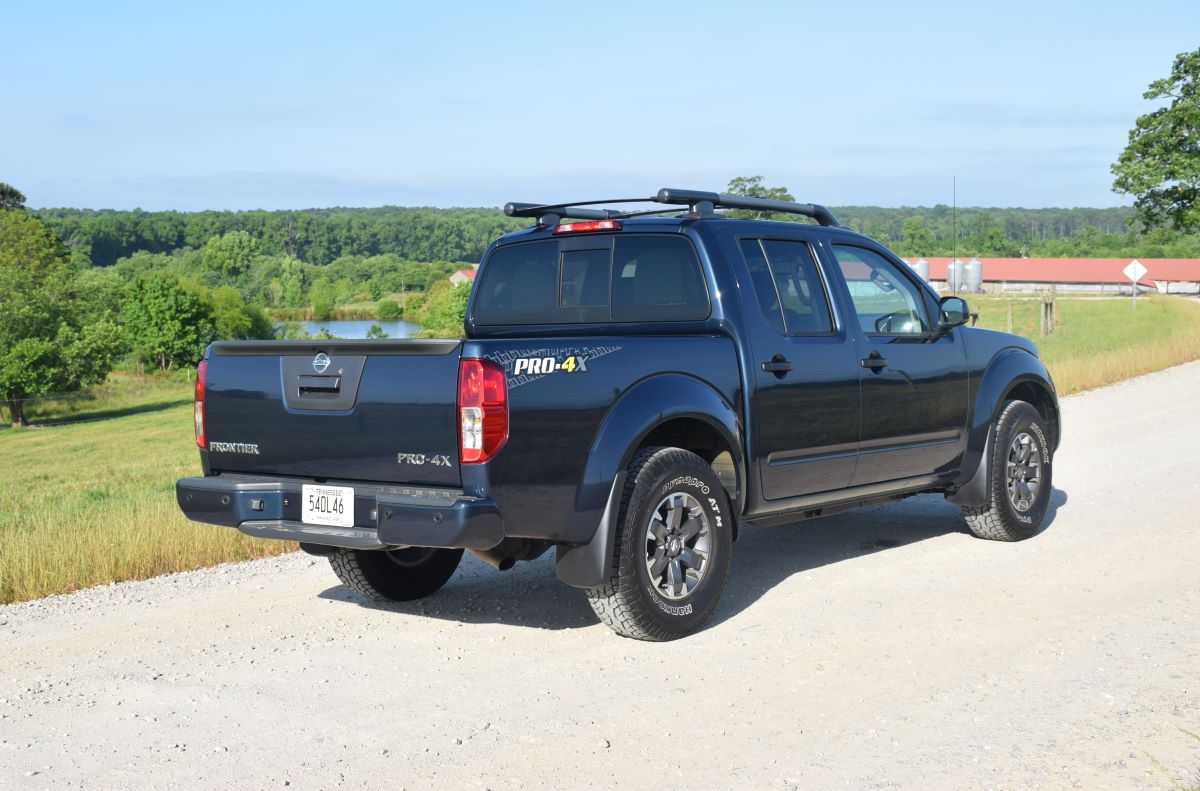 Everything important about the 2020 Frontier is what you don't see. Unless you raise the hood or lift the truck.
Last year's truck offered two engine choices: a 2.5-liter inline-four and a 4.0-liter V6. Both engines were paired with 5- or 6-speed manual gearboxes or mated with a 5-speed automatic transmission. Those powertrain choices are gone in favor of the one new pairing. Yes we have no manuals.
Under the hood of every 2020 Frontier is a 3.8-liter V6 with 310 horsepower and 281 pound-feet of torque. It works with a 9-speed automatic transmission that Nissan says is similar to the one sending power to the wheels of the burly Nissan Titan.
We don't know a whole lot about the new engine other than the overwhelming majority of its parts are unique and not shared with any other engine. Still, if there are elements in this direct-injection engine's design that are similar to the praiseworthy 3.5- or 3.7-liter V6s long powering various Nissan and Infiniti products, then that's noteworthy.
Like the other V6s, this one supplies ample low-end grunt and excellent passing power. Nissan wisely developed a 9-speed transmission that quickly shifts through cogs and in a seamless manner. Not once did we sense it hunting for gears – it always found its place, helping to motivate the Frontier with authority.
It was smart for Nissan to place the new powertrain in the old model. That way, if any issues do arise with the new truck, the powertrain shouldn't be one of them. And as near as we could tell, this one should hold up under stressful conditions, including when towing, under heavy payload, and while working off-road.
Alas, our favorite trails remained closed as the COVID-19 pandemic raged on. This seems odd as much social distancing is practiced when beating down paths less traveled. Nevertheless, we managed to hit a few places where the Frontier strutted its stuff, including a nearby agricultural area.
In PRO-4X guise, the Frontier acquitted itself, tackling gravel-covered roads, navigating ditches, and staying steady on uneven terrain.
Finally, the Frontier's fuel economy is an improvement over the previous model, with 20 mpg attainable. That's a strong improvement over the 15 mpg the previous V6 offered.
Competitive Set
The competition is formidable and the current Frontier is clearly outclassed by each of the newer models. Nonetheless, we think its new V6 offers much promise – if you wait a year, it'll power an all-new model.
This year, the Frontier goes up against the perennial segment-leading Toyota Tacoma. You'll also find the Chevrolet Colorado, GMC Canyon, Ford Ranger, and the Jeep Gladiator.
There is also the Honda Ridgeline. We expect Ram will join in with a model of its own in the next year or two.
Our Recommendation
If you can't wait for the new model, the 2020 Frontier and its powertrain pairing are sure to please. That said, you're still buying a truck without the advanced driver-assist features available elsewhere these days.
Beyond trim, we'd go with a 4×4 for off-road fun. The PRO-4X is not as pricey as the Tacoma TRD Off-Road, but the age of the former, makes it difficult to go up against the latter, especially with the Toyota's automated crawl control capabilities.
2020 Nissan Frontier Specifications
| Nissan | 2020 Frontier |
| --- | --- |
| Segment | Midsize Pickup Truck |
| Price Range | TBD |
| Destination Charge | TBD |
| Standard Engine | 3.8-liter, V6 |
| Horsepower | 310 @ 6,400 rpm |
| Torque (lb.-ft.) | 281 @ 4,400 rpm |
| Transmission | 9-speed automatic |
| Seating | Up to 5 |
| Curb Weight (pounds) | From 4,264 to 4,696 |
| Wheelbase (inches) | 125.9/139.9 |
| Length (inches) | 205.5/219.4 |
| Width (inches) | 72.8 |
| Height (inches) | 70.1/73.9 |
| Headroom (f,r…inches) | 39.9, 38.6 |
| Legroom (f,r…inches) | 42.4, 33.6 |
| Shoulder room (f,r…inches) | 58.3, 58.3 |
| Hip room (f,r…inches) | 55.6, 58.0 |
| Storage (cubic feet) | 27.1 (std.); 33.5 (long) |
| Gross vehicle weight (pounds) | NR |
| Towing (pounds) | 6,720 |
| Payload (pounds) | 1,020 to 1,460 |
| Fuel | regular |
| Fuel Tank (gallons) | 21.1 |
| EPA Fuel MPG (city/highway/combined) | 18/24/20 |
| Manufacturing Plant | Canton, Miss. |
Data compiled by Tom Keegan. Specifications supplied by the manufacturer.
---
See Also – Super Trooper: Nissan Titan Pickup
Photos copyright Nissan North America. All rights reserved.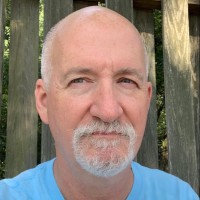 Latest posts by Matthew Keegan
(see all)