Dodge brings an SRT Hellcat to the Durango line.
---
The Dodge Durango needs little introduction, a three-row midsize utility vehicle with room for seven. In a sea of crossovers, the Durango supplies standard rear-wheel drive and a look that is about as aggressive as they come.
Beyond its appearance, Dodge backs it up with powerful engines, including an available supercharged 6.2-liter V8. The beefy engine is exclusive to the SRT Hellcat, which was a recent visitor to our test fleet.
The third-generation Durango, introduced in 2011, is in its eleventh year. That represents a long time between updates, but Dodge has managed to keep things fresh with regular tweaks to its exterior and cabin. For 2021, the SRT Hellcat is its newest variant, joining the Charger sedan and Challenger coupe in that department.
2021 Dodge Durango SRT Hellcat Review
Pricing and Availability
The focus of our review is the SRT Hellcat and for good reason: it is one of the fastest SUVs in the world. We will concentrate on three areas: the exterior, cabin/tech, and performance. You will also pay handsomely to get one: $80,995, plus a $1,495 destination charge. Our test model came in at $89,610.
We did manage to spec one at $100,155, thanks to the Dodge configurator. That meant choosing every possible paint, wheels, towing, entertainment, and cabin upgrade.
It is doubtful you will pay that much, but it is still possible. Amazing, is it not?
If you are in the market for a 2021 SRT Hellcat, you need to know that Dodge is limiting production to just 2,000 units. That may not sound like much, but then we are talking about a niche model. On the other hand, whatever perceived pent-up demand there is may make this one a fast seller.
Styled Right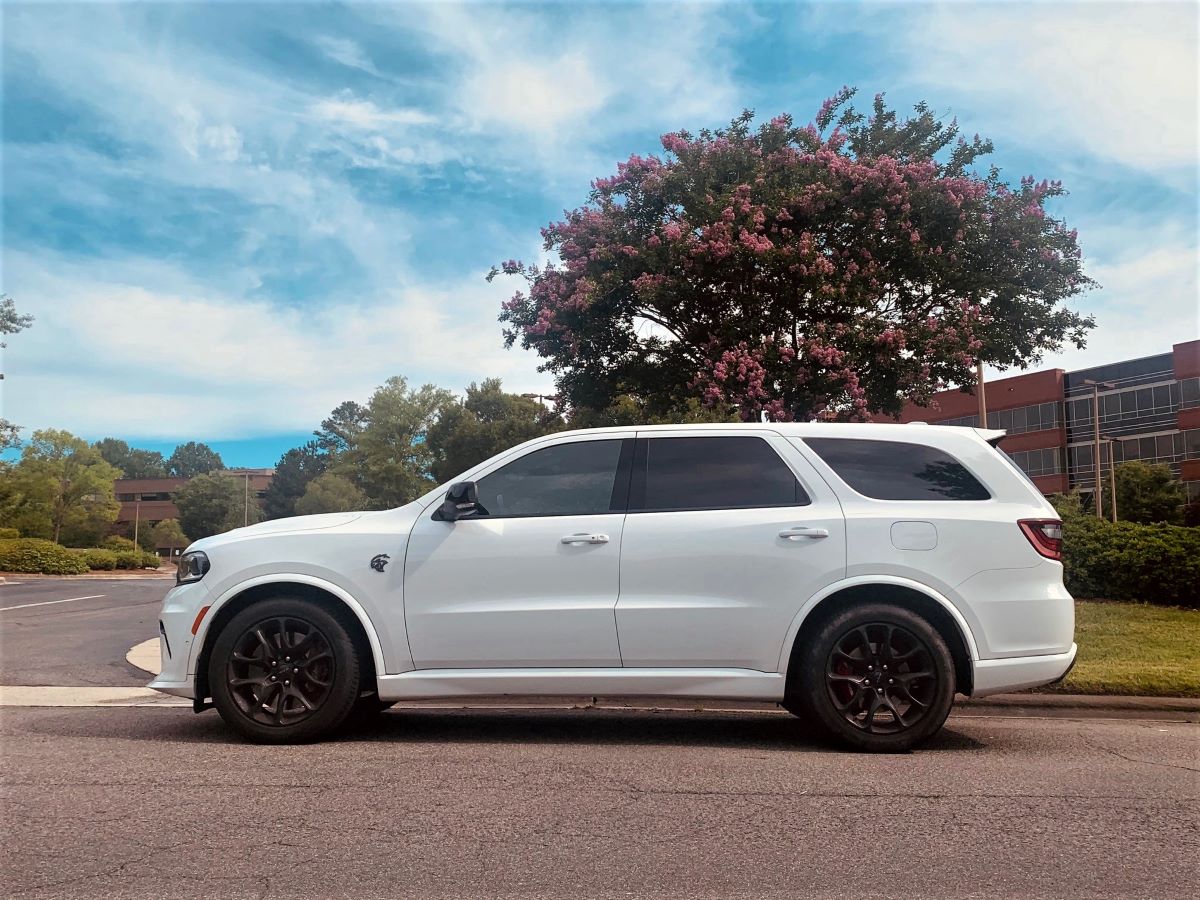 Without the additional (and spend-up) embellishments, the SRT Hellcat is not all that different from the standard model. Certainly, the additional cooling vents, special wheels, and Hellcat badging are dead giveaways.
Our test model came with the exterior enhancing Black Package ($1,845). This one bundles the black exhaust tips, the gloss-black metallic side mirrors, the "lights-out" 20-inch alloy wheels, and gray metallic badges. The dual-center design stripes ($1,295) were another enhancement that emphasized that was no ordinary Durango.
Inside, the cabin holds seven, although in most models the configuration is six – 2+2+2. The seats come wrapped in Nappa leather-trimmed with perforated inserts and accented with black stitching. Embroidered Hellcat logos distinguish this model from the pack.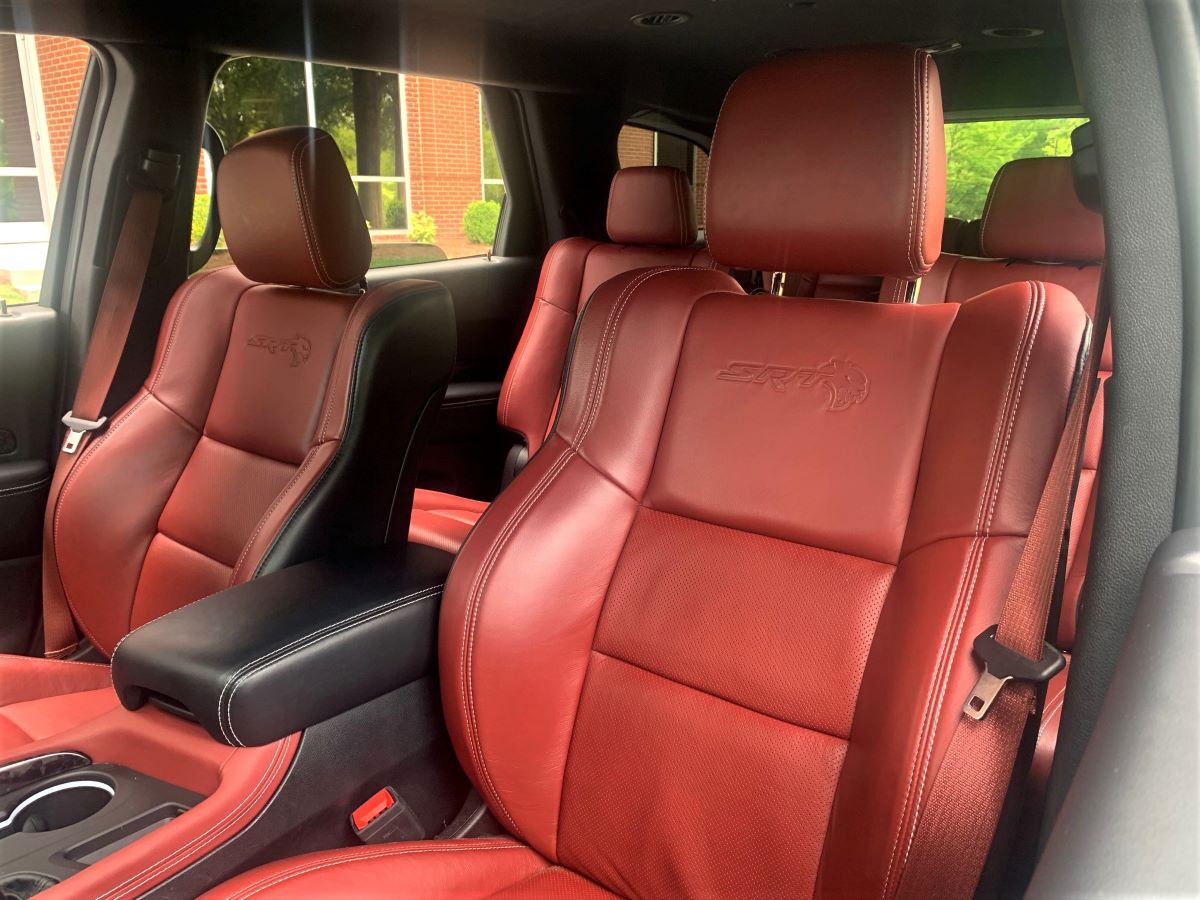 Our test model had the High Performance Laguna Leather seats ($1,595). These are comfortable despite the enhanced bolstering.
Our tester also came with the Premium Interior Group ($2,495). This package combines a suede headliner with a premium (thicker) instrument panel. It also brings in forged carbon fiber trim accents for an exceptional look. The optional red seat belts ($95) completed the look.
One of the great things about this Hellcat is that it can do family duty. We think it will satisfy a certain breed of buyer. In particular, this might include an individual who may have had to put away his or her performance model to the side to accommodate a growing family.
Who said the family SUV had to be boring? Not Dodge. And certainly not in SRT guise.
We Have Engines!
The SRT Hellcat's engine is not the largest – that distinction belongs to the SRT model with its naturally aspirated 6.4-liter V8 engine. Certainly, with an output of 475 horsepower and 470 pound-feet of torque, it qualifies as a veritable beast of its own. Like the Hellcat, this model is all-wheel-drive-only.
But the SRT Hellcat is the prince among all Durango models, as its supercharged 6.2-liter V8 develops a heady 710 horsepower and 645 pound-feet of torque. While both models sport the SRT (Sport & Racing Technology) badge, the Hellcat simply raises the performance quotient considerably. By about 50 percent, that is.
Both models utilize an 8-speed automatic transmission to route power to the wheels. In the SRT Hellcat, it is especially geared toward handling the additional performance requirements and is quick-shifting too.
Under the Hood
The main talk about the SRT Hellcat are its performance attributes. But to get there, it is the supercharger that pumps in so much power. This unit displaces an incredible 2.4 liters – bigger than some engines.
With its twin-screw rotors capable of spinning 14,600 rpm and a boosted pressure of 11.6 PSI, there is copious amounts of power on hand.
Supplied by Eaton, the supercharger comes with charge-air coolers with a water pump, coolant reservoir, and a heat exchanger. Thus, air intake temperature is sufficiently managed, keeping it below 140 degrees Fahrenheit.
The engine itself is reinforced to handle all the extra pressure delivered. Dodge utilizes forged steel in crankshaft, pistons, and connecting rods. Also, the block-cooling water jets and piston-cooling oil jets were similarly treated.
One quick word – yes, Hennessey Performance has taken 50 copies of the SRT Hellcat and swapped out the supercharger with one displacing 2.7 liters. As a result, that one makes 900 horsepower. Just awesome!
Transmission, Suspension, and Exhaust
Power routes to all four wheels by means of an 8-speed automatic transmission. It is the same one used in the powerful Jeep Grand Cherokee Trackhawk. Stock Pirelli Scorpion Zero all-season tires supply grip, with P-Zero summer tires available.
The SRT Hellcat's suspension system builds on the Durango SRT, with tweaks supplying better rebound control. As a result, body roll and understeer improve, significant issues with any high-performance, high-profile model.
Bringing the SRT Hellcat to a certain stop are Brembo brakes — with 15.8-inch slotted, 2-piece front rotors and 13.8-inch slotted rear rotors, and with 4-piston front and 2-piston rear calipers supplying grip.
What's the stopping distance? An amazing 110 feet according to Motor Trend.
Power blows out the dual rear exhaust system via a 260-millimeter X-pipe (the largest on any SRT) and through 4-inch tips. It toots loud and proud, something your neighbors are certain to appreciate.
Depending on who tested the SRT Hellcat, this one has a 0-60 mph time of 3.5 to 3.9 seconds. That is simply incredible! Moreover, this model has a top speed of 180 mph.
We have seen quarter-mile times of 11.6 seconds, which is simply outstanding. Lastly, this Durango pulls 8,700 pounds, rivaling some of the largest truck-based SUVs on the market.
SRT Performance Plus Pages
We are fans of the Chrysler, Dodge, Jeep, Stellantis, et al, Uconnect system. This tech interface is crisp, fast, and easy to use. The 10.1-inch screen is also new this year.
On select models (think performance), Dodge includes Performance Pages. By accessing the Uconnect screen, you can view and manage a variety of settings. These include performance timers, real-time power, and more gauges.
Track your speed with the pages, working toward improving your times. Activate launch control on the panel, then press hard on the brake with your left foot. Next, press the gas pedal to the floor.
When instructed to do, immediately release the brake, keeping the pedal pressed to the metal (or carpet). You will soon hit 60 mph and climb ever higher until you release the pedal. Do this over and over again and certainly your numbers are bound to improve.
Durango SRT Hellcat: On the Road
We have come to the point in our review where the driving experience looms. Certainly, we covered a lot already, but the individual drive is the difference-maker. And did we learn a lot about this model!
On ignition, the SRT Hellcat rumbles. Its sound parallels its Challenger and Charger brethren. No surprise there. That rumble is followed by a whoosh as backpressure builds and moves out through the pipes.
Move into gear and the SRT Hellcat presses forward steadily. Outside of the cacophony, the Hellcat behaves like every other Durango. But not for long. Indeed, even the slightest additional pressure exerted puts the supercharger to work.
Unlike turbos, superchargers deliver power instantly. At this point, you may find yourself firing off instructions for everyone to hold on. That is because the ride is about to push to the next level.
On straightaways, the SRT Hellcat is potent. It moves down the line with ease, supplying a neck snap-back experience from a dead stop. On the twisty roads, we expected some body roll and experienced it.
But the fat tires, tuned suspension, and slightly lower stance combine to reduce it. Our preference for that kind of driving would be either the Challenger or the Charger, but Dodge managed to keep the hotted-up Durango in line.
Cornering, though, is a different thing. Physics come in here – you will need to ease up on the gas pedal, apply the brakes slightly, and find the speed that you feel comfortable with as you dart around corners. Chances are, though, your back seat passengers will turn green in the process.
We give the SRT Hellcat high marks for direct steering and weighted handling. Close your eyes (well, don't) and you will quickly find the connection between all three SRT Hellcat models.
Dodge Durango SRT Hellcat Takeaway
Typically, we do not rate models. But in this case, we must stress that we are quite pleased with what Dodge did with this SUV. The Durango SRT Hellcat seems a long way coming, but the wait was worth it.
Timing is everything in this business. With the Grand Caravan minivan and the aged Journey crossover gone, the Dodge line is comprised of three performance models.
We may not see a Hellcat for long as emissions standards make it difficult for manufacturers to justify these engines. Also, electrification is on the horizon and we can all see where that is going.
So, if you fancy a new SRT Hellcat, there is no time like the present.
---
See Also – 12 Things We LOVE About the Dodge Charger R/T Scat Pack
Photos copyright Auto Trends Magazine. All rights reserved.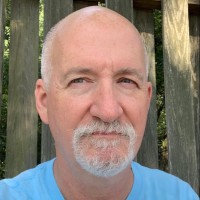 Latest posts by Matthew Keegan
(see all)