Lexus updates the IS as it retires the GS.
Sedan sales continue to decline as consumers opt for utility vehicles. But some manufacturers are doubling down on the segment by updating new models.
This year, Lexus canceled the midsize GS, while updating the IS. The number of Lexus sedan lines is down to three (IS, ES, and LS), with the remaining models each updated within the past two years.
2021 Lexus IS 350 F Sport Review
Lexus prices the 2021 Lexus IS 350 F Sport from $39,000 to $44,900, plus a $1,025 destination charge. The IS comes in four trims: IS 300 RWD, IS 300 AWD, IS 350 F Sport RWD, and IS 350 F Sport AWD. Previously, Lexus offered the F Sport with both engine choices. This year, the IS 350 is the F Sport.
This model seats up to five. Our test vehicle was a 2021 Lexus IS 350 F Sport RWD. Unlike the other two sedans, this one doesn't have a hybrid variant.
Exterior
So, is the 2021 IS an all-new model or simply a refresh? We call it a refresh as it has the same dimensions as last year's model along with carried over powertrains. Lexus may beg to differ, but we're sticking with our guns: unless a model is completely overhauled, such as utilizing new architecture, then it is, indeed, a refresh.
Happily, the changes were worth it, enabling Lexus to stay with the remaining contenders in this segment, including the BMW 3 Series, Cadillac CT4, Mercedes-Benz C-Class, and the Audi A4, to name a few.
This year, the front fascia has been reworked, although the now customary hourglass (spindle) grille is nothing new. The slender headlamps are new with the Lexus "check mark" now sitting above the lights. From front to back, the design is crisper with more pronounced lines and sculpting than before. It sits slightly lower and wider, thanks in part to burly bumpers that help supply a more aggressive canvas.
The most impressive change, at least in this person's eyes, is the rear lighting element. The rear also supplies its own take on the check mark lights up front, with distinct L-shaped lamps connected by a thin line of LED lights. Its impressive enough by day, but its quite fetching by night.
Choose an F Sport trim and there are some changes to the spindle grille, including block forms within to create a sporty touch. A grille bottom intake allows air to flow through to enhance brake cooling, which is a design Lexus says is inspired by the RC F.
Exclusive BBS wheels, carbon fiber outer mirror housings, and a unique carbon fiber rear spoiler are finishing accents in F Sport models with the available Dynamic Handling Package.
Premium triple-beam LED headlights are available.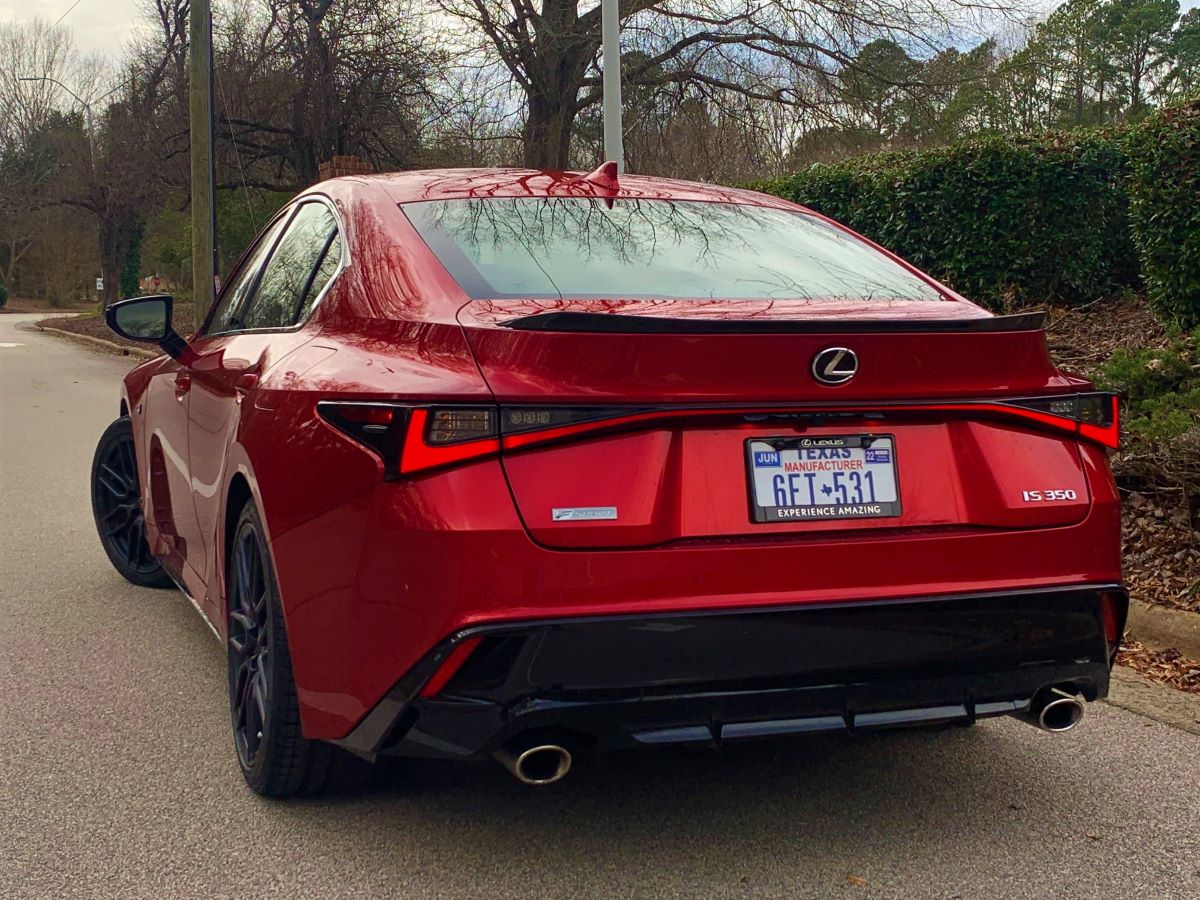 Interior
We've long been fans of Lexus' interiors, prizing them for excellent fit and finish, simplicity, and the high-quality materials used. We're not especially fans of the scratchpad mouse for controlling some features, but this year there is a touch-screen display added. Thus, you're no longer dependent on the pad to manage some functions.
With the GS gone, the IS makes a leap to the big LS. Also, there is the Lexus ES, a front-wheel-drive sedan that's slightly larger and roomier than the IS. It now offers all-wheel drive. But we like to compare similar sedans and the IS comes in closer to the now retired GS, which previously was the model nearest in size to the ultra-luxury LS.
The changes from the previous model year are small, but worth noting. Indeed, you're already an IS fan if you notice these changes, which include round air vents, relocated cup holders, and an infotainment display that sits closer to the dashboard's edge.
We figured that Lexus' designers looked at the niggling issues with the cabin and adjusted it accordingly. Consequently, Lexus made the necessary updates without a revolutionary (and expensive) overhaul.
If you're looking for a roomy interior beyond the front seats, this isn't it – you'll want the ES instead. The IS' front seats are very comfortable and supportive, although we could wish for thigh extenders ala the BMW 3 Series to take pressure off our hips for those long drives. And as someone who battles sciatic pain from time to time, extenders are most welcome.
For passengers consigned to the rear seat, that region diminishes in appeal significantly. The seats are comfortable, but ingress and egress is limited, there isn't enough legroom, and tall folks may find their hair sticking to the headliner.
If you and one other passenger are below average in height, the seating area is much more tolerable. On paper, three can sit back there, but the space is simply too tight to do so except for short trips.
Trunk space is also quite small. Consequently, you're limited if you plan to bring a lot of luggage with you on your next trip. Notably, the 10.8 cubic feet available is quite small for this vehicle; we typically see 15 cubic feet or more. Certainly, I know I'll sound like a broken record, by the Lexus ES and its 16.7 cubic feet of cargo space looms large in this segment.
Lexus dresses the Is 300 with NuLuxe interior trim – this leather-like material is cushy and comfortable. It's also breathable, serving as a proper substitute for real hides. The list of standard features that go beyond full power accessories includes 8-way power front seats and dual-zone climate control.
Choose the IS 350 F Sport and this trim brings in various F Sport embellishments, including to the leather-trimmed steering wheel, bolstered heated and ventilated front seats, embossed interior trim, black geometric interior trim, and aluminum pedals. Further, this trim has a 10-way power driver's seat with lumbar support and four-way adjustable headrests.
Lexus offers a Comfort Package that includes heated and ventilated front seats, a heated leather-trimmed steering wheel, and a power tilt-and-slide moonroof. The Dynamic Handling Package (which we mention in brief below), brings in a heated wood steering wheel, and ash interior trim.
Tech
Lexus equips the IS 300 models with an 8-inch touchscreen display, a 10-speaker audio system, Bluetooth, Apple CarPlay and Android Auto smartphone integration, Amazon Alexa compatibility, Lexus Enform connectivity with Wi-Fi, and USB connectivity.
Among the upgrades are 15- and 17-speaker Mark Levinson audio systems, a navigation package, and a 10.3-inch display screen with a new multimedia system. Curiously absent is a wireless charging pad.
Safety
That Lexus places an emphasis on safety shouldn't surprise too many people. Just as the mainstream Toyota brand benefits from a strong roster of standard driver-assist technologies, the Lexus luxury brand does likewise.
Consequently, we think the 2021 IS will maintain the Top Safety Pick+ rating bestowed on the 2020 model from the Insurance Institute for Highway Safety (IIHS). Likewise, its 5-star rating from the National Highway Traffic Safety Administration (NHTSA) seems likely to carryover.
The list of standard features comprises everything that's part of the Lexus Safety System + 2.5 package. These include a pre-collision system with pedestrian detection, lane tracing assist, lane departure alert with steering assist, road sign assist, all-speed dynamic radar cruise control, and automatic high beams.
Supplied separately, but not part of this package is blind-spot monitoring with rear cross-traffic alert.
There are a few options to consider as well. First, there is a panoramic view monitor that utilizes four high-resolution cameras on the front, sides, and rear of the vehicle to supply drivers with a bird's eye view of the vehicle.
Second, Lexus offers intuitive park assist with automatic braking. Customers can bundle this with the panoramic camera and gain rear pedestrian detection in the process.
Performance
Lexus offers IS shoppers two engine choices or three if you consider the different power outputs of the available V6.
Only the base model comes with a 2.0-liter turbocharged four-cylinder engine making 241 horsepower and 258 pound-feet of torque. This one sends power to the rear wheels via an 8-speed automatic transmission.
The second engine choice is for both all-wheel-drive models. Here, Lexus utilizes a 3.5-liter V6 engine with 260 horsepower and 236 pound-feet of torque. This one makes use of a 6-speed automatic transmission.
That second engine also serves as the third when the IS 350 F Sport is rear-wheel drive. Specifically, the output jumps to 311 horsepower and 280 pound-feet of torque.
Power routes to the wheels via an 8-speed automatic transmission. Consequently, the IS at this level delivers a noticeable boost in power without a turbocharger or a supercharger on hand.
The power differences among the V6 engines is striking – 51 horsepower and 44 pound-feet of torque. In the F Sport, it benefits from several performance upgrades, including a cold air intake system, staggered 19-inch wheels, a performance suspension system, and a limited-slip rear differential.
The added performance, including an automatic transmission with two additional cogs doesn't translate into a big difference in fuel economy. In fact, the F-Sport RWD has only a 1 mpg combined edge over the two AWD trims.
We found the F Sport RWD performs as intended, with its limited-slip differential enhancing traction while cornering and when exiting turns. The IS also is also planted better with the LSD active.
Switch the drive mode to Sport+ and it builds on the Sport mode's advanced engine and transmission power adjustments to improve steering assist and damper support. In effect, the package takes an already decent driver's car and enhances its performance characteristics.
Competitive Set
We made mention of some of the IS' competitors earlier: the Audi A4, BMW 3 Series, Cadillac CT4, and the Mercedes-Benz C-Class. Other models to consider include the Jaguar XE, Genesis G70, Infiniti Q50, Volvo S60, and the Acura TLX.
Each one brings something special to the segment, which is where first-time luxury shoppers usually look when they're not considering a utility vehicle. Several models have a performance variant that Lexus doesn't yet offer with the IS.
Our Recommendation
The IS 350 Sport RWD is our choice. If you opt for AWD, you'll gain a traction edge, but you'll see overall performance diminished.
We've driven multiple iterations of the IS, including from the last refresh in 2014. That escapade took us to the then mothballed Rockingham Speedway. We liked the sedan then; the changes since have only improved upon it.
Yes, now that the GS F is gone, it's time for an IS F! But we can only work with what we have and that's still a good choice. Indeed, the IS 350 F Sport with the Driver Handling Package makes this luxury sedan a bargain for $45,000. You can go higher, but the sweet spot is right in the mid-40s.
2021 Lexus IS Specifications
---
| Lexus | 2021 IS |
| --- | --- |
| Segment | Compact Luxury Sedan |
| Price Range | From $39,000 to $44,900 |
| Destination Charge | $1,025 |
| Engine No. 1 | 2.0-liter, turbo I4 |
| Horsepower | 241 hp @ 5,200 rpm |
| Torque (lb.-ft.) | 258 @ 1,650 rpm |
| Transmission | 8-speed automatic |
| Engine No. 2 | 3.5-liter, V6 |
| Horsepower | 260 hp @ 6,600 rpm |
| Torque (lb.-ft.) | 236 @ 2,000 rpm |
| Transmission | 6-speed automatic |
| Engine No. 3 | 3.5-liter, V6 |
| Horsepower | 311 @ 6,600 rpm |
| Torque (lb.-ft.) | 280 @ 4,800 rpm |
| Transmission | 6-speed automatic |
| Seating | 5 |
| Curb Weight (pounds) | Up to 3,880 |
| Wheelbase (inches) | 110.2 |
| Length (inches) | 185.4 |
| Width (inches) | 72.4 |
| Height (inches) | 56.5 (RWD)/56.7 (AWD) |
| Headroom (f,r…inches) | 38.2, 36.9 |
| Legroom (f,r…inches) | 44.8, 32.2 |
| Shoulder room (f,r…inches) | 55.9, 53.4 |
| Hip room (f,r…inches) | 54.3, 54.0 |
| Storage (cubic feet) | 10.8 |
| Gross vehicle weight (pounds) | NR |
| Towing (pounds) | NR |
| Payload (pounds) | NR |
| Fuel | regular |
| Fuel Tank (gallons) | 17.4 |
| EPA Fuel MPG (city/highway/combined) | 19/26/22 (AWD) |
| Manufacturing Plant | Tahara, Japan |
---
See Also – Lexus Brings a Convertible to the Gorgeous LC 500 Line
Lexus IS 350 F Sport photos copyright Auto Trends Magazine. All rights reserved.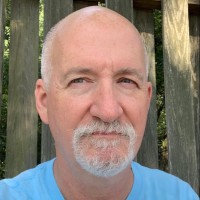 Latest posts by Matthew Keegan
(see all)