The Ford Bronco made its debut in 1966 and was discontinued 30 years later in 1996. It then went on a 25-year hiatus before the sixth-generation Bronco arrived in 2021.
The latest Ford Bronco delivers a lovable old-school look with modern finishes. The 2022 Bronco also delivers great power and performance from the 2.3-, 2.7-, and 3.0-liter EcoBoost engines. Couple that with endless options, advanced four-wheel drive, and amazing off-road features, it's easy to see why the Bronco is such a desirable car.
See Also – 2022 Ford Bronco Outer Banks Review
2022 Ford Bronco Model Lineup
Ford offers eight trims for the Bronco as well as an additional four trims for the Bronco Sport. The Sport models offer a different look and are built from a different chassis.
While they too deliver great features and off-road capability it's not quite to the same degree as the standard Ford Bronco. Anyway, the Sport models may come up for reference but the focus here is on the 2022 Ford Bronco. The eight available trims include:
Base ($30,800 MSRP) – 2.3L 4-cylinder EcoBoost w/ 7-spd manual *
Big Bend ($35,285 MSRP) – 2.3L EcoBoost and 7-speed manual *
Black Diamond ($37,950 MSRP) – 2.3L EcoBoost w/ 7-spd manual *
Outer Banks ($40,855 MSRP) – 2.3L EcoBoost w/ 10-speed automatic **
Badlands ($44,495 MSRP) – 2.3L EcoBoost & 7-spd manual *
Wildtrack ($49,780 MSRP) – 2.7L V6 EcoBoost w/ 10-spd automatic
Everglades ($53,000 MSRP) – 2.3L EcoBoost w/ 10-speed auto (no option to upgrade to the 2.7 V6)
Raptor ($68,500 MSRP) – 3.0L V6 EcoBoost with 10-spd auto
*Option to upgrade to the 2.7L V6 twin turbo EcoBoost engine for $1,895. This also requires upgrading to the 10-speed automatic for an additional $1,595.
**The 10-speed automatic is standard, but the base engine remains the 4-cylinder 2.3 EcoBoost. Optional upgrade to the 2.7 V6 engine for $1,895.
The Ford Bronco Badlands model is the lowest MSRP that comes standard with the advanced four-wheel-drive system. We will later return to the 4×4 topic to discuss the difference between the advanced and standard 4×4 systems.
All the trims up to and including the Wildtrack also have the option for 2-door or 4-door. Moving to the 4-door tacks on roughly $2,095 to $3,900 to the MSRP, depending on the specific trim. The Everglades and Raptor trims are only available as 4-door.
As a final note, it's also important to remember the car market is a crazy thing right now. It can be hard to get your hands on a Ford Bronco. Many dealers also charge market adjustments, so you may have to pay more than MSRP and/or patiently wait a while to get your hands on a 2022 Bronco.
Ford Bronco Engines
Ford has really committed to the EcoBoost engine family and their uses are widespread. These turbocharged, direct-injection engines offer a great balance of performance, fuel economy, and emissions. Currently, the 2.3L, 2.7L, and 3.0L EcoBoost engines are the only options in the Ford Bronco. Basic specs for the Bronco are:
2.3 EcoBoost
2.3L inline-4 with a single twin-scroll turbocharger
300 horsepower and 325 pound-feet of torque
2.7 EcoBoost
2.7L V6 twin-turbocharged
330 horsepower and 415 pound-feet of torque
3.0 EcoBoost
3.0L V6 twin-turbocharged
400 horsepower and 415 pound-feet of torque
The larger 3.0-liter EcoBoost is only available in the Bronco Raptor trim. Otherwise, most models offer the option between the 2.3- and 2.7-liter EcoBoost engines. Even the smallest 2.3-liter EcoBoost is a potent engine with 300 horsepower and 325 pound-feet of torque. It's likely plenty of power for the needs of most Bronco owners.
However, the 2.7-liter EcoBoost is a great upgrade for those who want more power. It delivers an extra 30 horsepower and 90 pound-feet of torque. If you want even more then there's the Raptor, but you don't even need to go that route. The real benefit of the Ford EcoBoost engines is the ease of modding and tuning.
Bronco EcoBoost Engine Upgrades
Turbo engines have long been desirable for tuners and those looking to make power easily. As such, it's no secret that the Ford Bronco EcoBoost engines have tons of untapped potential.
A tune and simple bolt-ons can easily take the 2.3-liter EcoBoost to 300+whp and 375+wtq. Keep in mind – those are numbers to the wheels. Impressive gains to say the least.
If the 2.3-liter single-turbo EcoBoost can make that power, then what is the 2.7-liter twin-turbo V6 capable of making? If you're looking for a fast and powerful 2022 Ford Bronco, then look no further. The 2.7-liter twin-turbo engine is capable of 400+whp and 500+wtq with the stock twin turbos.
The EcoBoost performance mods are incredibly simple, too. A tune alone will take you most of the way. Adding a few extra bolt-ons like downpipes, an intake, and E85 mixtures can take the 2.7-liter V6 to the 450whp ballpark. Not too shabby.
2022 Bronco Off-Road Options and Features
Ford Broncos are direct competitors with the Jeep Wrangler. Many know the Wrangler is one of the best factory off-road vehicles in the US. How does the Ford Bronco compare for off-roading?
There's no question the Bronco is a formidable opponent thanks to some great options & features.
Bronco 4×4 vs Advanced 4×4
First up is the Ford Broncos' excellent 4×4 system. 4×4 is different from AWD systems you'll find on standard road cars like Audi, Subaru, and the like. The normal 4×4 on the Bronco is equally as capable off-road as the advanced 4×4. However, the standard system isn't meant to be used on dry or wet roads.
Advanced 4×4 adds a 4A setting which constantly varies power to the front wheels. It's meant to deliver optimum performance for any on-road conditions. Ultimately, the advanced 4×4 is ideal if you want or need the capabilities for on-road driving.
It's standard on the Badlands trim and up, otherwise you'll be shelling out $7,385 to add it to less-expensive trims. Adding advanced 4×4 to the 2022 Bronco does also add a 4.7 Locking Rear Axle. On top of that, it will add to the Sasquatch package.
Ford Bronco Sasquatch Package
The Sasquatch package is almost a must-have for anyone truly looking for an off-road Bronco. This package comes with 17-inch wheels wrapped with 35-inch LT315/70R17 Mud-Terrain tires. With the Sasquatch package, the 2022 Ford Bronco receives high clearance suspension and fender flares.
Other 2022 Bronco Off-Road Features
One awesome feature is the Trail Turn Assist. It allows the Bronco to lock one of the rear wheels, depending on which direction you're turning. In turn, the 2022 Ford Bronco is able to nearly turn on a dime. It's a unique feature that is helpful on tight trails with challenging corners.
There are also the "GOAT" driving modes, which include normal, eco, slippery, sport, sand, Baja, mud/ruts, and rock crawl. Changing modes to the appropriate situation helps maximize the 2022 Bronco's off-road capability.
2022 Bronco Off-Roading and Performance Summary
The 2022 Ford Bronco has a lot to offer when it comes to styling, options, performance, and off-road potential. To repeat, Ford offers eight different trims for the Bronco ranging from $30,800 for the base model up to $68,500 for the Raptor. Within all these trims there are a few different engine and transmission options as well as two four-wheel-drive systems.
All the Bronco EcoBoost engines offer plenty of power from the factory with the least powerful 2.3L EcoBoost still delivering 300 horsepower and 325 pound-feet of torque. The twin-turbo 2.7L V6 engine offers 330hp and 415 pound-feet of torque.
However, the real upside to these EcoBoost engines is their aftermarket potential. A tune and simple bolt-on upgrades can push the 2.7 EcoBoost to about 450whp and 500+wtq on the stock turbos.
Not only are the EcoBoost engines great, but the Bronco also tops that off with plenty of off-road features and options. Consider adding the advanced four-wheel-drive and Sasquatch package to maximize the Bronco's off-road capability.
Ultimately, the 2022 Ford Bronco is an excellent SUV that competes with the best off-road vehicles available.
---
See Also – Ford Introduces Its All-New Bronco Family of Utility Vehicles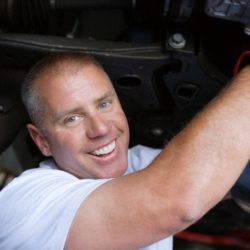 Latest posts by Tim Miller
(see all)