Nissan's off-road PRO-4X trim delivers as promised.
---
Nissan kept the previous-generation Frontier around for much longer than anyone thought possible. Indeed, the last model rolled out in 2005 and stayed around through 2021…17 years is a long time to stick with the same generation.
For 2022, the Frontier is new, with a fresh design, modern interior, and a strong powertrain motivating every model. We drove the range-topping PRO-4X during a brisk January week, with ample off-road antics pursued and enjoyed.
2022 Nissan Frontier Review
Nissan offers the 2022 Frontier in King (extended) and Crew Cab configurations. Pricing for the King Cab ranges from $28,140 to $34,040, covering two trims, standard rear-wheel drive, and available four-wheel drive.
The Crew Cab is available in three trims with prices ranging from $29,440 to $37,370. Add $1,225 for the destination charge.
Exterior Features
For 2022, the Frontier delivers a more carved and contemporary statement than ever. Indeed, it features an elevated beltline, stout wheel wells, and LED illumination. Modern touches meet an aggressive look.
Halogen headlights are included and LED lights are offered. Daytime LED running lights and halogen or LED fog lamps are optional. Truck bed lighting is standard.
Also available are power-folding side mirrors with an available heating feature. Other elements of note include bumper casings, bed-rail shields, tie-down hooks, and a locking tailgate with a spoiler. Lastly, a multi-track system with quad tie-down cleats is available.
Wrapped within all-season tires are 16-inch wheels. Also available is an assortment of 17-inch aluminum-alloy wheel selections. Customers will find a choice of all-season and all-terrain tire options.
Interior Highlights
The interior for the new model loses none of its masculine personality. That said, it advances a meticulously clean and contemporary layout.
Select the King Cab and two jump seats are in the rear. Choose the Crew Cab and a 60/40 split fold-up bench seat occupies that space. The front bucket seats are supportive and comfortable. Generous head, shoulder, leg, and hip room make an ideal environment for the driver and front passenger.
Choose the King Cab and this model has either standard or premium cloth choices. As for the Crew Cab, the fabric quality and look improve as you progress through the trim range. Specifically, stitched premium cloth, synthetic leather decoration, or real hides can be had.
A manual-controlled driver's seat on the base model transitions to an 8-way power-operated and 2-way lumbar seat. Regardless of trims, the front passenger seat is manually controlled. Optionally, heated front seats and a heated steering wheel can be had, but curiously no ventilation option is available.
Among the updates are dual-zone climate control, an automatic tilt-and-slide sunroof with a manual sunshade, and upgraded door trim. That said, the base trim is not as spartan as it once was, while the top trims advance a more premium vibe than ever.
Key Safety Features
Nissan equips the 2022 Frontier with a rearview camera, forward collision warning, forward automatic emergency braking, and driver drowsiness monitoring.
Move up through the trim range or select certain packages and there are several futures of note. These include lane departure warning, blind-spot monitoring, adaptive cruise control, and traffic-sign recognition. Also available are rear cross-traffic alert, reverse automatic emergency braking, rear parking sensors, and a surround-view camera system.
Thus, Nissan offers all the important driver-assist technologies you expect. Unfortunately, Nissan's vaunted ProPilot Assist technology is not available. The tech supplies elements of autonomous driving that would keep it centered and safely distanced from the one in front. We expect it will arrive with an upcoming tech update.
Technology Overview
The standard tech features include an 8-inch touchscreen display, Bluetooth, a 6-speaker audio system, a pair of USB ports, and Android Auto and Apple CarPlay smartphone compatibility.
Move up through the trim range and features such as a 9-inch touch-screen display, navigation, and a 10-speaker Fender audio system. A pair of 120V outlets with 400-watt capability – one in the rear, one in the bed – are offered on the SV and PRO trims.
Competitive Set
The Nissan Frontier has long been a strong seller in the competitive midsize pickup truck market. But in recent years, an aged Frontier has seen its sales erode as other players join in or update their offerings.
By far, the Toyota Tacoma is the dominant model in this segment. Indeed, it roughly matches the sales of the next three models. Besides the Frontier and Tacoma, other players include the Honda Ridgeline, Ford Ranger, Jeep Gladiator, GMC Canyon, and the Chevrolet Colorado.
Every competitor except for the all-wheel-drive-only Ridgeline comes with standard rear-wheel drive and available four-wheel drive. Most models seat four or five and come with extended and crew cab configurations. Bed choices are typically 5.5-feet long or less.
Driver Impressions
The 2022 Nissan Frontier seems almost like a throwback to another era. No, that has nothing to do with styling, technology, and other key features, but with the powertrain. Every model is powered by a naturally aspirated 3.8-liter V8 engine with 310 horsepower and 281 pound-feet of torque. Nissan pairs this engine with a 9-speed automatic transmission.
That Nissan chose such a large engine for the Frontier suggests that it had no intention of playing second fiddle to any competitor. Nissan could have relied upon a twin-turbocharged four-cylinder engine to motivate the Frontier, but it went with a traditional V6 and it is the largest in the segment at that.
Payload is an important number for any pickup truck number. The Frontier is rated from 1,160 to 1,480 pounds. As for towing, the ratings range from 6,260 to 6,570 pounds.
When we say that the Frontier's powertrain is "entirely suited" for the model at hand, we are adamant that it meets the criteria Nissan set forth for this vehicle. First, the Frontier offers strong step-off acceleration.
Second, it supplies excellent passing power. Not once did the Frontier feel "winded" when put through the paces. Importantly, the automatic transmission works flawlessly in the background as it keeps pace with the engine to transmit power to the wheels.
The big test for the Frontier is how well it manages off-road. Our PRO-4X came with standard four-wheel drive, although a very similar PRO-X model does not.
The PRO-4X maximizes ground clearance with 9.4 inches to bear, which keeps this model from scraping the skid plates in most situations. Yes, skid plates are there for exactly that reason, but it is doubtful anyone wants to contribute dents along the way.
In any case, we had no trouble approaching, climbing over, and leaving an assortment of berms, deep mud puddles, and brush. Our favorite trails were closed for the season, therefore rock outcroppings were not part of the equation this time.
Parting Thoughts
The 2022 Nissan Frontier breathes fresh life into a well-recognized model. Dating to Datsun days, Nissan has over 50 years of small pickup truck building experience. Updating its most popular pickup truck model keeps fans in the fold and enables Nissan to gain new customers.
For shoppers, the choice boils down to cab styles and drivetrains. With one powertrain choice, Nissan takes care of that decision for you. We think a well-equipped Crew Cab model with four-wheel drive can be had for about $35,000 and that's a reasonable price point for the segment.
---
See Also – Clever by Design: 2022 Nissan Pathfinder
Photos copyright Auto Trends Magazine. All rights reserved.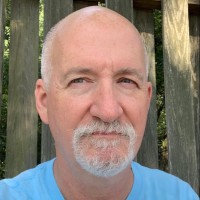 Latest posts by Matthew Keegan
(see all)