It has been 15 years since we last saw an all-new Toyota Tundra, but the wait is almost over. Before the year is out, production of the third-generation 2022 Tundra will commence.
The new model represents an end of an era, at least for Toyota, as it replaces its V8 engine with a turbocharged V6. Moreover, the new Tundra takes it to the heart of the competition, by supplying a hybrid option that could give it an edge without parallel.
This writer had the opportunity to put several copies of pre-production 2022 Toyota Tundra models through the paces. Toyota hosted journalists in San Antonio, not far from the factory where the Tundra is manufactured.
One hour north of the city at Canyon Lake, Toyota supplied more than two dozen copies of the truck, including a few of the current model for comparison purposes.
(Disclaimer: Toyota covered the cost of my flight, lodging, and meals. Incidentals, including airport fees, were personally expensed).
Toyota Pickup Truck Backgrounder
Before we dissect the upcoming truck, it is important to consider where Toyota is coming from with all matters of pickups. This automaker has decades of truck-building experience behind it and has built its share of sport utility vehicles too.
These traditional, body-on-frame models include the capable Toyota Tacoma pickup truck and the legendary Toyota Land Cruiser. In other markets, models such as the Toyota Hilux have showcased this automaker's off-road prowess. Add in a few Lexus-badged models and Toyota is well represented in the four-wheel-drive market.
Toyota's foray into all things large trucks started in 1992 with the Toyota T100. Although categorized as a "large truck," the T100 was about three-quarters the size of Detroit's iron.
Further, this regular-cab-only model received criticism for no additional cab offerings and a lack of a V8 engine. Later, an extended cab model and a larger V6 rolled out, the latter with an optional supercharger.
Despite its shortcomings, the T100 was praised for its quality standards and the salient reason that it was the first imported truck capable of holding a 4×8 plank of plywood.
First-Generation Toyota Tundra
With a more powerful engine available and an extended cab option, Toyota knew that it had won customer backing. Plans were already underway for a follow-up model. After a one-model-year pause, the 2000 Toyota Tundra rolled out, bringing with it a vehicle better aligned with the Detroit models.
Indeed, with regular, extended, and double cab choices along with V8 options, the then all-new Tundra garnered more sales, enabling Toyota to push past 100,000 units most years. Still, just as Toyota made great strides, its competitors doubled down with new and improved models.
Also, by 2004, Nissan entered the fray with the Titan, a model that was slightly larger than the Tundra and aligned closely to what Chevrolet, GMC, Ford, and Dodge offered.
Notably, the Tundra has always been produced in America. Starting in May 1999, Toyota's Indiana manufacturing plant built the vehicle. Beginning in 2008, the Texas manufacturing plant came online.
In 2014, Toyota announced it was moving its U.S. headquarters from California to Texas, opening its Plano facility a few years later.
Second-Generation Toyota Tundra
With the introduction of the second-generation Tundra, Toyota finally had a model that went wheel-to-wheel with its competitors…literally. Where the T100 was the three-quarter size, the first Tundras were about 90-percent the size of competing models. It was almost there, but not quite.
The new Tundra, though, matched nearly everything Detroit offered, including regular, double, and crew cab models. A base V6 engine was joined by a pair of V8s, giving Toyota a rich mix of powertrains amongst its peers.
The exterior styling was pickup truck burly with a powerful grille, muscular hood, a long flat profile, and the expected bed choices. Inside, the Tundra matched the trims of its competitors, while delivering exceptional quality and stellar comfort.
In 2014 or just when a new truck might have come out, Toyota refreshed the Tundra. New grille choices, updated lighting, a redesigned interior, and improved tech offerings enhanced this model. Toyota could have gotten away and called it a new model, but they were smarter than that and simply let the improvements speak for themselves.
Stiffer competition and dwindling sales made it a tough go for the second-generation Tundra in its later years. Toyota eventually decreased its engine offerings from three to two to just one.
Meanwhile, its Detroit challengers continued to release all-new models like clockwork, adding powertrain choices, including light-duty diesel. Further, like Nissan, Toyota stayed out of the heavy-duty market, models powered by oversized gas and diesel engines.
Previewing the Third-Generation Toyota Tundra
As mentioned, we got to preview the Tundra, so everything said from this point forward is essentially an overview. That said, I managed to clock more than 200 miles on at least six different Tundra models before the day was done.
That day started in downtown San Antonio on the Riverwalk. After a thorough and meaty introduction from the Tundra's designers, engineers, salespeople, and whatnot, we received keys to take our Tundra an hour north to Canyon Lake.
I chose a 1794 Edition in brown, my least favorite color. But I didn't care what it looked like on the outside as I was more interested in what was inside as well as under the hood. The standard iFORCE engine was present, along with a 10-speed automatic transmission and four-wheel drive.
The other models tested included 2022 SR5 and Limited models, 2021 Limited, another gas model, and the hybrid. Every activity available I took advantage of, starting with towing, followed by one long road trip, and concluding with multiple off-road excursions.
Oh, yeah, a 2021 Toyota Tacoma was available for the off-road portion and I took it out as well to make a proper comparison between truck models.
2022 Toyota Tundra Review
First, let's head back to base camp to consider all the important matters regarding the 2022 Tundra. To begin, Toyota explained its philosophy behind its new model: "Create the truck of your dreams that you'd be proud to drive."
From the onset, Toyota made its priority clear: to deliver an exceptional vehicle with Toyota fans in mind.
Furthermore, the company underscored that it wasn't chasing volume with the new model, although it expected volume to increase accordingly. Toyota cannot match the Detroit Three in production, but it does intend to make use of the facilities it has.
Indeed, Tacoma production was moved out of the Texas facility to make room for the new Tundra and increased demand.
Power to the People
For the first time in the Tundra's history, a V8 engine is no longer available. While visiting San Antonio, we learned that the final 2021s rolled off a nearby assembly line, shutting down production and ending an era. A large pickup truck without a V8 hurt Toyota in the past, but the replacement seems much more promising than the 5.7-liter V8 last used.
Under the hood of every 2022 Tundra is a 3.5-liter twin-turbo V6 engine. If the displacement seems familiar, it is. Toyota took the block of its venerable 3.5-liter V6 and built a truck-purpose engine. Yes, many of the parts are shared, but this one was reinforced to handle truck duty.
With a pair of turbos at the ready, the Tundra's engine seems awfully like the Ford EcoBoost V6 of nearly identical placement. Introduced in 2011, Ford has a decade of experience behind it for what has become the F-150's most popular engine.
That fact alone might have prompted Toyota to go in this direction. Thus, it also makes any other engine choice moot.
Twin-Turbo Veracity
So, what's so special about Toyota's new engine? For starters, its size means that there is more room to maneuver under the hood. Importantly, there is also reduced weight to manage. Pickup trucks typically weigh upwards of three tons anyway – finding ways to save weight without compromising on durability is important.
The standard i-FORCE V6T engine makes 389 horsepower at 5,200 RPM and 479 pound-feet of torque at 2,400 RPM. Power routes to the rear or all four wheels utilizing a 10-speed automatic transmission.
Compare these numbers to the outgoing V8 engine and you will quickly understand why Toyota made the switch.
Specifically, the 2021 Tundra carries a rating of 381 horsepower at 5,600 rpm and 410 pound-feet of torque at 3,600 rpm with power traveling to the wheels utilizing a 6-speed automatic transmission. The new transmission, by the way, was influenced by Aisin although it is built by Toyota.
What's important about the new engine, besides its improved performance, is that it delivers significantly better low-end torque. It may not be as low as a diesel, but it is a noticeable change we think drivers will like.
Let's Go, Hybrid!
For the first time since 2019, the Tundra will offer a second powertrain choice. This one builds on the twin-turbo V6, adding an electric motor to the bell housing between the engine and the transmission. But it is a different arrangement than what you might think, such as in the Prius where the electric motors squeeze out efficiency.
With the dubbed iFORCE MAX powertrain, the emphasis is on power, although the electric motor does aid in starting things and is active alone from time to time. Regardless, the hybrid is the power beast here as this one develops 437 horsepower and 583 pound-feet of torque.
These numbers easily outperform any naturally aspirated light-duty truck V8 engine. For example, the 6.0-liter V8 in GM's trucks makes 420 horsepower and 460 pound-feet of torque. Again, the Tundra Hybrid works with a 10-speed automatic transmission to route power to the rear or all four wheels.
Driving Impressions
Truth be told, we did not notice much difference between the standard and hybrid Tundra models. Both deliver copious amounts of power with no discernible turbo lag. Notably, the transmission never performed lazily, as it switched between gears with ease.
That isn't something we could say of the Ford F-150 Hybrid, a model we tested a few months earlier. The Ford hybrid seemed uncertain of itself at times, with the transmission not as smooth. Also, we think the Toyota would prove faster (and perhaps more efficient) if put side-by-side with the Ford.
At least the transition between gas and electric might prove smoother. In any case, we are not slamming Ford. We will eventually spend a week with the new Tundra, although we expect that we will receive the gas model ahead of the late-arriving hybrid.
Helping the Toyota is a more rigid, fully-boxed frame. This one claims a maximum towing capacity of 12,000 pounds and 1,940 pounds of the highest payload. Toyota enhanced the new truck's suspension system with a double-wishbone front suspension.
Gone is the rear leaf suspension, replaced by a new multi-link rear suspension. Also available is an adaptive variable suspension and an optional load-leveling rear height control air suspension. These features combine to make the Tundra more drivable and comfortable than before.
Champion Towing
Besides open road driving where we could feel the Tundra's unbridled power, we put this truck through the paces in two other environments: towing and off-roading.
This writer has not towed much in his life, although pulling a U-Haul from New Jersey to South Carolina with a 1985 Ford F-150 powered by a 4.9-liter inline-six-cylinder engine certainly counts. Thus, I wasn't afraid to tow with the Tundra. And with three samples available, I towed each one.
Those models were a 2022 SR5 with a 16-foot Bambi trailer weighing 3,600 pounds, a 2021 Limited with a 26-foot aged trailer coming in at 5,200 pounds, and a 2022 Limited with a 26-foot trailer topping 6,200 pounds.
Fortunately, I did not have to connect these trailers and with the larger one, special reinforcements were in place to avoid porpoising and other control issues.
Not once did the Tundra strain when towing, but the added tow plus mode on the 2022s makes it all easier. The truck always felt under my control, even when descending sharp inclines and while braking.
There is an art to towing, but the average driver should not be afraid to give it a try. I prefer a trailer with a double axle (like the Airstream), especially if a tire blows and the road conditions are not favorable.
Solid Off-Road Cred
Admittedly, my preference for off-roading aligns with smaller models such as the Toyota Tacoma and GMC Canyon pickup trucks or the Jeep Wrangler and Toyota 4Runner SUVs. There is something that needs to be said about the smaller footprint and reduced overhangs of these models.
Nevertheless, the new Tundra is not clumsy and we managed to push through some of the most challenging brush to get where we were going.
New for 2022 is a crawl control mode. Introduced to the Tacoma in 2016, the Tundra's system is much quieter. Where the Tacoma has a mechanized sound, the Tundra is virtually silent. In both cases, the system is easily activated and enables the pickup truck to move forward with little human intervention.
Sure, you can direct its steering and tap the brakes as necessary, but when activated, the system is a champ and pulls the Tundra forward with ease when operating in 4Lo.
We ascended steep inclines and descended some fairly narrow and twisty paths across our 10-minute excursion through the woods. Besides the eye-bulging climb, the Tundra negotiated approximately eight logs before conquering potholes that would swallow a Yaris.
Again, crawl control is your friend, but I recommend turning it off once you are comfortable without it.
There is something to be said about allowing the Tundra to deliver raw performance while navigating through the brush, fording streams, and practicing axle articulation. You will feel like a boss by understanding and enjoying the approach, breakover, and departure angles as you go rock climbing.
If Looks Could Kill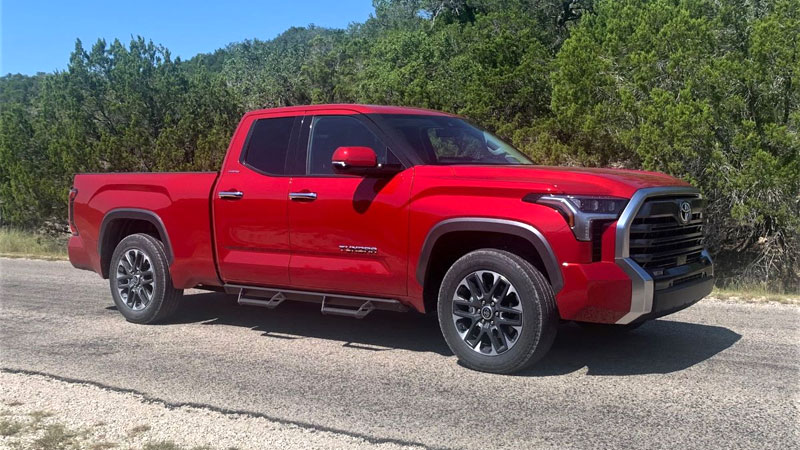 We understand that the new Tundra delivers a polarizing front fascia. The grille is larger than ever and the designs vary across the trims. Some of the comments we heard have to do with the lights and the fat metal chrome pieces on the grille surround. But it was the former that put some people's teeth on edge.
For the record, this writer liked the look as it give the Tundra a more aggressive and menacing visage. Turn on the headlights and the bright LED lights are joined by anvil-shaped lights reminiscent of a velociraptor profile.
At the rear, the vertical lights appear ported from the Kia Telluride with Ford Mustang sequential lighting touches present on the available adaptive lighting package.
Besides the requisite double and crew cab models, the bed choices now include a 6.5-foot option with the crew cab. Thus, double cab shoppers have a choice of 6.5- and 8.1-footbeds, while crew cab shoppers can choose between 5.5- and 6.5-footbeds. Toyota says that it added the latter option per customer demand.
One further note. Where the body is comprised of reinforced steel, the composite truck bed is aluminum reinforced. Toyota says the bed is dent and corrosion-resistant, which leads to an overall reduction in deck weight.
Modern Cabin
Everything about the Tundra's cabin is new, although its clean design, choice materials, and excellent fit and finish are overall themes that remain. This model seats five with the crew cab offering the best room all around. Think of five burly guys riding inside and you can see where the Tundra fits in.
The focal point of the interior is the gigantic 14-inch touch-screen display that is standard or optional on all but the base trim (which has an 8-inch touchscreen display). The large screen almost overwhelms the dashboard, but not necessarily in a terrible way.
Indeed, the display is clear and crisp with a much-improved interface. Contrast that with the current Entune offerings and this one works well with excellent voice activation brought to bear.
As a side note, my wife has a 2020 Corolla and her Entune system is a big disappointment. We are glad that Toyota made the changes as they were well needed. Now to spread the love across all models…
We will save all the cabin details for a future review, but we can say that fabric-trimmed and imitation leather seats are commonly utilized. Lots of storage compartments, including the requisite cavern between the front seats, make the Tundra wholly useful for crews and family alike.
The available power-sliding rear window returns, which is a customer favorite.
Key Safety Features
Toyota set the bar several years ago in all things truck safety. For 2022, every Tundra comes with the Toyota Safety Sense 2.5 system. This TSS 2.5 package bundles key driver-assist safety features.
The bundle includes a pre-collision safety system with pedestrian detection, adaptive cruise control with full stop and go, and lane control. Automatic high beam assist and road sign assist are also included.
Offered separately is blind-spot monitoring with rear cross-traffic alert and trailer detection.
Tech Choices
We already touched on the available 14-inch touchscreen display. We think it is the screen of our dreams, although our one beef is that when approaching an intersection the screen switches to a front camera display.
That makes it hard to follow visual turn-by-turn directions. We heard through the Toyota grapevine that it can be turned off. If so, we would.
Toyota tiers its audio packages, based largely on trim. This model comes in SR, SR5, Limited, Platinum, 1794, and TRD Pro trims. The standard package includes the 8-inch screen, Apple CarPlay and Android Auto smartphone compatibility, and six speakers (nine with the crew cab). Three USB ports are standard.
The list of upgrades includes a total of five USB ports. Also, a 12-speaker JBL audio system is bundled with a 14-inch screen. A wireless charging pad, digital instrument panel, and a head-up display are optional.
Tundra Parting Thoughts
We did not touch upon everything with the new Tundra. There is so much to consider, including color choices, wheel sizes, towing packages, and other facts of interest. We will save these details for our formal review…or perhaps another article is in order?
One day of intensive driving, towing, off-roading, and testing gave this writer a strong understanding of what the new Tundra is all about. A few pieces of the puzzle are still missing, including mileage and price. Toyota mentioned a 20 mpg threshold for the gas engine. We think the hybrid might add a few mpg more.
In all, the third-generation Tundra is a much more formidable competitor in a domestic-dominated segment. Truly, it brings the thunder or the kind of attention needed to make its presence known.
We think Toyota faithful will be won over, including current Tundra owners and aspirants among the Tacoma fanbase. Snagging customers from the competition is always possible and the new Tundra has the best chance yet in doing that.
---
See Also – Last Call for the Current-Generation Toyota Tundra
Photos copyright Auto Trends Magazine. All rights reserved.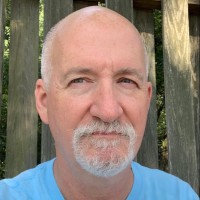 Latest posts by Matthew Keegan
(see all)