In an age where electrified vehicles enjoy enormous recognition, it's refreshing when manufacturers remember traditional enthusiasts. The Toyota GR Supra is a modern sports car from the world's leader in hybrid technology, a proper reminder that the internal combustion engine remains important.
That Toyota pragmatically partnered with BMW to revive the Supra shouldn't dissuade devotees, a decision that benefits both manufacturers and fans alike.
2023 Toyota GR Supra Review
Our test vehicle was a 2022 GR Supra with the standard turbocharged four-cylinder engine. Our review, though, includes details about the 2023 model that hits the market with one significant change: an available six-speed manual gearbox can now be had with the six-cylinder engine.
The 2023 GR Supra is available in four grades: 2.0 I4 ($43,540), 3.0 Base I6 AT (automatic) or MT (manual) ($52,500); 3.0 Base Premium I6 AT or MT ($55,650); and 3.0 A91-MT ($58,345 and limited to 500 units).
The delivery, processing, and handling charge add $1,095.
Read Also – 2023 Toyota GR86 Review
Exterior Remarks
After a two-decade hiatus, the Supra returned in 2020 with an all-new look. Toyota could have designed the new model with heritage cues, but they did not. But the overall shape isn't too far removed from the 1990s model with Toyota designers crafting flares and scoops that give this sports car a unique and fetching design.
As such, the Supra comes with a long hood, a short rear deck, and a small cabin. Its beefy design compares with the Porsche 718 Cayman and Nissan Z, the latter recently overhauled.
The Supra's look is like the Toyota FT-1 concept, a model teased in 2014 and widely regarded as a precursor to a revived Supra. But as with any concept, not all features carry over, including the bulbous nose. Restraint and nuance ruled the day, thus the production vehicle seems more balanced from stem to stern.
The Supra has thin, yet bold headlamps with rounded edges. Carefully placed body curves and lines sweep up and push back, emphasizing the rear haunch with its cooling ducts. The twin-bubble roof quickly falls to the rear with a dramatic kicked-up rear spoiler completing the look.
LED lighting is everywhere, while the red Supra logo is unique to the A91-MT, a limited-edition trim for this year. We like the glossy black side mirrors that are exclusive to the standard model. They serve as a handsome contrast that the other grades cannot claim. They're also power-folding and heated.
The handsome forged aluminum wheels complement the expression; they're staggered and wrapped within Michelin Pilot Super Sport tires.
Interior Highlights
Gyrations and contortions are required to enter or leave the Supra's cabin. Indeed, an uncommonly low roofline and high seating position offer little space to maneuver. Clearly, these kinds of models favor the young while those of us of a "certain age" must plan our attack.
Inside, the cabin is snug and outfitted with a pair of comfortable and supportive sports seats. The instrument panel and controls are driver-focused, easily seen, and reachable. For drivers over 6 feet tall, legroom becomes an issue. The seats move back only slightly, rubbing against the bulkhead with no room to spare.
Cargo space is also snug, supplying just 10.2 cubic feet, but seemingly cavernous compared to the Nissan Z's 6.9 cubic feet. A small pass-through is helpful, but skis will not fit.
Black seats rule this model with Hazelnut exclusive to the A91-MT grade. The seats are wrapped in leather and trimmed with Alcantara; the Premium is fully wrapped in leather only.
Full power accessories and manual seats are standard. Among the upgrades are 14-way power adjustable driver's seat with lumbar support and sport pedals. Heated seats are available.
Technology Features
For a model starting near $45,000, a standard four-speaker audio system is a letdown. All other grades have either a 10- or 12-speaker audio system.
An 8.8-inch center display screen is standard; touchscreen functionality starts with the Premium grade. Wireless Apple CarPlay, wireless charging, and navigation are available.
Safety Features
Toyota models typically come with a suite of driver-assist technologies as standard equipment. The Supra is an exception, but there are a few features of note.
Automatic high beams, a pre-collision system with pedestrian detection, and lane departure warning with steering assist are standard. An available Driver Assist Package brings in radar cruise control, blind spot monitoring with rear cross-traffic alert, and parking sensors with the Premium and A91 grades.
Powertrain Choices
A pair of inline engines are available. The standard 2.0-liter twin-scroll turbocharged four-cylinder engine develops 255 horsepower and 295 pound-feet of torque. Power routes to the rear wheels utilizing an 8-speed automatic transmission.
Most models, though, come with a 3.0-liter twin-scroll turbocharged inline-six-cylinder engine. This one makes 382 horsepower and 368 pound-feet of torque. Shoppers have a choice of the automatic transmission or a new 6-speed manual gearbox. That there is no price differential between the two choices is unusual, but welcome.
The base model earns an EPA-estimated 25/32/28 mpg (city/highway/combined). Choose the V6 and models equipped with the automatic earn 22/30/25 mpg (city/highway/combined) or 19/27/21 with the manual. Premium gasoline is required.
Driving Highlights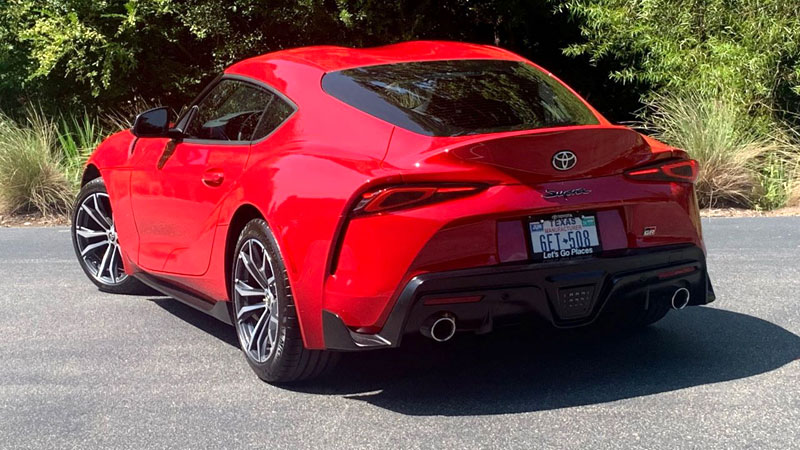 A deliciously low center of gravity sets the stage for the Supra and its performance credibility. Add in double-joint spring strut front suspension, a five-link rear suspension, and adaptive adjustable dampers, and this sports car is track-ready.
Agility is the name of the game. The Supra excels as it navigates twisty roads, powers in and out of corners, or laps the track. It is fast from the start, builds up speed quickly, and handles superbly.
There is a difference in power delivered, but the four-cylinder engine is surprisingly well suited to this sports car. Credit the lighter load (230 pounds saved) and high torque output for narrowing the difference. But the inline-six is better suited to outpace the 2023 Nissan Z and give the Porsche 718 Boxster a run for the money.
The automatics come with paddle shifters, but they'll leave you wanting more.
Omitting a manual from the onset was a decision Toyota has since rectified, thanks to the cacophony from Supra fans who insisted the automaker change course. And unlike the engines and transmissions supplied by BMW to date, the manual was engineered by Toyota specific to the Supra.
Notably, this stick has a shorter final-drive ratio than the automatic along with rev-matching control that can also be disabled.
Also new for 2023 and equipped for all Supras is a Hairpin+ feature. Designed for tackling steep uphill hairpin turns, it allows a greater disparity in wheelspin between the left and right rear tires. Revised tuning for the power steering system and shocks accompanies these changes.
Toyota GR Supra Considerations
Toyota wisely tapped BMW to craft the current generation Supra. Both models are built at the Magna Steyr manufacturing plant in Graz, Austria.
The shared BMW platform and powertrains have yielded two different, but highly respectable models. Toyota's Gazoo Racing (GR) team worked with BMW M engineers to fine-tune the Supra with the Z4 benefitting as well.
For performance enthusiasts, it is difficult to make a case for the standard four-cylinder engine, especially now that the inline-six offers a manual gearbox. But the base engine shouldn't be easily dismissed as it holds its own for this supremely tossable sports car.
---
Photos copyright Auto Trends Magazine. All rights reserved.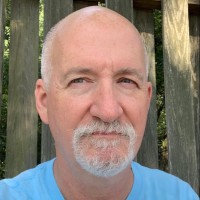 Latest posts by Matthew Keegan
(see all)