At the 2014 North American International Auto Show in Detroit.
The all-new 2015 Ford F-150 has made its debut, the latest generation of this best selling and benchmark setting pickup truck line. Ford used the occasion of the 2014 North American International Auto Show in Detroit to showcase the new model, a vehicle that features two new engines, a fresh design and updated technologies. The following are seven highlights of the upcoming truck that will arrive in late 2014.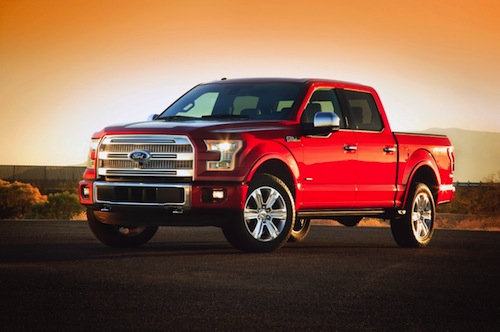 1. Fresh Styling Inside and Out. The 2015 Ford F-150 is at once familiar as it is all new. The front fascia receives a new grille that is flanked by available LED headlamps for a segment first, what provide brighter illumination and longer life. LED tail lights bring up the rear which now includes a power operated tail gate.
2. New Engines Available. Ford continues with its four gasoline engine strategy, but it has swapped out two engines for two new ones. The 2015 model is down to one V-8 engine, displacing at 5.0 liters. Its standard engine now measures 3.5 liters, a normally aspirated model that is joined by an EcoBoost engine of the same displacement. Most notably, a 2.7-liter EcoBoost V-6 engine joins the line up. All four engines are paired with a six-speed automatic transmission.
3. Lightweighting via Aluminum. Ford claims that the new model comes in at up to 700 pounds lighter than the outgoing edition. Ford achieved the weight savings by making use of aluminum alloy across the body and high-tensile steel. Going with the smaller engines also reduces the trucks weight.
4. Improved Exterior Views. Ford lowered the front door windows and pushed forward the side view mirrors to provide improved exterior views. 2015 Ford F-150 buyers will also enjoy a 360-degree camera system that makes use of exterior cameras to provide a birds eye view of the truck. Parking, maneuvering and keeping ones eyes out for small children will be greatly improved with the new model.
5. Inflatable Rear Safety Belts Included. Ford is a pioneer in inflatable seat belt technology and will equip the rear seating postings with these belts. The way that they work is when the truck is in a front-end accident, the seat belts inflate like airbags to provide an extra measure of protection for rear seating passengers.
6. Auto Start-Stop Technology Added. Pull up to a stop light or idle anywhere for about five seconds and your 2015 Ford F-150 conveniently shuts off, conserving gas. Step on the accelerator and your truck instantaneously fires up, ready to bring you on your way. The technology is so sophisticated that Ford deactivates it when you're towing or operating in 44 mode, those times when constant engine power is needed.
7. Cargo Configurability Choices. Ford takes cargo tie downs to the next level with the 2015 Ford F-150. The new truck features a BoxLink system, with stowable cargo ramps and lockable die-cast aluminum tie-down cleats that owners can configure in scores of different ways. They can be mounted on the tailgate too, making it easier to load up mowers, motorcycles, and all-terrain vehicles.
2015 Ford F-150 Features
Beyond the seven highlights, Ford will incorporate an 8-inch productivity screen within the instrument panel, add a smarter trailer tow module that indicates trailer status, and it will also include active park assist. Several safety features including curve control are added, what keeps this truck on the road as you take on twisty roads.
---
See Also — Aluminum Tough: 2015 Ford F-150
Latest posts by Auto Trends
(see all)