Updated March 8, 2019, to reflect XT6 pricing.
Cadillac crossovers will soon number three.
---
Three Cadillac Crossovers
---
Cadillac read the market correctly in the late 1990s, when it introduced its Escalade SUV. At the time, Americans were looking at utility vehicles as the people-mover of choice and the Escalade became this GM luxury brand's initial entry.
Five years later, Cadillac followed with the SRX, a wagon-like SUV which shared its underpinnings with the CTS sedan. But something happened along the way as the marque failed to keep up with the competition, which continued to roll out more models to fill out their product lines. Cadillac seemed to get sidetracked, choosing to invest more in new sedans, coupes, wagons and even plug-in electric vehicles. The Escalade and SRX (later XT5) continued, but wide gaps in product availability began to take its toll on sales.
Cadillac is quickly closing the gap, adding the XT4 in Fall 2018 and will follow with the XT6 by summer 2019. This trio of crossovers plus the Escalade will give Cadillac most of the products consumers demand. We still see room for an even larger XT7 model to roll out someday, perhaps along with a subcompact XT3. As for the Escalade, an all-new model debuts in 2020.
Here's a look at the three Cadillac crossovers along with a chart for comparing statistical highlights.
---
1. Cadillac XT4
---
Fifteen years is a long time to expand Cadillac's crossover line, but the wait has produced a handsome compact model, the XT4. This one seats five, comes with standard front-wheel drive and available all-wheel drive.
Every XT4 is motivated by a turbocharged 2.0-liter four-cylinder engine paired with a nine-speed automatic transmission. Cadillac offers the XT4 in Luxury, Premium Luxury and Sport trims.
The XT4's design is closely related to the XT5 and comes with similar trim and options. Its mid-30s starting price place it in the thick of the market. You'll find many package options, especially with the two top trims. Quite easily, your final price may approach $55,000, although well-equipped models can be had for about $45,000.
---
See our latest Cadillac XT4 review.
Competing Models: Acura RDX, Audi Q3, BMW X3, Infiniti QX50, Lincoln MKC, Lexus NX, Mercedes-Benz GLA Class, and Volvo XC40
---
2. Cadillac XT5
---
The XT5 kicked off Cadillac's current naming convention or at least it did so among crossover models. Cadillac crossovers begin with the two-letter "XT" designation and are then followed by a number. Cars begin with a "CT" designation and are also followed by a number.
Arriving in 2017, the XT5 replaced the previous SRX, assuming the new model name as the previous nameplate came to the end of its model run. The XT5 is a midsize, two-row crossover with room for five. It offers standard front-wheel drive and available all-wheel drive.
All models have a 3.6-liter V8 engine paired with an 8-speed automatic transmission. The XT5 comes in base, Luxury, Premium Luxury, and Platinum trims, the latter with standard all-wheel drive. Cadillac prices the XT5 from just under $43,000. Fully optioned, this crossover costs upwards of $68,000.
---
Competing Models: Audi Q5, BMW X5, Infiniti QX60, Lexus RX, Mercedes-Benz GLC-Class, Volvo XC60.
---
3. Cadillac XT6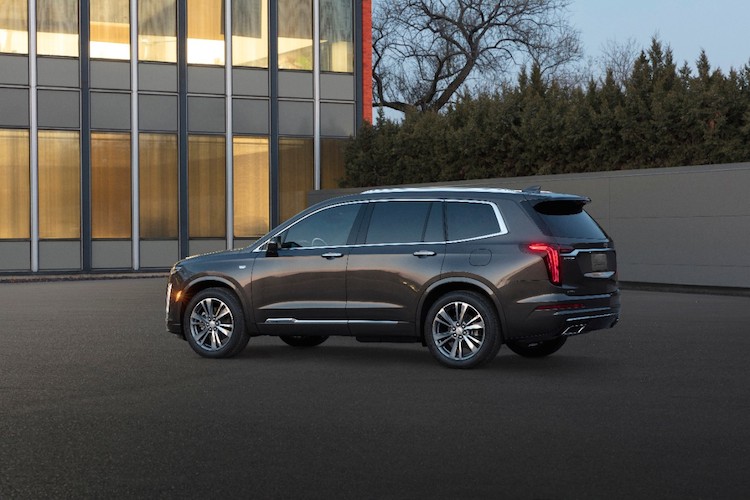 ---
The Cadillac XT6 is a future vehicle, but we do know several things about it, thanks to its debut at the 2019 North American International Auto Show in Detroit. Essentially, the XT6 is the XT5 with a third-row added. There's only a 0.2-inch increase between the wheels, but about nine inches in its overall length.
Thus, the XT6 seats up to seven. It has the same V6 engine as the XT5, but it works with a nine-speed automatic, supplying one more cog than the XT5.
Pricing as of March 2019 is as follows. For the standard Premium FWD (front-wheel drive) model, the cost including destination is $53,690. The XT6 line also includes the XT6 Sport, with standard Sport Control AWD, which starts at $58,090.
---
Competing Models: Audi Q7, BMW X7, Infiniti QX70, Land Rover Discovery, Lincoln Aviator, Lexus RX L, Mercedes-Benz GLE, and Volvo XC90.
---
Cadillac Crossovers: XT4, XT5, and XT6
---
Specifications
(inches or as specified)
XT4
Compact
Crossover
XT5
Midsize
Crossover
XT6
Midsize
Crossover
Price (2019 MY)
$34,795 to $39,295
(plus $995 destination)
$41,695 to $65,895
(plus $995 destination)
$53,690 to $58,090+
(includes $995 destination)
Number of Seats
5
5
7
Engine
- Horsepower
- Torque
Turbo 2.0-liter I4
237 @ 5,000 rpm
258 @ 1,500 to 4,000 rpm

3.6-liter V6
310 @ 6,600 rpm
271 @ 5,000 rpm
3.6-liter V6
310 @ 6,600 rpm
271 @ 5,000 rpm
Transmission
9-speed automatic
8-speed automatic
9-speed automatic
Wheelbase
109.4
112.5
112.7
Overall Length
181.1

189.5
198.8


Overall Width
83.5 (w/mirrors)


75.0


77.3

Overall Height
64.1


66.0
68.9 (70.2)


Track Width F/R

63.2 / 63.1


64.4 ; 64.4
66.4; 66.2
Ground Clearance
6.7

N/A

6.65
Headroom F/R
(w/ sunroof)
39.4; 38.3
38.4; 36.0

39.8; 39.1; 37.2


Legroom F/R
40.4; 39.5



41.2; 39.5

41.2; 39.1; 29.5


Hip room F/R
54.5; 49.8

56.0; 54.7

56.1; 55.7; 39.1


Shoulder room F/R
57; 55.1



58.3; 56.2

58.3; 57.4; 53.5


Base Weight (lbs.)
3,660 to 3,847
3,985 to 4,061
4,441 to 4,644

Passenger Volume (cu.-ft.)
100.6
104.5
N/A
Cargo Volume (cu.-ft.)
22.5; 48.9
30.0; 63.0
12.6; 43.1; 78.7
Trailering Capacity (lbs.)
3,500
3,500
4,000
Fuel Economy
City/Hwy/Combined
22/29/24 (AWD)
24/30/26 (FWD)

18/25/21 (AWD)
19/26/22 (FWD)




N/A



---
See Also — Raise the Stakes: 2019 Genesis G70
Cadillac XT4 photo montage copyright Auto Trends Magazine. Cadillac XT5 and XT6 photos copyright Cadillac.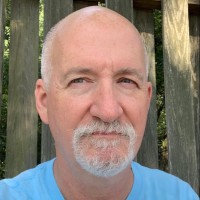 Latest posts by Matthew Keegan
(see all)