Audi fans may want to pay close attention to what the automaker is revealing at the Detroit auto show this week. The newly redesigned A8 sedan makes it debut as does the Q3, a compact crossover utility vehicle. Also getting press time is the Allroad Shooting Brake concept vehicle, a model that points to the engineering direction Audi will take in the near future.
Audi Allroad Shooting Brake
While the A8 continues as the brand's flagship sedan and the Q3 extends Audis crossover reach, the Allroad Shooting Brake concept points to a fresh direction that Audi is planning to take. The model is a hybrid electric vehicle, outfitted with two electric motors and designed to take on light-duty off-road work. The shooting brake designation describes a two-door wagon-like vehicle and in Audi's case a model the cannot be conveniently segmentized.
"The show car combines sex appeal, highly efficient e-tron-quattro technology that produces 300 kW of power yet only consumes 1.9 l/100 km (123.80 US mpg) of fuel and cutting-edge electronic applications," says Prof. Dr. Ulrich Hackenberg, Member of the Board of AUDI AG, Technical Development. "We are offering very concrete glimpses of the near future in this show car."
The concept features low-profile dual headlights, the form language of the Audi quattro models. Moreover, it advances the design cue first seen with the Sport quattro concept car at the Frankfurt International Motor Show last Sept. Audi says that braces partition the headlights into four segments; the matrix LED technology with its individually controlled light-emitting diodes guarantees excellent visibility without causing glare to oncoming traffic. Beneath the headlights, narrow cross fins provide structure to the large air inlets.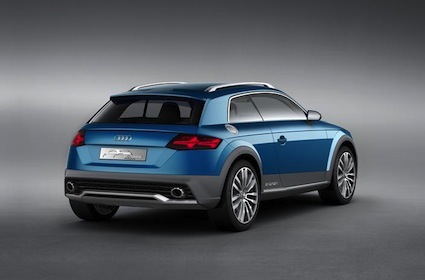 High-Performance Characteristics
Perhaps what captures the imagination most about the concept is its performance capabilities. Audi claims that the Allroad will make 408 horsepower and 480 foot-pounds of torque, weighing in at 3,527 pounds. Its 0 to 100 km/h (62 mph) time is 4.6 seconds and its speed limited to 155 mph. It is a plug-in hybrid making up to 124 mpg with a driving range of over 500 miles.
Under the hood, a 2.0-liter turbo fuel stratified injection (TFSI) makes 292 horsepower and 280 foot-pounds of torque. It operates with a disc-shaped electric motor via a decoupling clutch; the electric motor outputs 40 kilowatts of power and 199 foot-pounds of torque. It is integrated with the six-speed e-S electronic dual-clutch transmission, sending torque to the front wheels.
Mounted to the rear axle is a second electric motor, what supplies propulsive power at low and moderate vehicle speeds with its maximum power of 85 kilowatts and 199 foot-pounds of torque. Audi says that it can be operated in company with the motor and engine at the front axle when the hybrid management system determines that all-wheel drive should be activated (e.g., slippery roads or off-road use).
Three Driving Modes
A lithium-ion battery pack sits just ahead of the rear axle, with Audi claiming that storage capacity is only minimally affected. The liquid-cooled battery has an all-electric driving range of about 31 miles before the gas engine takes over. Three driving modes EV, hybrid, and sport can be selected. When EV mode is chosen, power is sent to the rear wheels and operates at speeds of up to 80 mph. In sport mode, the Audi Allroad Shooting Brake taps both the gas engine and the rear electric motor to provide maximum power.
Many concept vehicles are never built, but the concrete glimpses referenced by Dr. Hackenburg indicates that this model will be produced. An official announcement will likely be made this year, perhaps by the fall with production beginning as early as next year.
Related NAIAS News
Sleek Cadillac ATS Coupe Takes on Germanys Best
Next Generation Chrysler 200 Loses its Sebring Sting
Toyota FT-1 Concept to Supra Reality?
---
See Also — Chrysler: Out With the 300,In With the Portal?
Audi Allroad Shooting Brake photos courtesy of Audi of America.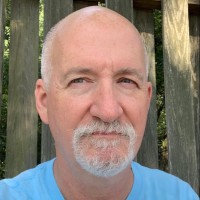 Latest posts by Matthew Keegan
(see all)