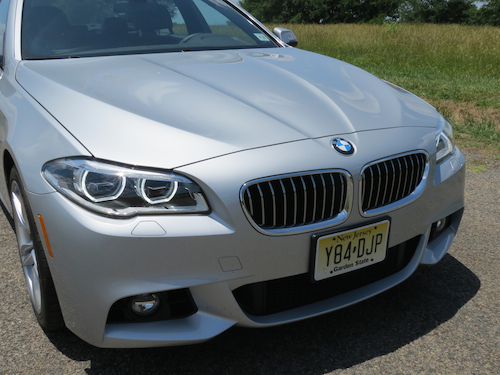 Placing smaller engines in larger cars is a common trend among manufacturers today. BMW, in its 5 Series, takes the same route by offering a turbocharged 2.0-liter four cylinder gasoline engine with its base 528i model ($49,500).
For some, 240 horsepower and 260 foot-pounds of torque is sufficient to move this nearly two-ton medium-sized luxury sedan. Fortunately, I wasn't saddled with the base engine when my recent weekly driver showed up. Instead, I took delivery of a 535d xDrive model outfitted with a 3.0-liter turbo diesel engine.
Diesel Does It
The 535d xDrive sedan ($58,900) provided more power and improved efficiency over the base model. Its 255-horsepower TwinTurbo engine makes 413 foot-pounds of torque, power that is sent to the rear wheels and to the front wheels as needed. BMW pairs this robust engine with an eight-speed automatic transmission with paddle shifters. As tested, the BMW listed for $73,575.
BMW's 5 Series first appeared stateside in 1972 and has undergone the expected generational changes that has kept this model on top of its game. The current generation model made its debut in 2011. Other engine choices include a 3.0-liter inline six making 300 horsepower and 300 foot-pounds of torque and a twin turbo 4.4-liter V-8. Pricing for the 535i with the inline six begins at $55,100. The top of the line 550i xDrive has a starting price of $66,200.
Heritage Looks Reimagined
BMW has carefully developed and maintained its heritage, by providing a look that is instantaneously recognizable across its expansive model line. Its twin kidney-shaped grille has been in use for decades, first appearing on the 1933 BMW 303. It is a look that people automatically identify with BMW, one that the company has carefully reinterpreted down through the generations and across its model lines.
Flanking the 5 Series grille are quad oval lights, Xenon adaptive headlights at that. Road illumination is nothing less than impressive with the headlights swiveling up to 15 degrees left or right as you take any curve or turn a corner. Those lights are surrounded by LED daytime running lights, BMW's distinctive look on this now common design feature.
At the top of each headlamp assembly are turn signal lights that double as night guidance lights, providing a sporty flare that is accented by reflective strips located at the base of the light assembly. Fog lights flank the lower grille opening.
From the front (A) to rear (C) pillars, the 5 Series offers a stately look. Character lines run from the front wheels to the rear deck and creases flow from the bottom to the top of the hood. The center creases begin a bit further down to accent BMW's badge. The wheels are sensibly arched and the skirting is sporty although not particularly striking.
The stately body design flows to the rear deck, itself punctuated by wrap around tail lamps. At night, those lights feature three, bright horizontal lines for a truly sporty look.
Opulent, Well Equipped Interior
Inside, my test model featured M Sport door sills to denote a $3,150 package that included a set of 19-inch light alloy wheels with a double spoke design and other M embellishments on the steering wheel and the exterior trim. The test model also was equipped with an adaptive lighting package ($1,900), a luxury seating package ($2,400), a dynamic handling package ($3,500) and a premium package ($1,500). Also available are a cold weather package ($950), a driver assistance package ($1,800) and individual interior and exterior embellishments that can add as much as $6,100 to your final price.
The BMW 535d comes dressed in Dakota Leather upholstery and dark wood trim. As presented, the wood trim was substituted with aluminum and the standard 10-way front seats were upgraded to 20-way power adjustable seats.
I would say that these seats were the most comfortable of any I've ever had access to with excellent contouring and bolstering provided. Indeed, not just the lower portion of the seat adjusted — the top portion provides separate adjustment with 4-way lumbar support too. What clinched it for this driver was the adjustable thigh support, ideal for those long trips where seating comfort takes priority.
What I appreciate about BMW is that as this manufacturer continues to refine its vehicles, it does not do so by compromising on its essentials including the instrument panel. That panel is still dominated by oval analog tachometer and speedometer displays with smaller fuel and oil pressure gauges also evident. The techie stuff is found at the top of the center stack, a clean rectangular screen controlled by a dial and switches to the right of the transmission stick.
The dial can be moved clockwise or counterclockwise and pushed up and down or otherwise maneuvered to achieve the attended effect — in this case controlling the radio, navigation, your smart phone and media. Separate toggle switches provide direct access to these commands with back and option buttons also included. It should take you all of five minutes to figure things out — you can keep your eyes on the road as your right hand fiddles with the dial.
The rear seat is contoured, supportive and offers room for three. The center position is fairly tight with a pronounced drivetrain hump intruding on leg space. Nonetheless, three people can fit. The rear seat also splits and folds down and provides access to the trunk. Or, you can make use of the center pass through to hold your skis.
Access to the cabin via keyless entry with a start-stop button controlling ignition. A pair of memory settings control your seat and steering wheel positioning with those switches located on the driver's door. Cruise and secondary controls are found on the steering wheel with paddle shifters located behind the wheel.
On the Road
BMW's transmission stick does take some getting used to. Step on the brake, activate ignition and the stick is ready for play. Press on a button located on the left of the stick and you can shift between forward, neutral and rear gears. To park, simply press the "P" at the top of the stick and you are set. Shift the entire stick slightly to the left and you operate the transmission manually. Use the stick for clutchless shifting between gears or go with the paddle shifters.
To the left of the transmission stick is a button panel to choose your drive mode. Comfort is the default setting with Sport, Sport+ and Eco modes also available. The Sport+ mode shuts off stability control and gives you the type of drive you want with this driver's sedan. Eco is for the fuel miser within. Choose that mode and your fuel savings are displayed on the electronic driver's information center. You may find yourself using it in a bid to get higher fuel mileage for this 37 mpg rated highway sedan. I averaged 32.3 mpg in over 300 miles of drive time. And only about 10 percent of my driving was in the economy mode.
Start the BMW 535d and the diesel engine roars to life. Only that it is not a loud motor and you may have some difficultly hearing the engine chatter while sitting inside. BMW says that the 535d travels from 0 to 60 mph in just 5.8 seconds. That seems about right with a nice kick coming in anytime you push the pedal to the metal. The 255 horsepower is decent, but it is the 413 foot-pounds of torque that gives the confidence to move this sedan with authority. No lag time was detected and there was always enough power at the ready.
BMW xDrive provides enhanced agility and superior traction regardless of the road conditions. Under normal conditions, power is sent to the rear wheels and should be sufficient for most driving conditions. When all-wheel drive is needed, 40 percent of the power shifts to the wheels and 60 percent remains to the rear. Under some circumstances, xDrive will send 100 percent power to one axle, the one with the greatest traction. It is the type of drive assurance that BMW buyers may look for especially for those who live in snowy climates.
The BMW 535d is a decent handling sedan. With two tons of weight to move it, the engine does not strain and the electric steering is good. Take on those twisty roads and then push forward on a straight line and the steering feedback provides optimum precision. I've heard enthusiasts complain about the artificial intervention while upholding this model's overall ride. Likely, in delivering the system offered, BMW found the sweet spot that most driver's want.

---
2014 BMW 535d xDrive Sedan
View manufacturer details and pricing
---
BMW 535d Creature Features
What is a BMW without all the creature features that people crave? The 535d certainly does not disappoint in this department as it offers a long list of standard features. A two-zone climate control system up front, a two-way moonroof and ambiance lighting are just for starters. You also get a 10-speaker Harman Kardon audio system, front map lights, rear reading lights, and multiple 12-volt outlets.
BMW also has the smartphone connectivity thing all figured out. A dual door compartment between the front seats has a smartphone-shaped holder inside with the attendant port. Rear seating passengers also have a pair of places to park their smart phones on the rear center console. They do not, however, have connection points available.
The BMW 535d features a fully lined trunk with a storage tray to the right and a netting compartment to the left. Lift up the wheel cover compartment and there is no wheel — you will find batteries instead. BMW supplies run-flat tires only, enabling you to get to the service station miles down the road. You can also contact roadside assistance, an included feature for the first four years or 50,000 miles of ownership. Yes, BMW still does provide complimentary maintenance for that timeframe too.
BMW Versus the Competition
Competition in the 5 Series segment is stiff with a number of models offering a challenge. These include: Mercedes-Benz E-Class, Cadillac CTS, Audi A6, Lexus GS, Infiniti Q50 and the Jaguar XF. For 2015, you may want to include the Hyundai Genesis Sedan, a budget model that has BMW in its crosshairs. Even so, if you are a BMW enthusiast you won't be disappointed with the 5 Series and if you are looking for something different, refined and fun to drive, the 2014 BMW 535d will not disappoint.
---
2014 BMW 535d xDrive Sedan
Sticker price from $58,900
Price as tested: $73,575
Seats 5 occupants
3.0-liter 24-valve V-6 twin-turbo diesel engine
255 horsepower @ 4,000 rpm
413 foot-pounds of torque @ 1,500 rpm
3.30 inches bore by 3.50 inches stroke
Engine compression ratio: 16:5-to-1
Eight-speed automatic transmission
Wheelbase: 116.9 inches
Length: 193.4 inches
Width: 73.2 inches
Height: 57.6 inches
Passenger volume: 116 cubic feet
Storage volume: 14 cubic feet
Towing capacity: Not rated
EPA: 26 mpg city, 37 mpg highway
Diesel fuel
Fuel tank: 18.5 gallons
Curb weight: From 4,095 pounds
IIHS safety rating: Good
Safety features: Available self braking system
Limited vehicle warranty: 4 years/50,000 miles
Powertrain warranty: 4 years/50,000 miles
Corrosion warranty: 12 years/Unlimited miles
Vehicle assembly: Dingolfing, Germany
---
More Car Reviews
Hauled It: 2014 Nissan NV200 Cargo Van
Midsize Maven: 2014 Hyundai Sonata Limited
Trekking With a 2014 Audi Q7 TDI Quattro
Behind the Wheel of a 2014 Infiniti QX60 AWD
---
2014 BMW 535d xDrive photos copyright Auto Trends Magazine. All rights reserved.