It was almost anticlimactic when the Ford Motor Company released photos of the 2015 Ford Mustang earlier today in advance of its global introduction. Whether it was done on purpose or by accident, the first photos of the new pony car were published just days ago when the Dec. 9, 2013, print edition of Autoweek was scanned, revealing the same. Immediately, copies of that story with the requisite pony car photos were splashed across the Internet. The secret was out.
Now everyone knew what the all-new Ford Mustang would look like, stealing some thunder from today's multiple cities roll out. Yet, the grainy scanned photos did not do the car justice, something Ford remedied by releasing a handful of crisp photos today including the four you find here.

2015 Ford Mustang
Accompanying the photo ensemble Ford issued a press release to highlight the 2015 Ford Mustang. As expected, the new car will offer three engine choices including a more powerful 5.0-liter V-8, a 3.7-liter V-6, and its latest EcoBoost engine: a 2.3-liter four cylinder motor. That four cylinder will also find its way under the hood of the coming Lincoln MKC crossover, an engine featuring variable valve technology, turbocharging and direct fuel injection.
As the photos reveal, the 2015 Ford Mustang is a modern rear-wheel-drive coupe, losing much of the retro look that marked the previous generation model. Its fascia is keeping in line with the EVOS concept look that was introduced in 2011. Its sequential tail lights are a familiar sight as well. Importantly, the Mustang's side profile reveals a fastback design, which points to a look reminiscent of the '67 Stang.
"We crafted this car with the goal of creating a contemporary interpretation of Mustang – an American automotive icon that symbolizes optimism and freedom for millions of people around the world," said Jim Farley, executive vice president of Ford global marketing, sales and service and Lincoln.
The new Mustang offers a lower and wider stance with its roof height reduced and wider rear fenders and track employed. The fastback look is enhanced by a more steeply sloped windshield and rear glass; the fascia features the latest iteration of Ford's shark-bite look and trapezoidal grille.

New Convertible Top
The next generation Mustang will also bring back a convertible, what Ford says will feature a standard multilayer insulated cloth top for a more imposing expression and a muted interior. Ford says that the top drops twice as fast as the previous edition and provides a sleeker appearance when down.
Inside, Mustang fans will find an aviation-inspired cockpit, with Ford claiming the highest level of craftsmanship ever for this model. It features large, clear instrumentation, improved ergonomics with tactile knobs and switches at the ready. Ford says that the Mustang's added width and new rear suspension provide improved shoulder and hip room for passengers. The company also says that the trunk is large enough to accommodate a pair of golf bags.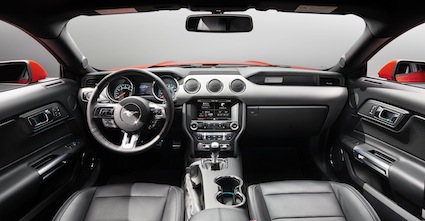 Engine and Transmission Choices
The Mustang's potent V-8 with its requisite throaty exhaust system is expected to make at least 420 horsepower and 390 foot-pounds of torque. The V-6 engine is rated at least 300 horsepower and 270 foot-pounds of torque. And lest you think that the four-cylinder engine is the laggard of the bunch, you're wrong about that: Ford estimates that its smallest Mustang motor will make at least 305 horsepower with an output of 300 foot-pounds of torque. An updated automatic transmission and the requisite manual transmission will be available.
---
See Also — Book Review: Mustang by Design
---
The 2015 Ford Mustang is being built for a global audience and therefore reflects some changes that will improve its handling. The automaker says that the new Mustang sets new handling benchmarks, building on the dynamics familiar to Boss 302 owners. All-new front and rear suspension systems are included. Up front, At the front, Ford says "a new perimeter subframe helps to stiffen the structure while reducing mass, providing a better foundation for more predictable wheel control that benefits handling, steering and ride."
An all-new integral-link independent rear suspension marks the rear. Ford says that "the geometry, springs, dampers and bushings all have been specifically modified and tuned for this high-performance application. New aluminum rear knuckles help reduce unsprung mass for improved ride and handling."
More powerful brakes are included thanks to the new double-ball-joint front MacPherson strut system. Ford expects that the new Mustang will have the best stopping capabilities so far, with three brake packages available.
Launch Control and Safety Features
Choose the Mustang GT and launch control is part of the package. All models will benefit from a new stability control system. Available safety features include cross-traffic alert and adaptive cruise control, the former part of a blind spot information system package.
In recent years Ford has been criticized for its in-cabin technologies, namely its MyFord Touch system. The 2015 Ford Mustang will likely ease those concerns. Other technologies include push-button start, a Shaker Pro audio system, and selectable drive modes. Additional details will be made available closer to the Mustang's April 2014 release.
With its cover off, the all-new Mustang will be heavily scrutinized and talked about. It will also be on display at major auto shows including the North American International Auto Show in Detroit this Jan. The newest 'Stang also breathes fresh life into the pony car segment, one that Ford founded and includes competing Chevrolet Camaro and Dodge Challenger models.
---
See Also — New Ford Mustang to Birth Additional Products?
2015 Ford Mustang photos courtesy of the Ford Motor Company.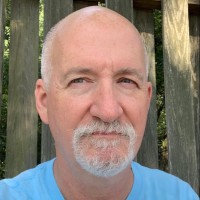 Latest posts by Matthew Keegan
(see all)