People that take to the road with their pets, particular dogs, know the importance of providing a safe riding experience for their canine companions. While most dogs do ride unrestrained, even hanging out of the passenger window with their tongues lolling out, pet safety must not be taken for granted. The following are among the top dog-friendly cars for your pooch including those with dog safety in mind.
Honda Element
The Honda Element is no longer made, a quirky-looking four-passenger utility vehicle sold from 2003 to 2011. If you find one and it is equipped with its "Dog-Friendly" components, you'll get a vehicle that both you and your pet will love.
Even before Honda rolled out its Dog-Friendly package, this model was prized by pet owners. In response to that interest, Honda engineered and assembled important components including a cushioned pet bed in the cargo area with an elevated platform, second row and cargo area pet restraint systems, a load-in ramp with an extension, a 12-volt rear ventilation fan, and second-row seat covers. Honda also included a spill-resistant water bowl and related emblems.
Subaru Outback
Subaru's dog-friendly credentials do not include a package as comprehensive as Honda's. Still, the automaker goes to great lengths to accommodate pet owners, even advancing a "Meet the Barkleys" ad campaign featuring a fictitious family of Golden Retrievers. Perhaps more important is the company's partnership with the ASPCA and its "Kids Against Animal Cruelty" campaign that raises awareness about animal mistreatment and encourages shelter adoptions.
Subaru sells a bunch of pet-friendly swag including dog bandanas, water bowls, collars, leashes, and a waterproof orthopedic pet bed. You can also opt for a compartment separator, what safely separates pets in the storage area from people in the cabin area with both the Subaru Outback and Forester models.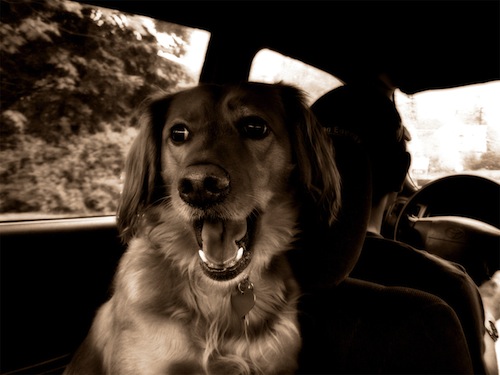 Jeep Wrangler
People that like Jeep Wranglers will often be seen driving around with their pets onboard. It isn't much of a safety issue until you remove the side doors and the top. Then, you need to find a way to restrain your furry friend.
Some owners tie the dog's leash to the roll bar, but this option isn't the best one nor is it completely safe. Aftermarket suppliers have developed Wrangler-specific harnesses that go around your pet's chest and secure him to the seat belt. Adjust the length enough to give him some room to roam, but not enough where he'll be hurt in a sudden stop or in an accident.
Volvo XC70
Volvo products have a stellar safety reputation and are a natural consideration for people with pets. You prize Volvo for its safety and technological leadership, trusting this Swedish automaker to take care of your pets too.
To give your dog a place all of her own, a dog gate is a great idea. In the XC70 it attaches to the rear backrest to provide separate areas for your cargo and for your dog. You can position it either on the left or the right. Consider also a protective bumper cover that unfolds over the bumper. It can provide better grip for your dog as she jumps up and into the back of your wagon.
Dodge Journey
Your dog is on a restricted diet and that makes traveling a chore especially with food that must be kept cool. The Dodge Journey solves that problem by providing a cooling compartment or Chill Zone above the glove box. It is large enough to hold a pair of 12-ounce soda cans, but it can also hold your canned dog food.
The Journey's cargo area can be outfitted with a dog cage. And for older or smaller dogs, a PortablePET Twistep dog hitch step can make access and egress easier to the rear compartment. If also conveniently folds out of the way when not in use.
Dog-Friendly Considerations
A number of other vehicles are also dog-friendly, outfitted with features that are attractive to owners. They are: waterproof seat covers, a low profile, rear windows that drop down to improve ventilation, fold flat seats, and removable cargo liners for easy vacuuming and washing. You can also shop for a pet harness for added protection. The Sleepypod Clickit Utility Harness is, by the way, the only one recommended by Consumer Reports.
---
See Also —- Subaru Study Reveals Pets Are Not Safe in Pet Travel Seats
Latest posts by Auto Trends
(see all)