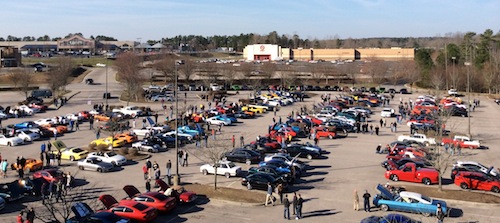 Third Saturday meetings at the Raleigh Grande.
Cars and Coffee has come back to Raleigh, NC. This past Saturday the inaugural meet up of the *new* Cars and Coffee Raleigh was held and judging by the amount of coffee consumed and the cars on hand, future gatherings may soon fill the Raleigh Grande theaters entire 550-spot parking lot.
Upon my arrival precisely at 8 a.m., a contingent of 30 Mopar models composed mostly of Dodge Challenger and Charger models from the Fast Lane Mopars Club had already lined the south end of the lot. Over the next hour several more caravans pulled in, including Mazda RX5s (Miata), Mustangs, Chevy Cobalts, Corvettes, and BMWs, with each group carving out their own sections of the lot.

By 9:30 a.m. the parking lot was bustling, the theaters concession stands were humming, and temperatures pushed high enough to begin removing jackets. If you were looking for ideal morning automotive meet up conditions you found it at Raleigh on Saturday.
Cars and Coffee Raleigh
Dave Marsic, one of the organizers for Cars and Coffee Raleigh, was overwhelmingly pleased by the turn out, having anticipated no more than 200 participants, but ending up with more than 300. Auto Trends estimates that number was between 350 to 400, including people who stopped in for a while and then left.
The Raleigh Grande Theater opened its concession stands, giving people access to coffee and snacks, as well as to the bathrooms. The theater reported going through five huge containers of coffee before they ran out. Conveniently, the theater also scheduled an 11:15 a.m. showing of the just released Need for Speed movie to give car lovers another reason to hang around.

The return of Cars and Coffee to Raleigh now gives the Triangle region (central North Carolina) two such events each month.
Cars and Coffee Cary
meets the first Sat. of the month and Cars and Coffee Raleigh will continue to meet on the third Saturdays its next meeting is scheduled for April 19, 2014.
Chris Chandler, one of the organizers for Cars and Coffee Cary was at the Raleigh event and told Auto Trends that beginning with its next meet up on April 5, 2014, the Waverly Place Shopping Center on Kildaire Farm Road would make available a third lot, this one located on the upper section of the property, effectively increasing capacity to 600 cars.
So, at least in one area of the country outside of car-crazy California there are now two monthly Cars and Coffee events within easy reach of local enthusiasts, with warmer weather and convenient venues set to accommodate participants and visitors alike.
Related Reading
Cars and Coffee Fayetteville: March 2014
Cars and Coffee Cary: March 2014
Photos copyright Auto Trends Magazine.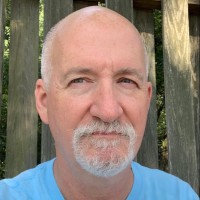 Latest posts by Matthew Keegan
(see all)