These are heady days for the auto industry as an assortment of muscle cars influence the market. The Ford Mustang is one such model and an international contestant at that.
Few vehicles have ever achieved the historical significance and the signature cachet of the Ford Mustang. Since its introduction on April 17, 1964, at the New York World's Fair in Queens, New York, the Mustang has achieved iconic stature in the eyes of enthusiasts as well as with most critics.
Clearly, this sport coupe represents America's youth culture at its best with its unbridled passion; sleek, good looks; and attainability. That you can still get behind the wheel of a new one for under $25,000 reflects the Ford Motor Company's commitment to keeping this model affordable in a bid to win a new generation of buyers.
2015 Ford Mustang
And today's new Ford Mustang buyers are no longer limited chiefly to American and Canadian shoppers. The current generation model (some say sixth generation, others say up to tenth) is now a global product with Ford selling its pony car in more than 100 markets. Ford is able to do this by offering a 2.3-liter turbocharged four-cylinder as the base engine together with its naturally-aspirated 5.0-liter V-8. North American shoppers also get a third engine choice, a V-6.
The 2015 Ford Mustang has become a global product despite its overall dimensions and weight remaining nearly the same. The big change is in the body style with the coupe roofline replaced with a sleek fastback layout, reminiscent of an earlier design.
For the record, not all Mustang fans are happy about the change in roof style. Early on in the Mustang's history, Ford offered both traditional coupe and fastback body styles, along with a convertible. But those were the days when it sold more than 400,000 Mustangs per year and could spread out its costs. These days Ford may sell 100,000 units in the US alone.
Familiar Visage, Clean Interior
Mostly everything else about the latest iteration pays tribute to the earlier models with its familiar face and sequential tail lights. But there are significant changes too, including a slightly wider and lower sitting body, signature HID headlamps, air extractor hood vents on the GT, a sportier hood, rocker panel embellishments, new wheels, the list goes on.
Inside, the cabin reflects some changes that the stallion's fans have been clamoring for, including a sunglasses holder, memory seats that adjust to the previous recline position, available heated and cooled seats with 6-way power adjustment, and power lumbar support for the driver.
One challenge for tall drivers has not changed — if you are particularly tall, there is no amount of seat adjustment possible that will accommodate you. I'm just under 6-feet tall and had a few inches between the top of my head and the headliner. A friend, who measures 6-feet-4-inches tall, noted with some disappointment that the Mustang is not a fit for him. Eliminating the rear seat or enabling the driver seat to sit lower would help. As for me, the Recaro seat in the Mustang GT was just right.
Allow me to pull back a moment to discuss your 2015 Ford Mustang options. Ford offers eight models or editions ranging from the V6 Fastback ($23,800) to the GT Premium Convertible ($41,800). There are specialty Shelby models available too, but those are marketed separately.
The standard model is powered by a normally-aspirated, 3.7-liter V-6 engine making 300 horsepower and 280 foot-pounds of torque. Across the three-engine lineup, a 6-speed manual transmission is standard and a 6-speed automatic transmission with paddle shifters is available. The V-6 is available only in the base coupe and convertible models.
A Potent EcoBoost Option
New for 2015, is an EcoBoost 2.3-liter four-cylinder engine, making 310 horsepower and 320 foot-pounds of torque. EcoBoost marries direct fuel injection, turbocharging and twin independent variable camshaft timing to "boost" power from a small footprint. This engine appears in three models.
And back and better than ever before is the 5.0-liter V-8 engine that some insist is "the" engine for the Ford Mustang, making a robust 435 horsepower and 400 foot-pounds of torque, as it benefits from larger intake and exhaust valves, new cylinder heads, revised high-flow ports and new intake and exhaust camshafts with increased lift.
Puissant Ford Mustang GT
A 2015 Ford Mustang GT was my prize for one week this April, but it nearly did not make it. Six months of personally trying to wrest any Mustang from the press fleet, including an EcoBoost Premium Fastback, failed. Quite suddenly, a GT Coupe Premium Fastback edition adorned in deep impact blue metallic with ebony Recaro leather seats appeared, ending the stalemate.
The GT's arrival also completed a circle encompassing rival models, including a Chevrolet Camaro convertible driven in Fall 2013 and a Dodge Challenger Core last summer. Sorry to disappoint some of you who want me to take sides — I won't. Instead, you will hear me calling this the "second golden age" for the muscle car market. This exhilarating epoch may not last, so enjoy these three models while they do.
Slipping behind the GT's steering wheel, I immediately took in everything this coupe had to offer. Manual transmission? Check. Pointless rear seat? Check. Engine start/stop button? Yes, and circled in red. Oil and vacuum pressure displays at the top of the center stack? Absolutely. Aluminum pedals, launch control, selectable drive modes and electronic line lock — check X four. Is that carbon fiber covering the lower dashboard? You bet!
My comfort was never an issue for my week tenure. Indeed, one thing I have found about Recaro seats is that the bolstering, back, hip and thigh support is excellent. The seating position and the sight lines were ideal — two issues that not every two-door coupe gets right.
---
2015 Ford Mustang
---
Launch Control and a Manual Gearbox
Kudos to Ford for not making the instrument panel a calamity. What you have here are two circular ports fixed like sentries on either side of the panel. To the left is the tachometer. To the right is the speedometer. At the center is the digital driver's information center with the usual data supplied, including launch control.
Additional props should be given to Ford for not just keeping the manual transmission alive, but making it available across the model line. This shifter is of the short-throw variety, lending near effortless moves up and down through the gear range. The GT's off-the-mark acceleration is terrific and the V-8 delivers power in spades.
Handling changes are evident too, as you have a smaller diameter steering wheel to work with and a three steering wheel modes — comfort, sport and standard. The cornerstone of the new model is the Mustang's new independent rear suspension, what manages body roll and better pitch control, especially noticeable on your favorite twisty roads or on the track.
The front suspension is all-new too with double-ball-joints for optimum driving dynamics. The benefit of the new design is larger brakes with no impact on steering feel. I've been told my Mustang enthusiasts — the very people who KNOW, live and breath the model — that the 2015 model is the best handling one yet, no question.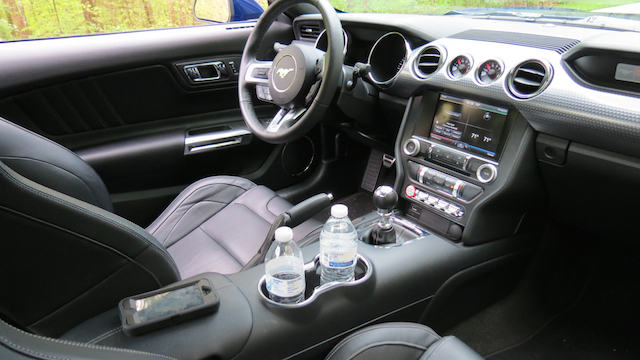 Ford also delivers selectable drive modes — normal, snow/wet, sport+ and track. For example, with the sport+ mode, you get more responsive steering and throttle response and if with automatic transmission-equipped models, the shift points are adjusted for the times you're navigating serpentine roads and with vigor.
This Mustang also feels light on its feet (or wheels) although its overall weight has not changed. The GT comes in around 3,700 pounds, but that's a few hundred pounds below what comparable Camaro and Challenger models offer.
Where older models shined on the straight away — this one goes beyond and handles curvilinear stretches with ease. No fighting with the steering wheel. No praying that the back wheels will not slip out from underneath you. The new Mustang has arrived and it is certainly ready for the international spotlight.
From Dearborn to the World
No car is perfect and the Mustang does have a few faults. The back seat is likely in place solely for insurance purposes, but is mostly unusable unless you are short and your unfortunate rear seat passengers are small. Ford's infotainment system continues to disappoint — we're still a model year away from the release of SYNC 3, what promises to be a much more intuitive color display panel.
But the improvements are many and more than offset the few shortcomings. Indeed, you will find much less plastic, more metal, chrome toggle switches, new door pulls, a wider application of stitching and a larger Mustang emblem on the steering wheel. In all, you have a model that should please long-term owners and reach out and find acceptance by the global enthusiast community.
---
2015 Ford Mustang GT Premium Fastback
Sticker price from $36,300
Price as tested: from $45,885
Seats 4 occupants
5.0-liter 32-valve V-8 gasoline engine
435 horsepower @ 6,500 RPM
400 foot-pounds of torque @ 4,250 RPM
3.63 inches bore by 3.65 inches stroke
Engine compression ratio: 11.0-to-1
6-speed manual transmission
Wheelbase: 107.1 inches
Length: 188.3 inches
Width: 75.4 inches
Height: 54.4 inches
Passenger volume: 84.5 cubic feet
Storage volume: 13.5 cubic feet
Towing capacity: NR
EPA: 15 mpg city, 25 mpg highway
Regular grade gasoline
Fuel tank: 16 gallons
Curb weight: From 3,705 pounds
IIHS safety rating: Good — moderate overlap front
Limited vehicle warranty: 3 years/36,000 miles
Powertrain warranty: 5 years/60,000 miles
Corrosion warranty: 5 years/Unlimited miles
Vehicle assembly: Flat Rock, Michigan
---
See Also — Top Down Steed: Ford Mustang GT Premium Convertible
2015 Ford Mustang GT photos copyright Auto Trends Magazine.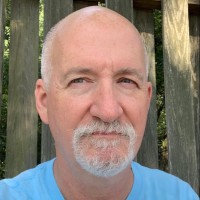 Latest posts by Matthew Keegan
(see all)