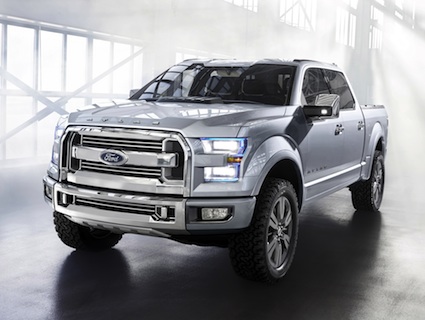 The future of the pickup truck is likely to face a big challenge in coming years as federal fuel economy mandates require that current manufacturer fleet averages must double by 2025 with incremental changes each preceding year. Pickup trucks wont go away, but they're likely to become even more efficient, making use of lighter materials, diesel engines, new transmissions and perhaps even hybrid powertrains for select lighter duty versions.
Ford Pickup Trucks
For the Ford Motor Company, maker of the bestselling F-150 pickup truck for 36 straight years, its commitment to the segment isn't wavering. In fact, at the North American International Auto Show in Detroit this week Ford unveiled the Ford Atlas Concept, a full-size pickup truck that shows how it plans to set the agenda for future models.
The concept truck is not a radical departure from the current model, at least not at first glance. On closer inspection there are many upgrades, technological changes that should help this truck keep pace with stiffening federal requirements.
Truck Styling Cues
To begin with, this truck holds true to the styling cues found in the current F-150 with its oversized, upright grille, its massive wheel wells, strong shoulders, flat profile and traditional box bed. Ford wont mess with success when it comes to sheer size, payload and cabin capacity, but there is an awful lot of room for improvement elsewhere.
For one, both active grille shutters and active wheel shutters are incorporated within the Ford Atlas Concept design. Both groups of shutters remain open at low speeds and close up at higher speeds to improve aerodynamics. A drop-down front air dam and power running boards also work to improve aerodynamics, offering yet more ways that Ford will squeeze additional miles out of every tankful of gasoline.
---
See Also — Truck Payload and Towing: What's the Difference?
---
Future EcoBoost Improvements
Under the hood, the Ford Atlas Concept offers the next generation of the company's EcoBoost engine. EcoBoost marries turbocharging and direct injection to enable smaller engines to perform at higher levels than standard engines and for this concept, that means adding in engine shutoff technology to turn the truck off when it is idle or in traffic. When towing, the engine would not shut down, as sensors would be able to detect when heavier loads are present.
Although a four-cylinder EcoBoost has been rumored, Auto Trends is expecting that future models may have a slightly smaller V-6, displacing around 3.2 liters and pairing it with a 10-speed automatic transmission. Were also expecting that Ford will offer the 3.2-liter five-cylinder diesel planned for the Ford Transit van as an option with base F-150 models. That would give Ford diesel engines at both ends of the pickup truck spectrum as its Super Duty line currently offers a turbo diesel. Yes, an inline-six or small-block V-8 diesel could eventually fill the huge middle ground. Just saying.
Pickup Truck Amenities
Other goodies that Ford is showing with its Atlas Concept include a 360-degree point of view camera, designed to give drivers a birds-eye view of the truck, ideal for parking or hitching up a tow. LED lighting comes to the inside of the cargo box, providing much-needed lighting in the dark. Also, hidden cargo ramps, a dual-purpose tailgate, dynamic hitch assist, and trailer backup assist are featured. LED lighting treatments front and back would also debut.
When might we see this concept go into production if at all? Well, Ford is actively working on its next-generation pickup truck and likely the Atlas Concept is a close representation for what Ford plans to unveil later this year. That truck, a 2014 model, could set the pace for its competitors as Ford finds way to bring much-desired innovations to this still popular segment. This means the Chevrolet Silverado, GMC Sierra, Ram 1500, Nissan Titan and the Toyota Tundra have a higher rung to pursue as Ford continues to lead the way.
---
See Also — Aluminum Tough: 2015 Ford F-150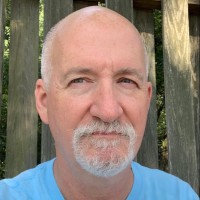 Latest posts by Matthew Keegan
(see all)