BMW has rethrown its hat into the electric vehicle ring, by introducing to the world its all-new i3 model. On Monday, the German car manufacturer simultaneously introduced the car at events in Beijing, London and New York, representing three important markets where the car will be sold. Its North American debut will take place in the second quarter of 2014, behind its European roll out.
2015 BMW i3
The BMW i3 will retail from $42,475, destination and handling fees included. A range-extender version, equipped with a small gasoline-powered engine, will sell for about $4,000 more. The new model is the first one in the BMW i sub-brand, electrified vehicles all.
BMW has stressed that the i3 has an advantage over electric vehicles that share a common platform with conventional cars. Notably, the space behind the rear axle that holds a gas tank and the exhaust system in other models typically goes to waste in electric versions. Because the BMW i3 was designed solely with vehicle electrification in mind, no such constraints exist.
A 170-horsepower electric motor producing 184 foot-pounds of torque will be used. It is expected to move the BMW i3 from 0 to 60 mph in just seven seconds, reach a top speed of 93 mph and provide a real world driving range of 80 to up to 100 miles.
A 22-kilowatt lithium-ion battery system weighing 450 pounds stores electricity, making use of regenerative braking and outlet charging to recharge this EV. BMW says that the i3 can be operated in three driving modes: comfort, Eco Pro and Eco Pro+. With a 220-volt outlet, this model can be recharged in three hours. When connected to an optional DC combo fast charger, it can be fully recharged within 30 minutes.
Even Weight Distribution
BMW says that its EV attains the brand's near-perfect 50-50 front, rear weight distribution. It does so in part by employing new and lighter weight materials including a carbon fiber reinforced plastic roof panel, natural plant fibers and other renewable materials. The lighter weight battery system and 110-pound electric motor are what helps keep this vehicle's weight to around 2,700 pounds.
The BMW i3 seats four people and feature rear-hinged rear doors for ease of back seat access. This model will sit on 19-inch wheels, feature all-season tires and be sold in three trim levels. All models include a navigation system, an onboard charger, LED headlights, LED tail lamps and a leather-trimmed steering wheel. Moving up the trim levels, leather and wool seating or all-leather seating will be included. Various technology and driving assist packages will be available.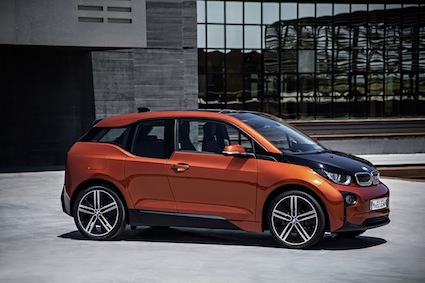 Range Extender Option
BMW has also sought to find a balance between limited range and full range extension. For instance, the Nissan LEAF can travel approximately 80 miles before it needs to be recharged. The Chevrolet Volt, on the other hand, taps electric-only power for 35 miles before a range-extending 1.4-liter gasoline engine kicks in. The Volt can then go another 340 miles thanks to its 9.3-gallon fuel tank and refueled again as desired.
For the BMW i3, its optional 650cc two-cylinder engine adds about 330 pounds to the vehicle's weight, but it also extends the driving range to 160 miles. A 2.4-gallon fuel tank makes this possible, something that drivers might consider as an "insurance policy" when on longer trips.
BMW i Sub-Brand
BMW announced its i sub-brand in Feb. 2011, telling reporters that the "BMW i represents a new movement in vehicle mobility." It isn't the first electric vehicle BMW has built as both its MINI Cooper and BMW brands offer EVs in limited quantities. The BMW i3 and the upcoming i8 are its first dedicated EVs, models that it hopes will introduce new consumers to BMW while also giving enthusiasts broader electric-only options.
Full model information will be available closer to the i3's U.S.-spec model's debut.
---
See Also — On Sale Now: Chevrolet Volt
Photos courtesy of BMW of North America.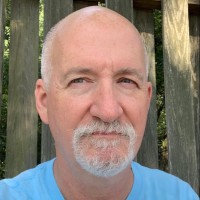 Latest posts by Matthew Keegan
(see all)