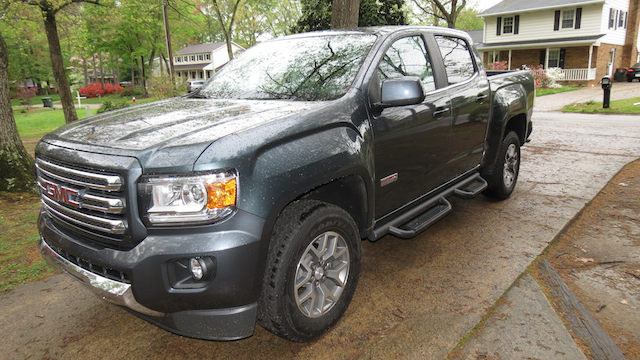 The GMC Canyon is nothing less than a brute, a robust midsize pickup truck sold in 4×2 and 4×4 configurations. The Canyon and its Chevrolet Colorado sibling were brought back to the market in 2015 after a three-year hiatus — both models compete in a sector dominated last year by the Toyota Tacoma and the Nissan Frontier.
That self-evident moiety is being turned upside down as sales for the GM doublet have pushed past Nissan for the first three months of 2015 (Chevrolet Colorado — 19,126 + GMC Canyon — 7,152 = 26,278 v. Nissan Frontier 19,102). The Toyota Tacoma at 39,666 units sold remains the segment pacesetter, but the heat is on. In response, Toyota will debut an updated Tacoma for the 2016 model year.
Notably, sales of the full-size GMC Sierra and the Chevrolet Silverado have not been adversely affected by the reintroduction of the smaller trucks. Through March 2015, Sierra sales are up 7 percent, while Silverado sales are up 17.6 percent. Furthermore, GM is the only manufacturer selling three truck lines — a small pickup truck, a full-size model and heavy-duty editions. The Ford F-150 may be the best selling model line, but GM is the pickup truck forerunner. Allow that thought to marinate for a few moments.
GMC models typically command a slightly higher price point than Chevrolet trucks, usually for equipment and trim differences. Both trucks offer standard and extended wheelbase options, two cabin sizes, two truck bed lengths, and three trim levels (base, SLE and SLT). Sadly, this segment no longer offers regular cab models — your choices are extended and crew cab trucks.
2015 GMC Canyon
But even as cabin styles shrink, the base price for these models remains highly competitive. For 2015, the GMC Canyon Extended Cab 4×2 is priced from $21,880 —destination charge included. GMC prices the Crew Cab, Short Box from $26,130 and the Crew Cab, Long Box from $27,650.
However, if you choose a 4×4 configuration, you will need to add thousands of dollars to your base price as GMC buoys up the content level with these models accordingly. My test model, a Canyon 4WD SLE Crew Short Box, retailed for $34,935. And with an all-terrain package ($1,190), power lumbar package ($745), and several other conveniences, trailering and audio packages included, the final price for this smaller truck was substantially priced at $39,090. Now let that price point also marinate for a few moments.
What will please GMC fans is the look of this pickup truck, inside and out. As far as its visage, the Canyon complements the larger Sierra and strikingly so. Its dimensions are about three-quarters of the Sierra's size, but its bold, upright grille, strong shoulders, solid slab sides and versatile truck bed gate are more like the Sierra than they are not. Certainly, GM had to compensate for the truck's smaller formation, but the arched wheel wells, sturdy cabin compartment and the rear step bumper have found a home in the Canyon.
Seating for up to Five
Inside, seating is for up to five with bucket seats up front and a folding bench seat to the rear. The extended cab would be useful for holding children, while the crew cab has more legroom for adults. Two average-sized men can fit without a problem; three would put the squeeze on the middle passenger. If you are looking for a work crew truck, then you might prefer the Sierra crew cab's interior.
The instrument panel offers yet another intimation of the Sierra and that, too, is a fine thing. That panel has fewer analog displays, but you will find what you need. To the left is a tachometer. To the right is the speedometer. Above and between the two are gas and oil gauges.
To the left of the steering column on the lower dashboard is the control switch for 2WD/4WD driving. On the steering wheel itself — at least for upper trim level models — are cruise and audio controls. To the right and at the top of the center stack is the color display.
I have mentioned this in the past and it demands repeating — GM's infotainment system is one of the easier ones to manage. In this case you get GMC Intellilink and the accompanying SiriusXM satellite radio, OnStar directions and connections with turn-by-turn directions and automatic crash response. Not to mention a 4G LTE hotspot, one that provides stellar Internet access from within the cabin of the truck.
Switches and knobs for the audio system and climate control are located beneath the display. In upper trim level editions, additional switches for seat heating and cooling are below that. Between the front seats is a USB connection and a 12-volt outlet. In addition, the transmission shifter, two cup holders and an armrest/storage compartment can be found.
The front seats are sufficiently supportive with four-way power adjustment for the driver. Up front you will find head, shoulder, thigh and legroom generously apportioned; taller drivers should benefit too, although pushing the seat all the way back will consume rear seating legroom.
Performance: Two Engine Choices
Under the hood, a standard 2.5-liter four-cylinder engine making 200 horsepower drives the base model. Also available is a 305-horsepower, 3.6-liter V-6 engine. Both engines come paired with a six-speed automatic transmission. However, if payload, towing and performance are important to you, then only the larger engine will appeal to you. Indeed, when equipped with the Z82 trailering package you can extend the standard 3,500 pounds of towing capacity to 7,000 pounds. That larger number joins with upwards of 1,620 pounds of payload. A stout conveyance? You bet!
On the road, the test model with the larger engine performs admirably, with a long power curve and
no hesitancy detected. This truck shifts smoothly between all forward gears and delivers generous and consistent amounts of power on the highway.
Rear Bumper and Bed
One of my personal favorite design attributes of late model GM pickup trucks — Chevrolet and GMC — are the corner step bumpers that make it easier for people of a certain stature or of a certain age to access the truck bed. An "EZ" lift and lower tail gate is offered with the SLE and SLT editions, yet another move to simplify access to the truck bed.
That truck bed is 5-foot-2-inches long in the Extended Cab and is also the standard length for the Crew Cab. Besides the standard bed, crew cab models can be outfitted with a 6-foot-2-inches bed, an ideal length for hauling plywood. Furthermore, both truck beds — regardless of size — come equipped with 13 tie downs throughout the bed and can be used in conjunction with movable cargo tie-down rings. Certainly, that makes for a winning combination in trucks of any size.
Top-of-the-Line Trucks
As is a common practice among media fleet vehicles, most of the inventory Auto Trends reviews is based on top-of-the-line models. Some manufacturers serve up a variety of trim grades, but in the case of the GMC Canyon, the high-end model was it.
If you were to shop for this truck, your final price, including taxes, tags and fees, would push $40,000. But there is a reason for that — every conceivable amenity is on board, including 17-inch blade wheels, projector beam headlamps with LED daytime running lights, front fog lamps, a chrome rear bumper, front recovery hooks, a locking tailgate and power side mirrors. Inside, you get a rear window defroster, an automatic dimming rear mirror, steering wheel-mounted secondary controls, and a navigation package.
Certainly, it also helps to have a spray-on liner, automatic climate control, hill decent control and a transfer case shield. Not to mention a power lumbar driver's seat, all-terrain tires and the Z71 off-road package. This package goes beyond the visual enhancements — chrome grille and recovery hooks — to bring in a front skid plate and tubular assist plates.
The Bottom Line
Certainly, you can order a 4×2 GMC Canyon and drive away from the dealer lot paying under $25,000. However, GMC believes that you will want many of the amenities as mentioned here, including the 4×4 system and various package enhancements. The sticker price may be daunting, but you do have some bargaining room available. You also have the Toyota Tacoma and Nissan Frontier competing, models that may also offer discounts to keep you from leaving the respective smaller truck fold.
---
2015 GMC Canyon 4WD SLE Crew Short Box
Sticker price from $34,010
Price as tested: $39,090
Seats 5 occupants
3.6-liter 24-valve V-6 gasoline engine
305 horsepower @ 6,800 rpm
269 foot-pounds of torque @ 4,000 rpm
3.70 inches bore by 3.37 inches stroke
Engine compression ratio: 11:5-to-1
Six-speed automatic transmission
Wheelbase: 128.3 inches
Length: 212.4 inches
Width: 74.3 inches
Height: 70.7 inches
Passenger volume: 107 cubic feet
Storage volume: 41.3 cubic feet
Towing capacity: 7,000
EPA: 17 mpg city, 24 mpg highway
Regular grade gasoline
Fuel tank: 21 gallons
Curb weight: From 4,420 pounds
IIHS safety rating: Good (moderate overlap front)
Limited vehicle warranty: 3 years/36,000 miles
Powertrain warranty: 5 years/100,000 miles
Corrosion warranty: 6 years/100,000 miles
Vehicle assembly: Wentzville, Missouri
---
See Also — Going Deep With the GMC Canyon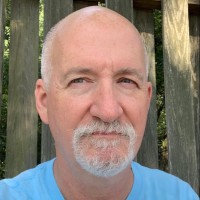 Latest posts by Matthew Keegan
(see all)