A 6-trick MultiPro tailgate that might be the tool you always wanted.
---
You may have seen the commercial or perhaps you noticed the additional cut-out line in certain GMC Sierra models to know that there is something different going on. That difference-maker is GMC's MultiPro tailgate, an optional upgrade on the base trim or standard on others.
Harnessing the company's "professional grade" mantra, the MultiPro tailgate rolled out in 2019 and continues to this day. The Six-Function MultiPro Tailgate is essentially two tailgates in one. Specifically, you'll find the main tailgate and a smaller tailgate built within the larger unit.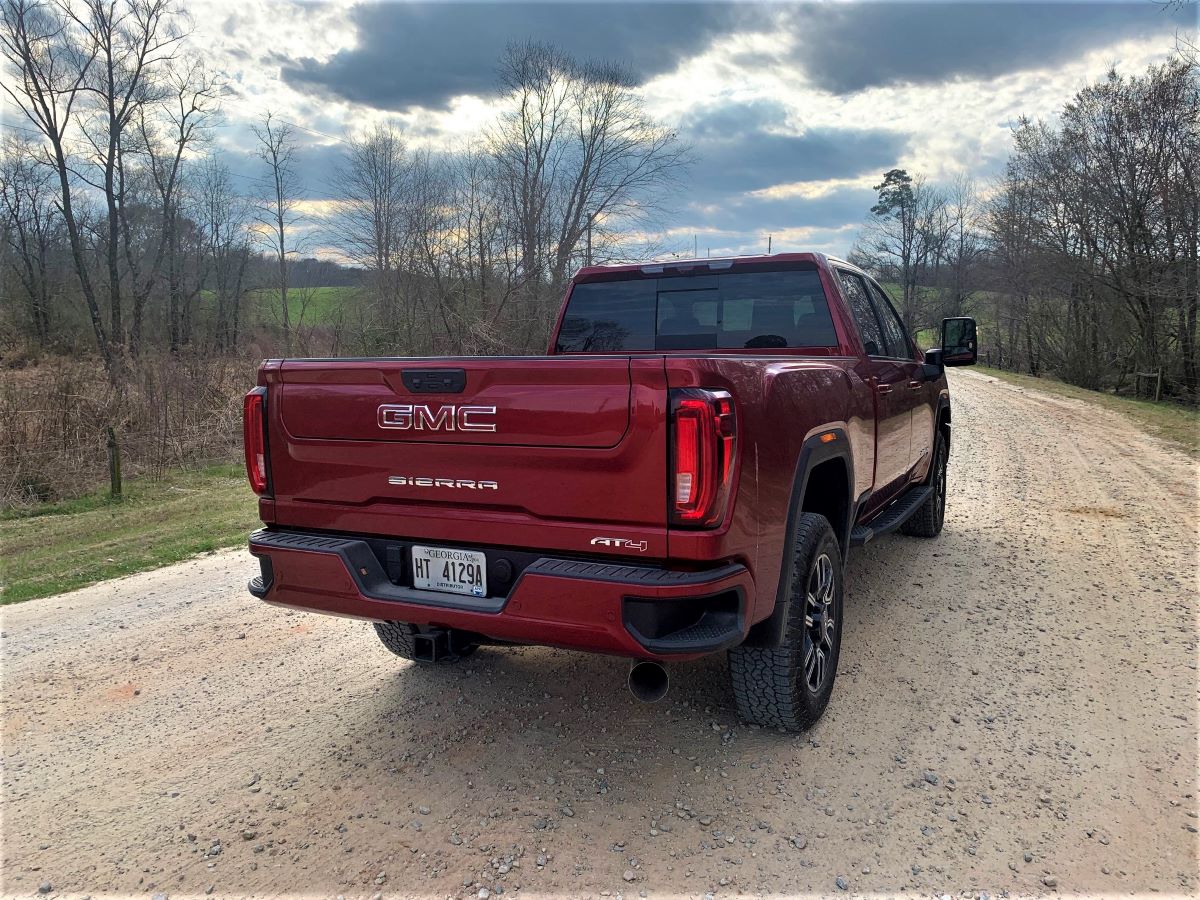 Consequently, that inner gate can be raised or lowered apart from the main unit or adjusted within it. As a result, there are six ways to utilize it or seven if you count its available audio function.
How should you use the MultiPro? The following are some options to choose from.
GMC MultiPro Tailgate Functions
#1: Traditional Tailgate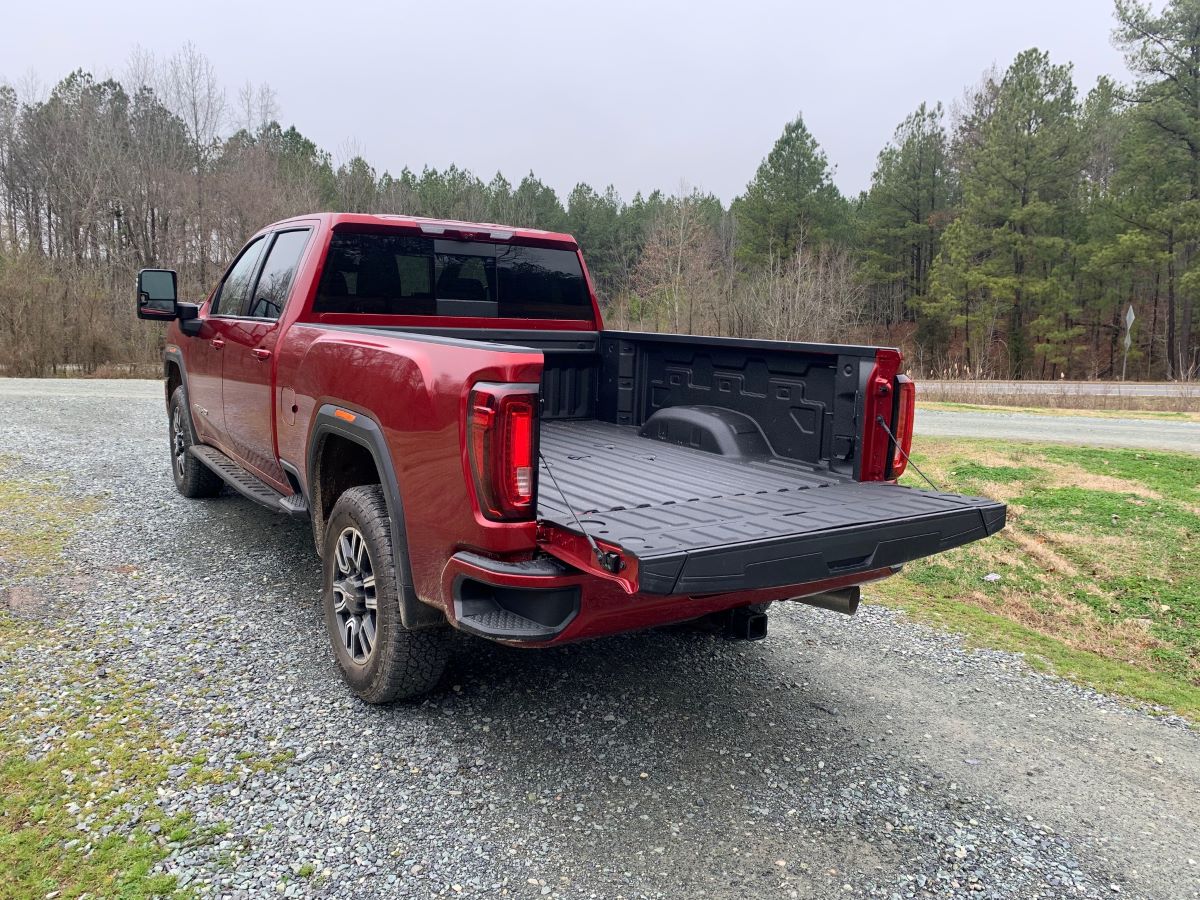 If you want to use the MultiPro as a traditional (primary) tailgate, then go ahead and do so. Here, you'll simply push a button on the top rear side of the tailgate or use the key fob to lower it.
Also, there is a switch inside the Sierra that's found immediately left of the hazard switch on a strip of eight switches beneath the HVAC and seating controls and above the trailering, USB ports, a 12-volt outlet, and a three-prong outlet.
#2: Primary Tailgate Load Stop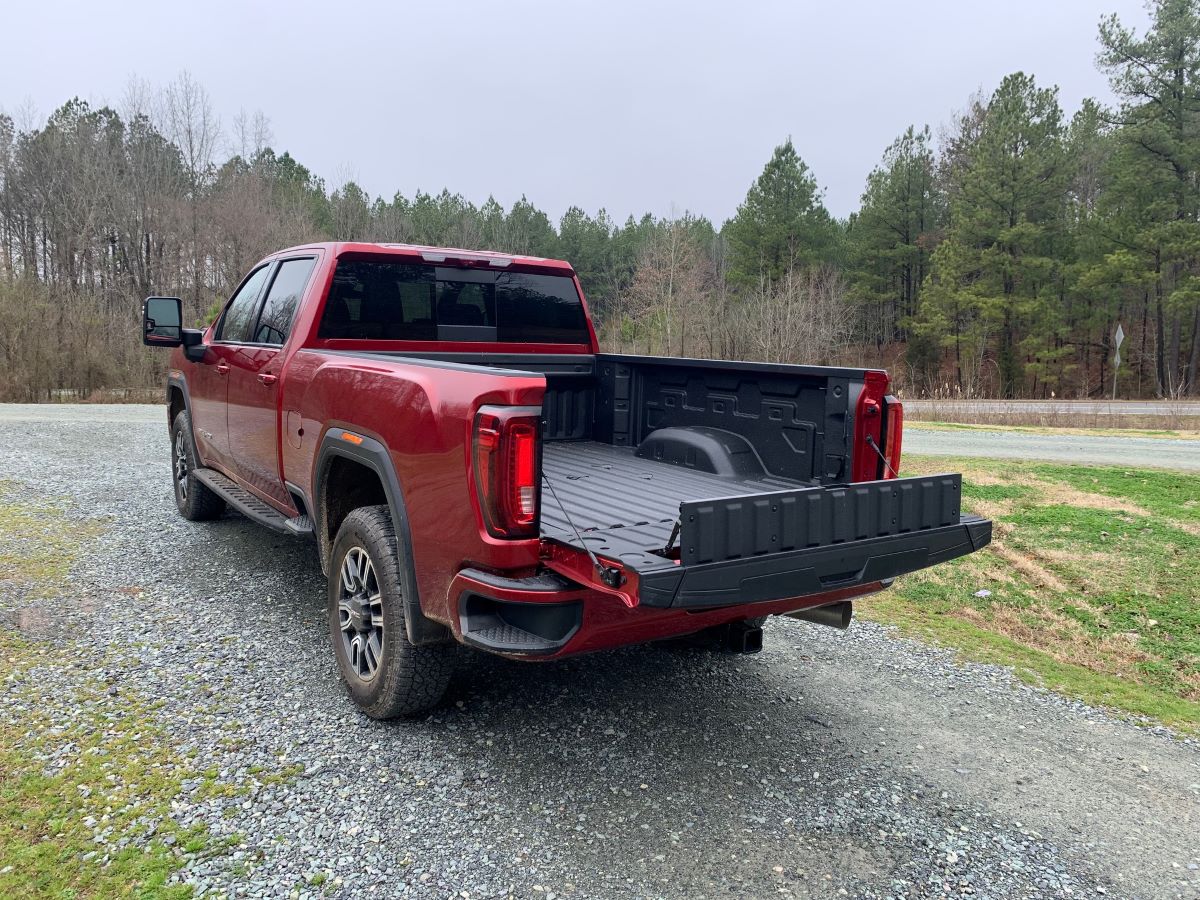 Have you ever carried equipment or sheets of plywood that are a bit too long for a full-size bed? We hear you! The problem here is, of course, that unless you have a safety net in place, whatever you carry can slide out.
Fortunately, the MultiPro tailgate comes with a built-in load stop that's part of the inside panel of the inner gate. Simply unlatch it and fold it upright and extra carrying space is there.
#3: Ease of Access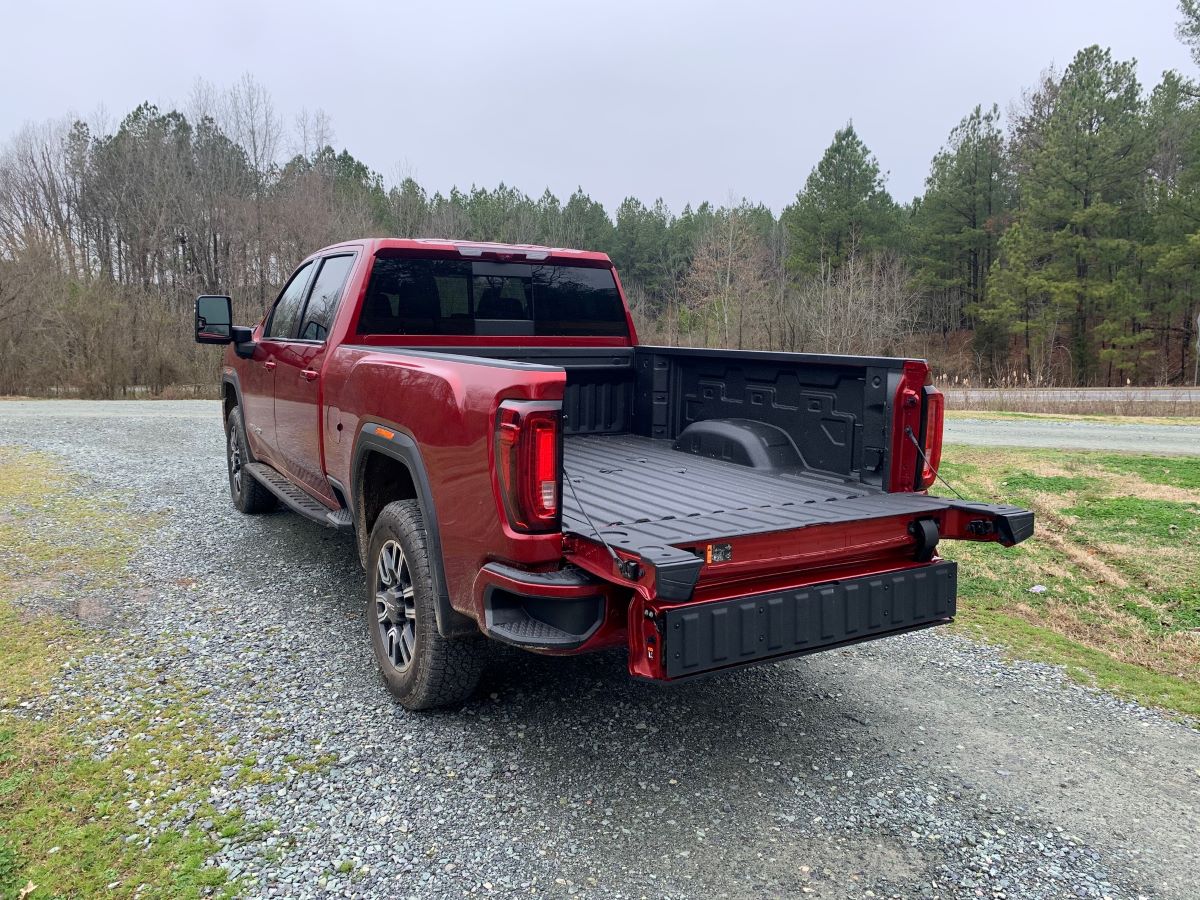 Tall trucks are more difficult to access and not just for small individuals. In a Sierra 4×4, the gate is even with my waist and I'm 6-feet-tall.
With the inner gate dropped down, you can move 7 to 9 inches closer to the tailgate and easily retrieve what's inside.
#4: Full-Width Step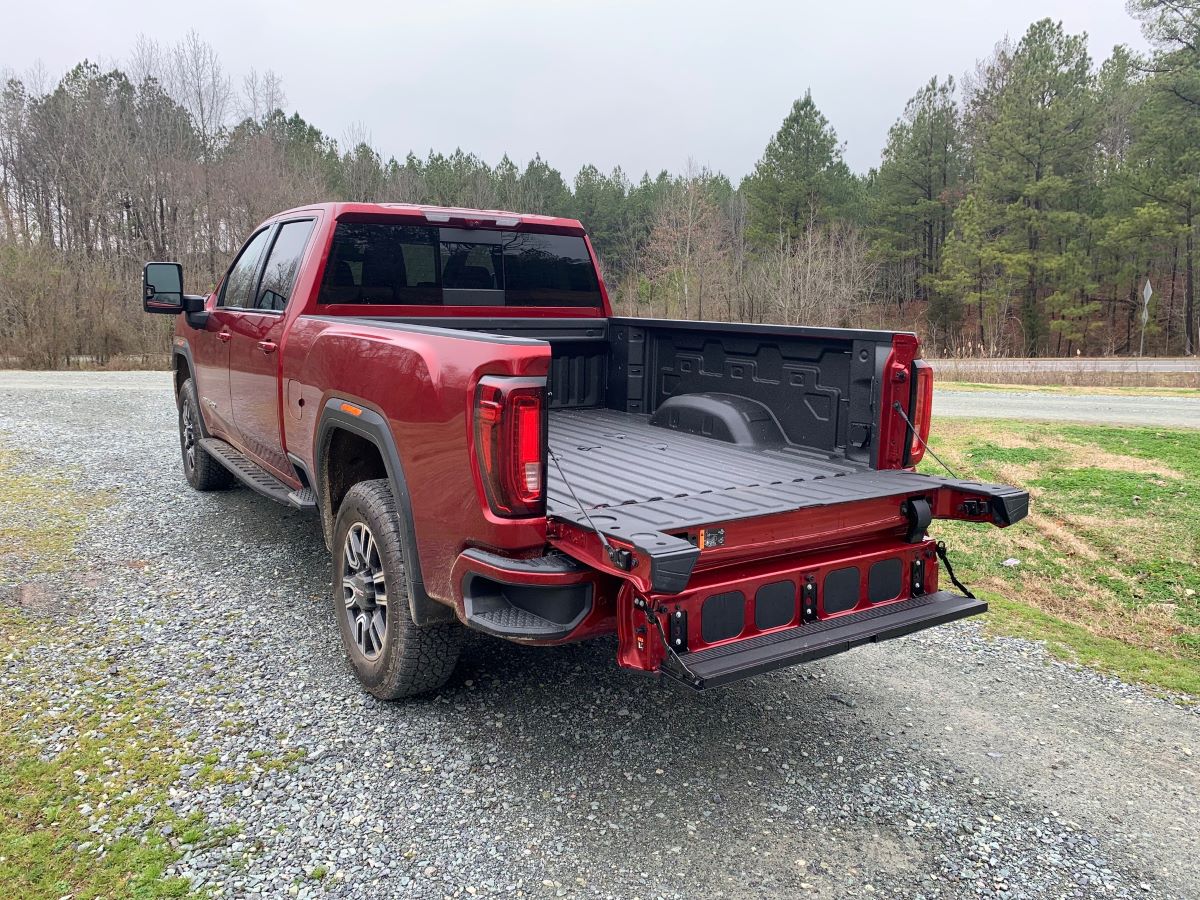 We like the CornerStep feature as it makes climbing into the truck bed easier than simply lifting yourself in. But the footing isn't always sufficient, especially for individuals who want to have both feet off the ground at the same time.
The solution is an easy one when both the traditional and inner tailgates are lowered. Notably, with the inner panel unlatched and lowered, a 48-inch-wide step emerges. Moreover, that step is rated to hold 375 pounds, thus the beefiest amongst us can utilize this option.
In addition to the step, a hand grab can be folded out from the cargo box wall, then locked in place for extra confidence while entering and leaving the tailgate.
#5: Load Stop, Take Two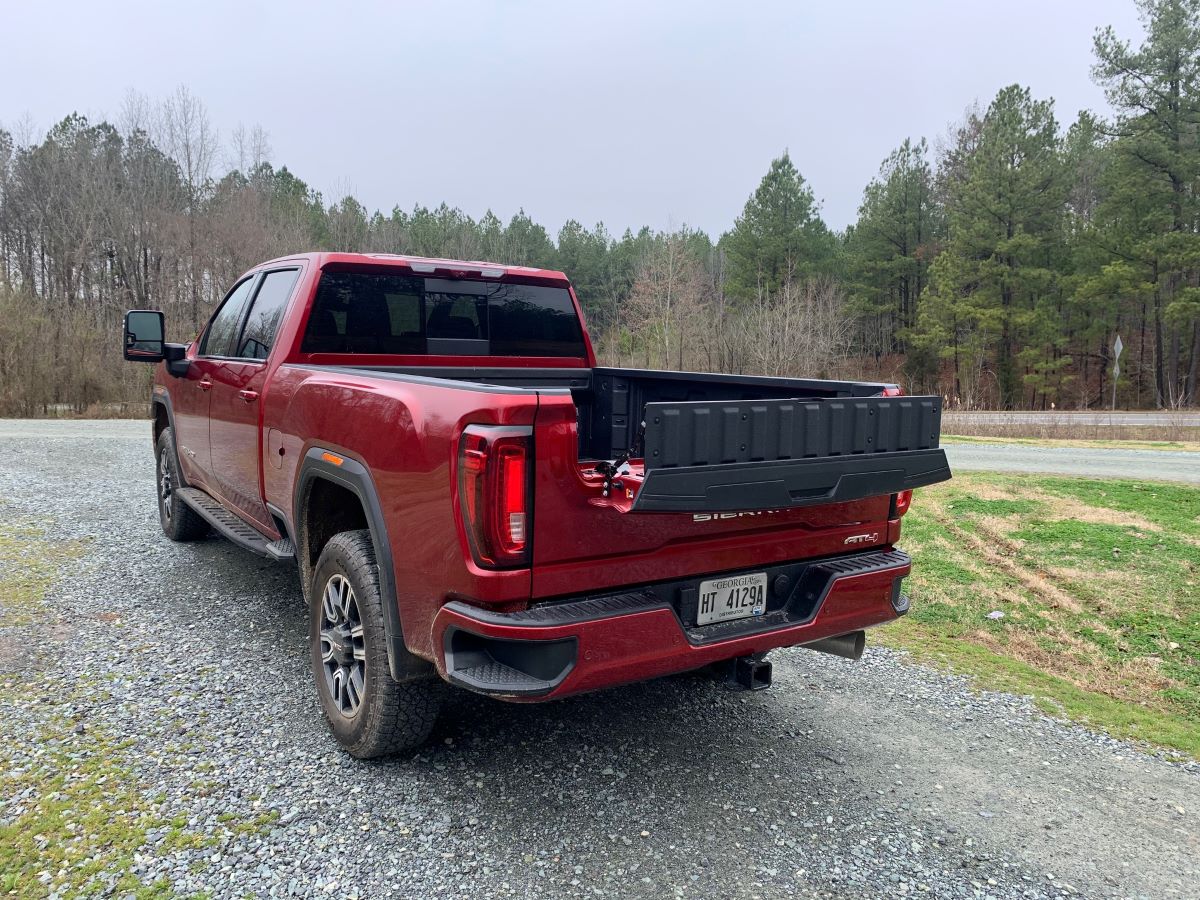 The primary tailgate's load stop is a nifty idea, but it isn't the only one available. Specifically, GMC developed an inner gate load stop that's suitable for longer items.
It works as simply as lowering the inner gate panel and unfolding the inside panel to create a vertical load stop.
#6: Useable Work Surface
I'm at the right height where this next feature, an inner gate work surface does wonders. By simply dropping the inner gate it's ideally positioned to serve as a traditional workbench.
Helping matters is an available 120-volt outlet that's fixed to the right rear panel of the truck bed.
Bonus #7
Six features define the MultiPro Tailgate, but there is a seventh feature that's available: outdoor audio.
Here, GMC offers a Kicker MultiPro Sound System accessory that's installed at the dealer level. Specifically, it's a 100-watt exterior audio system integrated within the MultiPro tailgate's inner panel.
The system is comprised of a pair of 4-inch coaxial drivers, a compact amplifier and controls, a USB port suitable for device charging and flash memory playback, and it also incorporates Bluetooth streaming compatibility.
Although the system is incorporated within the tailgate, it operates independently of the truck. This means it can run for hours, drawing a low amount of electricity during that timeframe.
We think the system is ideal for football tailgating and on-the-go parties. Lastly, the Kicker's wiring harness, connectors, and plugs are weather-resistant, therefore you shouldn't worry about moisture impacting its functionality.
Tailgate Considerations
Two years after the GMC Sierra upped its tailgate game, the similar Chevrolet Silverado began offering one of its own. Thus, if you're torn between two truck brands over a 6-trick tailgate, you can stay within the brand-fold to find one.
One final comment: Is the MultiPro Tailgate ideal for everyone? No.
This is especially true if you regularly tow and a ball mount is in place. Because, if you drop the tailgate without removing the trailering apparatus, you'll damage the gate, the ball or perhaps both. That's something to consider if you have your eye on a six-trick tailgate.
---
See Also GMC Hummer: A Quiet Revolution
Photos copyright Auto Trends Magazine. All rights reserved.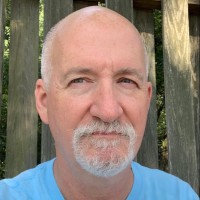 Latest posts by Matthew Keegan
(see all)