The large pickup truck segment has rebounded from its recessionary lows when sales fell by more than half in 2009 before beginning a steady recovery in 2010. Ford continues to lead the segment with its F-150, but it by no means has the newest truck on the market. The Toyota Tundra along with GMs twin models the Chevrolet Silverado and GMC Sierra are new for 2014, with the latter a recent Auto Trends test vehicle. That vehicle, a 2014 GMC Sierra 1500 44 Crew Cab SLT pickup truck represents the top-of-the-line of the GMC fleet (outside of the Sierra Denali), a fully-loaded model that retails for about $50,000.
Even as fuel prices flirt with $4 per gallon, the market for large pickup trucks remains strong. Indeed, there are five manufacturers in this segment: Ford, GM (Chevrolet and GMC), Chrysler (Ram), Toyota and Nissan, but only Toyota and Nissan sell small trucks. North American pickup truck buyers have demonstrated that they want the room and the utility that the big trucks offer, and manufacturers continue to pour their resources into building and improving these models. And with gas mileage for the smaller trucks coming in at no better than 3 mpg above the most efficient large truck, consumers clearly are not showing much concern about pain at the pump.
GM Truck Brands
That GM continues to sell two truck brands may seem a mystery to some buyers. GM has long contended that GMC targets professionals while Chevrolet aims for the work truck set or the mass market. The sticker price for GMC trucks is higher than similarly equipped Chevrolet models, with essentially the badging the only thing separating the two. When it comes to negotiating your final price for either truck, likely you will find the GMC has the heavier discount. In other words, the final price for both trucks should be nearly the same.
The 2014 GMC Sierra 1500 is priced from $24,090 or just $500 more than the base Chevrolet Silverado. You can buy this truck in regular, double or crew cab configurations, choose from three bed sizes, opt for a 42 or 44 model, and choose from base, SLE and SLT trim levels. Not all configurations are available with every trim level. You also have your choice of three engines: one V-6 or two V-8s. A six-speed automatic transmission is standard across the entire Sierra 1500 model line.
The Test Model
As tested, the Sierra 1500 44 Crew Cab SLT came equipped with the smaller of the two V-8 engines, a 5.3-liter small block motor that has powered many GM vehicles for decades. It is the third generation of this famous engine, an EcoTec3 design that features direct injection, cylinder deactivation and continuously variable valve timing. GM claims that the new generation of truck engines are more powerful and more efficient, teamed with its proven six-speed automatic transmission to deliver the goods. All three engines shut down unneeded cylinders at highway cruising speeds, operating as four cylinder engines under these conditions. With V-8 powered Sierras, you can see when the change from V8 to V4 and back is made on the digital driver information display as outlined by symbols that switch from a red V8 to a green V4 at various times in the driving cycle.
How do you improve on the slab side styling of todays pickup trucks? For one, you maintain what works including the solid body-on-frame construction that defines these vehicles. Other than that you carefully select what changes will enhance this model without upsetting the status quo.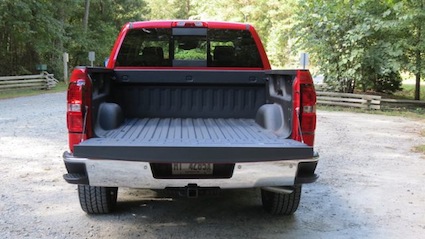 Exterior and Interior Changes
Because the changes to the 2014 GMC Sierra 1500 are more evolutionary than revolutionary, at first glance you may think that you see the same vehicle as 2013 and earlier models. The changes become apparent when you take note of the projector beam headlamps, the LED daytime running lights and the new chrome grille with black inserts. Black wheel arch moldings, more aerodynamic side mirrors, and available chrome trim on the side mirror caps, the door handles and across the belt line are also apparent. The Sierra 1500 also brings in unique rear bumper corner steps and four movable upper tie downs. New for 2014, the double cab now features front-hinged rear doors with regular door handles. A 6-foot, 6-inch bed option for the crew cab now joins the standard 5-foot, 8-inch bed.
Inside, the cabin is not unlike what you'd find in a premium sedan. On the Sierra Denali level, leather seating surfaces are among the best that you will find, providing a look that parallels Cadillac craftsmanship.
The Sierra 1500 44 Crew Cab SLT offers seating for five with bucket seats up front and a 60/40 split bench seat in the back. That back seat folds up in two sections, providing ample interior storage capacity when needed. Extra storage is available in the two-tiered glove box, the deep storage between the front seats, the front seat back pockets, and the in-door pockets with beverage holders. The front seats are power operated and provide lumbar support. A tilt and telescopic steering wheel column and adjustable pedals provide numerous seating adjustment possibilities. As equipped, this model comes with heated front seats and a heated steering wheel.
A new instrument cluster features six analog dials and one digital drivers information display. The digital display can be changed via a steering wheel mounted button that displays local speed, actual speed, trip information, fuel mileage and other driving measurements. To the left of the steering wheel column is a switch that controls the trailering setting and another switch that allows the driver to select 2WD, 4WD and automatic driving modes. Below the center stack, itself outfitted with an oversized GMC Intellink infotainment screen, are switches for stability control, hill descent and other vehicle controls. The SLT edition also comes with dual zone climate control and a nine-speaker Bose audio system.
The Refined 2014 GMC Sierra 1500 Pickup Truck
View manufacturer details and pricing
Safety and Road Highlights
In recent years, GM has been experimenting with various safety enhancements including a collision warning system that features a seat alert system. Specifically, the drivers seat vibrates when an accident is imminent such as when you are about to back into your neighbors hedge. That vibrating feeling is a surprise at first and becomes annoying after a while. Fortunately, you can change the vibration to an audible chime, but some drivers may not like the nanny support whatsoever.
On the road, the Sierra and its small block V-8 worked like a charm. This truck has good acceleration and shifts smoothly as it ascends through its six forward gear ratio. Slam on the brakes and you will come to a quick stop; the ABS kicks in without the overwhelming clunking noise that some vehicles have. Steering is crisp with an electric motor aiding the cause. There was no time to hook up a trailer to demonstrate the Sierras towing prowess, but past tests with similar models showed that the big pickup trucks perform quite well in this department. Still, some shoppers may prefer the larger 6.2-liter V-8 to handle the tougher assignments especially when seeking its 12,000-pound towing capacity.
Final Thoughts
Pickup truck buyers are usually very knowledgeable about what is available to them and may already have cabin layout, engine size and drive configuration settled before shopping. With the GMC Sierra crew cab there are now two bed sizes to choose from and the engine choices have been whittled down from three V-8s to two plug a V-6. The $17,000 price range from base crew cab to the fully optioned SLT should be scrutinized with buyers sufficiently armed with information to drive down their final price.
2014 GMC Sierra 1500
4WD Crew Cab SLT
Sticker price from $43,125
Price as tested: $49,710
Seats 5 occupants
5.3-liter 32-valve V-8 engine
355 horsepower @ 5,600 rpm
383 foot-pounds of torque @ 4,100 rpm
3.78 inches bore by 3.62 inches stroke
Engine compression ratio: 11.0-to-1
Six-speed automatic transmission
Wheelbase: 143.5 inches
Length: 229.5 inches
Width: 80 inches
Height: N/A
Passenger volume: N/A
Storage volume: 53.4 cubic feet
Towing capacity: 9,600 to 11,200 pounds
EPA: 16 mpg city, 22 mpg hwy.
Regular grade gasoline
Fuel tank: 26 gallons
Curb weight: From 5,218 pounds
Vehicle assembly: Silao, Mexico
Further Reading
The 5 Flavors of the 2014 Toyota Tundra
On the Road With the 2013 Toyota Tundra Limited 44
Like a Rock: 2014 Chevrolet Silverado 1500
GMC Sierra 1500 photos copyright Auto Trends Magazine. All rights reserved.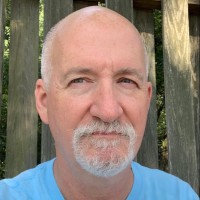 Latest posts by Matthew Keegan
(see all)