Updated May 25, 2013, to reflect correct towing limit.
---
---
Do you know your SUV history? No, not that Jeep and Land Rover got the segment going beginning in the 1940s, rather than souped-up SUVs are uncommon, especially a factory-built model. After all, SUVs are bulky, creaky, and just plain uncool, right?
Yes, there are a fair share of aftermarket enhanced SUVs on the road, but the Jeep Grand Cherokee SRT is proof that a factory-built performance model has its place in the mix. And this Grand Cherokee does the whole performance thing better than the GMC Typhoon, itself a hot SUV built for two model years ending in 1993. For one, the Grand Cherokee SRT is of unibody construction, providing a tighter fit, a smoother ride, and quieter interior than the body-on-frame Typhoon. For another, two decades have passed since the Typhoons' exit and the technologies found in the SRT simply did not exist when the Typhoon was built. Both models are cool, but the Grand Cherokee is uber cool.
2014 Jeep Grand Cherokee SRT
Let's start with the facade. The 2014 Grand Cherokee SRT offers a similar overall design to the 2013 edition with a few important changes. Those changes include a tweaked fascia, updated lighting and new wheels. A blacked-out look dominates the SRTs front end, with the grille, and the surfaces surrounding the headlights similarly affected. In the rear, the same blacked-out treatment surrounds the taillights. Notably, the grille is shorter and moved slightly higher while new taillights flank the rear.
New wheel options provide a dramatic look to the sculpted SRTs profile. Fully polished, five-spoke 20-inch Goliath wheels provide a distinctive look and are encased within Pirelli P Zero three-season tires. Yes, if you live in snow country you'll need to replace these with winter tires as the grip won't be enough to safely stop you when road conditions are icy.
Inside, seating is for five with both the driver and front passenger supported by bolstered sport seats. Seating surfaces are covered in leather and suede, with Laguna leather and an Alcantara headliner available. A brand-new steering wheel, wrapped in leather and offering a heating function, features numerous operating controls and a pair of paddle shifters. Brightly lit gauges and an 8.4-inch center stack display screen provide a balanced look without overwhelming the senses. The center console also features the stick shift and drive mode control, the latter making it possible to drive in regular (auto), snow, tow, sport, or track modes.
SRT Performance Capabilities
The Grand Cherokee SRT emphasizes its sporting credentials and does so in a big way. This 470-hp beast can get moving, inviting you to toy with the driving mode to see just how fast the SRT can move as well as stop. On the display screen you can track your 0 to 60 mph, 1/8- and 1/4-mile times as well as your braking, steering angle, lateral and longitudinal G-Forces, and performance output.
Needless to say, this writer experimented at least half a dozen times with the launch sequence in a bid to propel the Grand Cherokee SRT from 0 to 60 mph as quickly as possible. A best time of 5.0 seconds came in well short of the 4.5 seconds others have claimed. Figure that dedicated performance car drivers will nail that number which, by the way, beats the GMC Typhoon by 0.8 seconds.
---
---
Braking is precise thanks to its world-class Brembo braking system. That system is evident the moment you set your eyes on the SRT as its front and rear calipers are clad in red.
SRT chose Brembo for its benchmark-setting capabilities, a system is known for bringing the burliest vehicles to a safe and clean stop while retaining brake pedal feel and minimizing brake fade. The Grand Cherokee SRT is outfitted with 15-inch rotors in the front with six-piston calipers; the rear features 13.8-inch rotors with four-piston calipers. This brake system arrangement is ideal for the Jeep as were talking about a model with a gross vehicle weight rating of 6,500 pounds.
Jeep Driving Characteristics
SUV. A higher profile, aerodynamic constraints and its heavier weight are issues that must be managed, something Chrysler's engineering team has pulled off. Outfitting the Grand Cherokee with a hulking V-8 means providing it with a balanced suspension system, what it has accomplished by means of an independent front and multilink rear suspension with stabilizer bars. Add in a Bilstein adaptive damping suspension and the package is complete.
Chrysler tapped ZF to supply an eight-speed automatic transmission with manual shifting capabilities. This transmission is unique to the premium midsize SUV class and engages quietly and seamlessly. Shift to manual mode and you can paddle-shift your way down the road. The SRTs rack and pinion steering is precise and handles tight turns and twisty roads with ease. Body roll is minimal you may quickly forget that you're driving an SUV.
SRT, Chrysler DNA
Jeep made sure that the Grand Cherokee SRT provides a complete package with performance, luxury, room and utility offered without compromise. Its DNA is derived from the best of the Chrysler Group as its performance parallels the Dodge Challenger and its luxury the Chrysler 300C. Its room and utility are all Jeep, the latter quite evident with its 7,200-pound towing capacity. Try to find another SUV that offers all this and you'd be hard-pressed to succeed. Unless, of course, you happened to find one customized by its owner.
Its $62,995 base price is more than double that of the standard Grand Cherokee Laredo. Add in the 19-speaker Harman Kardon audio package, the full-size spare, and special tires and your price pushes into the upper 60s or where no Jeep has gone before. Clearly, if you want a performance Jeep and are looking for a happy compromise between the Dodge Challenger SRT and Chrysler 300, this model delivers with utility features included.
---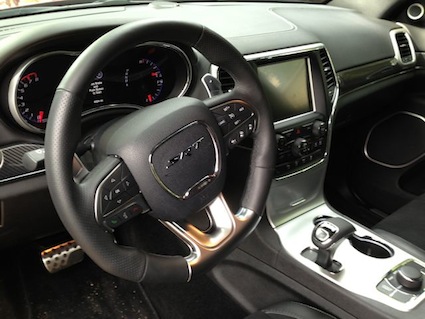 2014 Jeep Grand Cherokee SRT
6.4-liter HEMI V-8 Engine
Sticker price from $62,995
Seats 5 occupants
6.4-liter HEMI OHV V-8engine
470 horsepower at 6,000 rpm
465 foot-pounds of torque at 4,300 rpm
4.09 inches bore by 3.72 inches stroke
Engine compression ratio: 10.9 to 1
8-speed automatic shiftable transmission
Wheelbase: 114.8 inches
Length: 191.3 inches
Width: 77.1 inches
Height: 69.1 inches
Passenger Volume: 105.4 cubic feet
Storage Volume: 35.1/68.7 cubic feet
Towing Capacity: 7,200 pounds
EPA: 13 mpg city, 19 mpg highway
Premium grade gasoline recommended
Fuel Tank: 24.6 gallons
Curb Weight: From 5,150 pounds
Payload: 1,350 pounds
Vehicle Assembly: Saltillo, Mexico
See Also — Reviewed: 2014 Jeep Grand Cherokee Overland 4×4
Photos copyright Auto Trends Magazine. All rights reserved.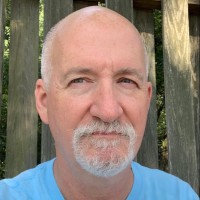 Latest posts by Matthew Keegan
(see all)