---
The Kia Soul is a runaway hit for this Korean manufacturer, a cult favorite with the youth. Kia has long used a team of anthropomorphic hamsters to market the Soul, a boxy model that has outlasted the competition.
Those furry rodents have been in and out of seclusion for the past few years and weren't part of this model's Super Bowl introduction in 2019. When asked on Twitter whether they'll be back, Kia Motors America replied, "Never say never."
Introduced in 2009, the Kia Soul has already entered its third generation with the 2020 model. Its timing is spot-on as sales of the second-generation model have steadily declined since peaking in 2015. You can blame some of that loss on consumers shifting to crossovers, including to the similar Kia Sportage. Further, the entire segment of boxy entry-level models such as the Nissan Cube and Scion xB has declined as consumers look elsewhere.
With Kia all alone in a sub-sector of compact hatchbacks, this automaker has a chance to reach new customers, while giving loyal Soul fans a fresh model. This makes sense as the Soul outsells the Sportage and gives Kia fans an alternative to its two smallest car lines: the subcompact Rio and the compact Forte.
---
---
2020 Kia Soul Overview
Kia offers the 2020 Soul in six trims: LX ($17,490), S ($20,290), X-Line ($21,490), EX ($22,690), GT-Line ($20,290), and GT-Line Turbo ($27,490). Add $995 for the destination charge.
In typical Kia fashion, the automaker restricts its package offers to just a few trims. In this case two: the EX and GT-Line.
An EX Designer Collection ($1,500) brings in the following LED treatments: headlights, positioning lights, front fog lights and tai llights. It also includes a two-tone roof treatment, designer 18-inch alloy wheels, and imitation leather and cloth seat trim.
The GT-Line Sunroof Package ($1,900) is comprised of a power sunroof with a manual sunshade, keyless entry with push-button start, a cargo management system with a cargo cover, and a wireless charger. This package also adds blind spot collision warning, rear cross-traffic collision warning, and lane change assist.
A Matter of Style
Through three generations, the Kia Soul has retained much of its original looks. Each generation supplies changes, delivering evolutionary updates that keep the Soul true to its mission.
For 2020, the new Soul measures 1.2 inches longer between the wheels and two inches overall. That extra space shows up in the cargo area with passenger volume essentially unchanged.
Before we look inside, the exterior changes are evident in the narrow upper grille highlighted by available LED lights and a gaping lower grille. The upright roof pillars are intact, while the floating roof is a new look. Body sculpting and sharper boomerang tail lamps are among the other changes. Our GT-Line model also had paint trim embellishments.
---
---
Inside, the cabin is clean with a layered dashboard, ample storage pockets, and cloth seats. The GT-Line adds imitation leather seats with orange trim, orange door inlays, and orange door handle pocket surround.
Credit Kia with supplying comfortable seats front and back. Power accessories are limited to the upper trims, which is a bit disappointing. Still, with tall folk seated up front, the rear seat still offers room for two adults or three in a pinch.
Overall, the Kia Soul offers a handsome style inside and out. The interior materials are decent, and improve with the top-trim models. As for fit and finish, Kia has done an admirable job to get this right. We've seen enough low-budget models where manufacturers fall short here.
Safety & Technology
Any model with youth appeal must go beyond design to capture an audience. That's something Kia managed to pull off early on with the Soul and has only gotten better across the intervening years.
The list of standard features is impressive and includes a six-speaker audio system, USB ports and an auxiliary jack, Bluetooth, and both Android Auto and Apple CarPlay smartphone compatibility. You'll also find a 7-inch color touchscreen display. All this is just on the base model.
Move up through the trim levels and the features list expands to include additional USB charging ports, wireless charging, HD Radio, satellite radio, and a 10.25-inch display. Reserved exclusively for the top-trim model is a Harman Kardon audio system. We find Kia's Uvo system is easy to use with clear displays and accurate get-you-there directions. Even so, we prefer to use our smartphone's app to take us there.
---
---
Safety features are commonplace on most new vehicles, although you typically must move away from the base trim to find them. The same holds true for the Kia Soul. Beginning with the S trim, Kia bundles such driver-assist features as driver attention warning, lane change and lane keep assist, blind spot collision warning, forward collision avoidance, and rear cross collision warning.
Three advanced features are available only with the top-trim model. These include smart or adaptive cruise control and a head-up display. Also, Kia expands its forward collision avoidance to include pedestrian detection.
The head-up display is a nifty unit, one that activates on ignition by raising a translucent screen on top of the instrument panel. That's where road and driving information is presented.
We like that Kia offers many driver-assist features across most trims. That said, the base trim seems spartan without any features offered. Further, we'd love to see adaptive cruise control and head-up display availability spread across more trims. The first choice is especially helpful when taking those long trips and as one's attention begins to falter.
On the Road
Most 2020 Soul models come with a 2.0-liter four-cylinder engine with 147 horsepower and 132 pound-feet of torque. Kia pairs this engine with either a six-speed manual gearbox or a continuously variable transmission.
Our test GT-Line 1.6T model is the lone trim with the turbocharged 1.6-liter four-cylinder engine. This one makes 201 horsepower and 195 pound-feet of torque. Kia pairs it with a seven-speed dual-clutch transmission.
---
---
We've driven various Kia and Hyundai models with the standard engine, including the Hyundai Kona, Kia Forte Sedan, and the Hyundai Ioniq. This engine delivers sufficient step-off acceleration and passing power, and is efficient. That latter attribute is what makes the Soul such a stand-out model as its highway fuel economy reaches a noteworthy 35 mpg on some trims.
As for the turbo engine, it raises the performance quotient, although perhaps not as much as you might expect. We found the dual-clutch transmission hesitates at times, especially in the lower gears. Moreover, this transmission has a history of excessive clutch wear, according to Car and Driver. You might give serious consideration to avoid this powertrain for now.
To drive the Kia Soul invites a relatively fun experience. The ride is comfortable, steering is weighted, and except for pounding twisty roads and pulling out of corners, the Soul stays planted. The brakes are firm with little fade detected. In all, the Kia Soul is ideal for commuting and carrying you and your friends around. Its performance attributes are minimal, at best.
Auto Trends Recommends
Our pick is the Soul EX with the available EX Designer Collection Package. Your final cost comes in at $25,185 and that's before the usual Kia incentives are added. Typically, you'll find an owner loyalty bonus, customer cash, and low-rate financing. These offers vary by region and are subject to change, therefore we're not mentioning specifics.
All in all, the 2020 Kia Soul shines in a sub-segment all of its own. Its nearest rivals are a pair of front-wheel-drive-only small crossovers — the Toyota C-HR and the Nissan Kicks. All three appeal to first-time buyers who place an emphasis on style, technology, and affordability.
---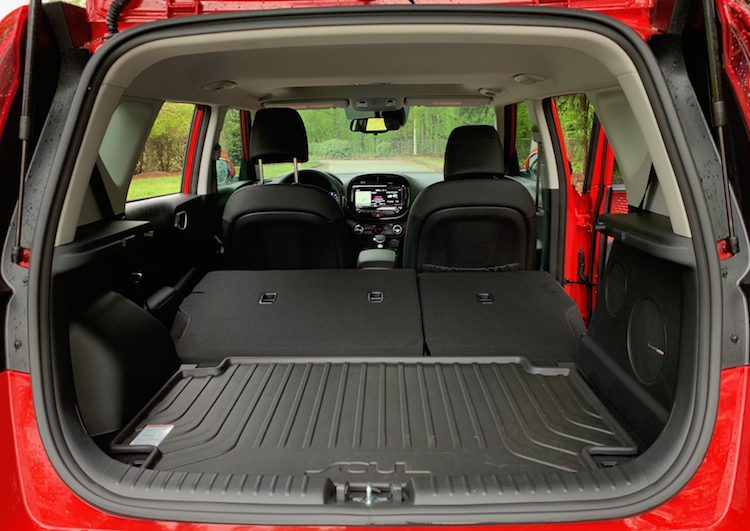 ---
2020 Kia Soul Specifications
---
Sticker price from $17,490 (plus a $995 destination fee)
Price as tested: $28,485
Seats 5
Engine No. 1: 2.0-liter gas inline-four
147 horsepower @ 6,200 RPM
132 foot-pounds of torque @ 4,500 RPM
6-speed manual or continuously variable transmission
Engine No. 2: 1.6-liter turbocharged gas inline-four
201 horsepower @ 6,000 RPM
195 foot-pounds of torque @ 1,500 to 4,500 RPM
7-speed dual-clutch automatic transmission
Wheelbase: 102.4 inches
Length: 165.2 inches
Width: 70.9 inches
Height: 63 inches
Passenger volume: 96.7 cubic feet
Storage volume: 24.2/62.1 cubic feet
Maximum towing capacity: NR
EPA: 29/35/31 (I4); 27/32/29 (turbo) city/highway/combined mpg
Unleaded regular gasoline
Fuel tank: 19.4 (I4); 21.7 (V6) gallons
Curb weight: From 2,802 to 3,036 pounds
IIHS safety rating: Top Safety Pick (2019)
Limited vehicle warranty: 5 years/60,000 miles
Powertrain warranty: 10 years/100,000 miles
Corrosion warranty: 5 years/100,000 miles
Vehicle assembly: Gwangju, South Korea
---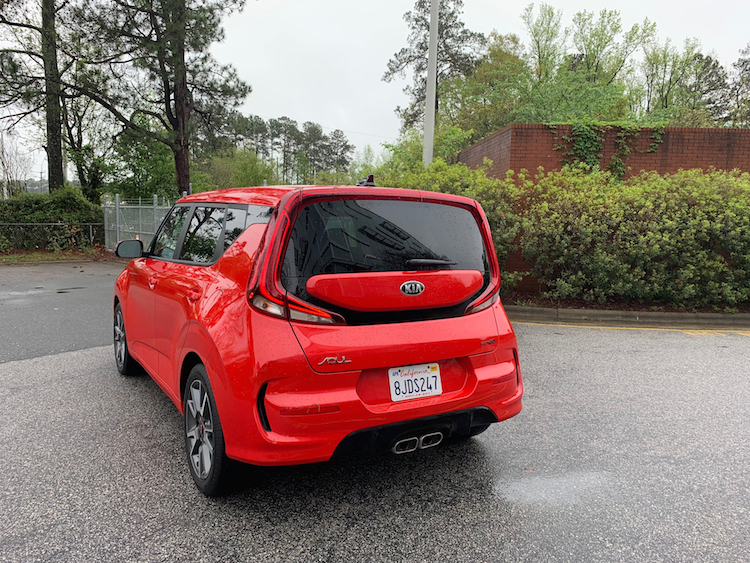 ---
See Also — Hybrid Hatchback: 2017 Kia Niro
Photos copyright Auto Trends Magazine. All rights reserved.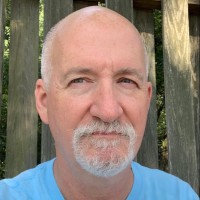 Latest posts by Matthew Keegan
(see all)