Fifty years after NASA launched its first moonshot, GM follows with one of its own. An all-new Chevrolet Corvette was unveiled last night, the first mid-engine version of this super Chevy. An old military aircraft hangar in Tustin, California, served as the venue for the eighth-generation (C8) Corvette's debut, with NASA astronauts, company workers and officials, and media in attendance.
New Ground for a Standard Bearer
The 2020 Chevrolet Corvette not only breaks new ground, but it underscores GM's investment in cutting-edge technologies, including those that will help the company transition to autonomous vehicles. Not surprisingly, the new Corvette keeps one important tradition alive: it will once again be powered by a naturally aspirated 6.2-liter V8 engine, a rarity in a segment where boosting with superchargers and turbochargers represents the standard.
The engine, though, is new (dubbed LS2) and designed specifically for the Corvette. With the available Z51 package, it has an output of 495 horsepower and 470 foot-pounds of torque, and works with a Tremec-supplied 8-speed dual-clutch transmission. This is the first time in decades a Corvette debuts without a manual transmission. We do not know whether one will be offered in the future.
How fast will the Corvette Stingray go? GM says it has an estimated 0-60 mph time of under 3 seconds, placing it in lofty company. Models such as the Porsche 911 GT3 RS, Ferrari F12tdf, and even the current Chevrolet Corvette Z06 all slip just under the 3-second threshold. Remember, this speed number applies to the base model — GM made no mention of the other models which are certain to follow.
---
---
C8 Corvette Dissection
GM's hour-long news conference followed a half-hour primer of all things Corvette. Much information about the C8 Corvette was shared, although a few things were not mentioned. Among the highlights are the following:
1. Price and ordering details. GM threw open the order books for the 2020 Corvette, allowing shoppers to "request a reserve" of the new model. Production begins late this year at the company's Bowling Green, Kentucky, manufacturing plant, with the first deliveries taking place in early 2020. Although pricing details weren't delineated, the automaker stunned everyone by mentioning the starting price will begin under $60,000. That price point will play a big role in keeping the Corvette attainable for enthusiasts.
2. Slightly larger and heavier than the outgoing model. GM employs many weight-saving measures with the all-new Corvette, including greater use of aluminum, carbon fiber, composite materials, fiberglass, and steel. However, the C8 gains a half-inch between the wheels and is nearly 5.5 inches longer overall. It is slightly heavier too, weighing 3,366 pounds to the current 3,298 pounds of the C7. The cabin is a bit larger too with an extra inch of seat play possible.
3. Rear-wheel drive only. Rumors that the new Corvette would feature all-wheel drive, at least as an option, apparently was just that…a rumor. Power is routed to the rear wheels in the traditional Corvette way. But the debut involved the Corvette Stingray only with no mention of other models certain to follow. A twin-turbo V8 has long been touted as a possible option, likely to power a future ZR1 model. We also know that some type of electrified variant is in the works. If a hybrid Corvette does appear, there's always a possibility some power could be routed to the front wheels, making it an all-wheel-drive model. One more point: for the first time the Corvette will be manufactured with available right-hand drive, expanding the Corvette's range to such countries as Japan and the United Kingdom.
---
---
4. A state-of-the-art suspension system. A sports car is nothing without cutting-edge steering and handling. The 2020 Corvette will showcase several improvements, including coil-over dampers, an upgraded electric steering system, and electric-powered brakes. An important feature is an automatic suspension lift for the front end — this system raises the car's front end by two inches, helping the Corvette avoid pavement scraping. Importantly, the system can be programmed to store as many as 1,000 locations tracked by GPS. This means if you're accessing a steep driveway known for scraping the front end, the car will automatically lift as you make your approach thanks to your pre-set.
5. An all-new interior. We've seen Corvette interiors improve over the years. Early on, Corvette cabins were relatively disappointing, not rising to the level of a premium sports car. For 2020, Chevrolet promises to deliver improvements, including real metal inlays, cut-and-sewn leather, steel speaker grilles, and available carbon-fiber trim. Customers will have a choice of six interior color themes (along with a dozen exterior colors). A long row of buttons on the center console will control most interior functions. Three types of seat choices, digital displays, and a 14-speaker Bose audio system are among this model's features.
6. Stellar storage space at the ready. With the engine sitting in the middle, much interior space is now free. Indeed, the cockpit is placed 16.5 inches forward over the C7 Corvette. In front and again the back, there is a pair of trunks, offering a total of 12.6 cubic feet of storage space. GM says the C8 Corvette can hold two sets of golf clubs or several pieces of luggage.
---
---
The Future is Here
Zora Arkus-Duntov, known as the "father of the Corvette," long had a mid-engine Corvette in mind. Indeed, several prototypes were built, but Arkus-Duntov never saw a production version. He died in 1996.
We've now gotten our first glimpse of the new Corvette, one that takes this iconic sports car in a fresh direction, even as demand for such models falls. The C8 Corvette represents GM's moonshot, what the automaker hopes mirror the "right stuff" that propelled NASA to lunar greatness.
---
See Also — So Long, Farewell to the C7 Corvette
Photos copyright GM Corp. Special thanks to Automotive News, which supplied inspiration for many of the details outlined herein.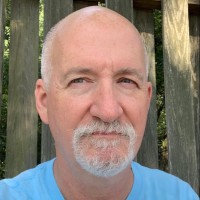 Latest posts by Matthew Keegan
(see all)