A plug-in hybrid electric vehicle for the Countryman line.
The Mini brand hardly needs an introduction, the quintessential British automotive marque known for its ultra-small cars. Now owned by BMW, Mini has thrived since it was sold to the German company in the 1990s. Indeed, in 2017, Mini distributed 371,881 vehicles worldwide, its best year ever.
The US market has been a tough one for Mini as consumers continue to gravitate toward larger models, something the brand doesn't offer. That said, a new Countryman began easing brand losses in 2017, as sales of Mini's largest model rose by 17 percent.
The 2018 Countryman line includes six models with front-wheel drive standard and all-wheel drive available. Further, you'll find turbocharged three- and four-cylinder models along with manual and automatic transmission choices. One of the six Countryman models is a plug-in hybrid electric vehicle, which is also the test subject featured here.
2018 Mini Cooper S E Countryman ALL4
The Mini Cooper S E Countryman ALL4 is the name for the new model, a four-door all-wheel drive vehicle. Just let the name sink in for a moment. Is it catchy? Is it memorable? I have to answer both those questions with the negative. Indeed, each time I shared updates on Twitter or Instagram about the vehicle, I found myself calling it something else — its full name was simply too hard to remember.
Just so you know, "Cooper" is automatically added to the Mini name for all modern models. Named after racing legend John Cooper, you wouldn't be wrong calling the brand "Mini Cooper" although sales information and most references simply use the "Mini" term.
As for the series of letters and names with this model, here is the breakdown:
S — Stands for "sport," representing most performance models from Mini.
E — As you might guess, "E" is for electric.
Countryman — The model line family. Countryman and Clubman are essentially the same models, although the former is heavier and more expensive than the latter.
ALL4 — Mini's term for all-wheel drive.
Highlights of the Electrified Countryman
1. Traditional design.
The Countryman is a handsome model and certainly not "mini" in size. Unlike the diminutive Mini hardtop, the Countryman is a subcompact and a fairly sizable one at that. Overall, its dimensions rival the Volkswagen Golf and that's a good thing for people who crave the room.
2. Substantial weight.
Most small cars have a lightweight, tinny feel to them. Not so with the Countryman. Drop the hood, close each door and bring down the liftgate and you'll feel the weightiness, even some resistance. Likewise, you'll also experience a reassuring thud. Although the Countryman is small, it is also heavier than you might expect. And more so with the PHEV as this model approaches two tons.
3. Build quality.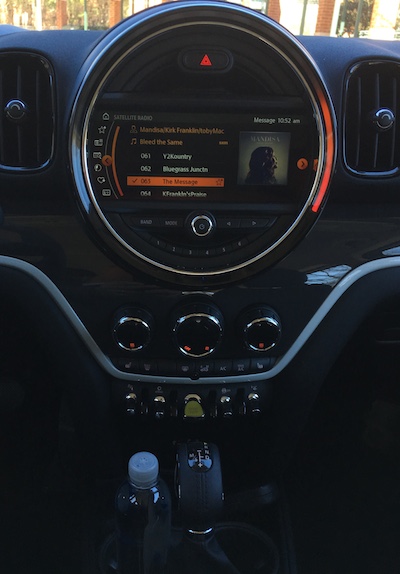 Manufacturer build quality is up across the industry, although some small cars use generous amounts of plastics and scant soft-touch materials. Never mind the poorly fitted panels you'll occasionally behold. The Countryman's cabin is absolutely a cut above the rest and likely cut from the same cloth as the BMW brand, at least when it comes to the choice of materials used and overall quality.
4. Make it a hybrid.
So, how does the Countryman S E qualify as a hybrid? By adding a permanent-magnet synchronous AC motor and a 7.6-kWh lithium-ion battery pack to the drivetrain. Mini mates this motor to a turbocharged three-cylinder gas engine and a six-speed automatic transmission. With the combined power at the ready, this Mini delivers maximum performance of 221 horsepower and 284 pound-feet of torque. Chew on those numbers for a moment.
On the Road
The gas engine alone is peppy, although it doesn't match the turbocharged 2.0-liter inline four-cylinder engine found elsewhere. Under normal driving conditions, the engine supplies sufficient kick. Under hard acceleration and with the electric motor kicking in, the Countryman "S" lives up to its name.
The all-wheel drive system may be the best among mainstream brands, but this shouldn't be too surprising, given the BMW relationship. Otherwise, the Countryman delivers a fun driving experience, whether you're zipping down the straightaway or rocking the twisties. You'll find weighty steering, nimble handling and firm braking — not unlike what you'd enjoy with performance models such as the Ford Focus ST and Volkswagen Golf GTI.
Let's Go Electric!
BMW's electrification efforts are well known, represented primarily by its "i" line of models, the I3 and the I8. Here, you have a choice of pure-electric models or electric vehicles with a range extender, i.e. a small gas engine/generator to keep these hybrids moving.
With the Countryman PHEV, Mini went the traditional PHEV route where the gas engine is the primary motivator and the electric motor supplements same. Only in this case, Mini went with a system that seems too mild even for this small vehicle.
To wit, the electrified Countryman has only a 12-mile all-electric range. This means once it reaches a full charge, you can activate a switch located on the center console and drive on electric power until the battery is depleted. This represents the shortest range of any PHEV. Specifically, the Countryman has about half the range of the Toyota Prius Prime and one-quarter the range of the Chevrolet Volt.
Sadly, even a partial charge isn't enough to "convince" the system to run on full electric power. I found that out on the third of three charges using public charge stations. The first two times the PHEV traveled 12 to 14 miles as expected, but the third time I was denied as I hadn't waited the full 2.5 or 3 hours for a full charge.
Instead, after two hours of charging, I had to hit the road. But I wasn't expecting to discover my efforts thwarted when the system turned down my request to go electric. At least in the other models I've tested with just a partial charge you could go "all electric" for at least a few miles.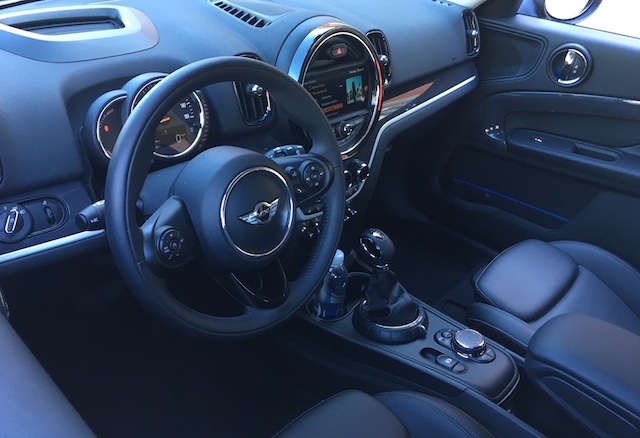 Parting Thoughts: Mini Countryman PHEV
Mini introduced a fully-electric concept vehicle in 2017 with plans to put it on the road in 2019. It represents the second stage in the brand's electrification efforts, one this writer hopes will result in improvements in the PHEV.
Sadly, the added price of the PHEV isn't enough to justify its limited range and small gas tank. My test model came in at exactly $40,000, adding $3,200 to the base price. That base price is approximately $3,600 more than the Volt and $9,700 more than the Prius Prime.
Sure, the Mini can tout its premium look and feel, but the high price and small EV benefits aren't enough to justify this model.
---
2018 Mini Cooper S E Countryman ALL4
Sticker price from $36,800 (plus $850 destination)
Price as tested: $40,000
Seats 5 occupants
Engine: 1.5-liter twin-turbo I3 gas
134 horsepower
162 foot-pounds of torque
87 horsepower; 122 pound-feet of torque: electric motor
221 horsepower; 284 pound-feet of torque: total system power
Six-speed automatic transmission
Wheelbase: 105.1 inches
Length: 169.8 inches
Width: 71.7 inches
Height: 61.4 inches
Passenger volume: 94 cubic feet
Storage volume: 15.9/48.5 cubic feet
Towing capacity: NR
EPA: 27 mpg
Premium grade gasoline
Fuel tank: 9.5 gallons
Curb weight: 3,948 pounds
IIHS safety rating: Good; incomplete ratings
Limited vehicle warranty: 4 years/50,000 miles
Powertrain warranty: 4 years/50,000 miles
Corrosion warranty: 12 years/unlimited miles
Vehicle assembly: Louisville, Kentucky USA
---
See Also — Maximum Fun With a Mini Countryman
Mini Cooper Countryman photos copyright Auto Trends Magazine. All rights reserved.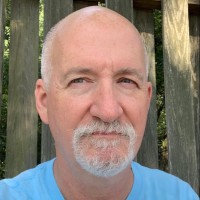 Latest posts by Matthew Keegan
(see all)