Teens and cars can be a recipe for disaster. Or at least teenagers that are not subject to various Graduated Driving Licensing laws in their respective states.
GDL is a trend that is spreading, one where states put restrictions on novice drivers in a bid to reduce accidents and lower death rates.
An analysis conducted by the Insurance Institute for Highway Safety and the Highway Loss Data Institute has found that if every state adopted all five components of the toughest driving laws in the nation, then more than 9,500 collisions could be averted, saving at least 500 teen lives annually.
Online GDL Calculator
The IIHS and HLDI have developed an online calculator to demonstrate the effects of the young driver licensing systems in all 50 states and in the District of Columbia. Tab to your state or district and you can find the five components of safer teen driving and how those laws stack up with other jurisdictions.
You can move the bar to the left or to the right to see change estimates outlining the percentage of collision claims and fatal crashes. Move the bar to the left and you'll see an increase. Move the bar to the right and you'll see a decrease.
The institute identifies the five components as permit age, practice hours, license age, night driving and passengers. All five can have an effect on teen driving safety with the higher thresholds estimated to lower collisions and fatalities. The institute used the best graduated driver licensing provisions in each state as the threshold for other states to attain, thereby reducing accidents.
The best GDL provisions as of May 2012 are:
1. Permit Age of 16
Eight states and the District of Columbia have a minimum permit age of 16. In some states, such as Alaska, that age is as low as 14.
2. Practice hours
Most states require a minimum number of practice hours before a teen can get his license. Pennsylvania at 65 hours has the most rigorous requirements of any state. Several states including South Dakota, New Jersey and Arkansas have no minimum amount of supervised driving.
3. License Age
New Jersey teens cannot get their license until they are 17. Teens in Idaho and Montana can begin driving when they are 15; and in South Dakota drivers can be as young as 14 years and 3 months with driver education. Population density, however, is a factor as N.J. has the most people per square mile of any state. The states on the other end of the spectrum are mostly rural.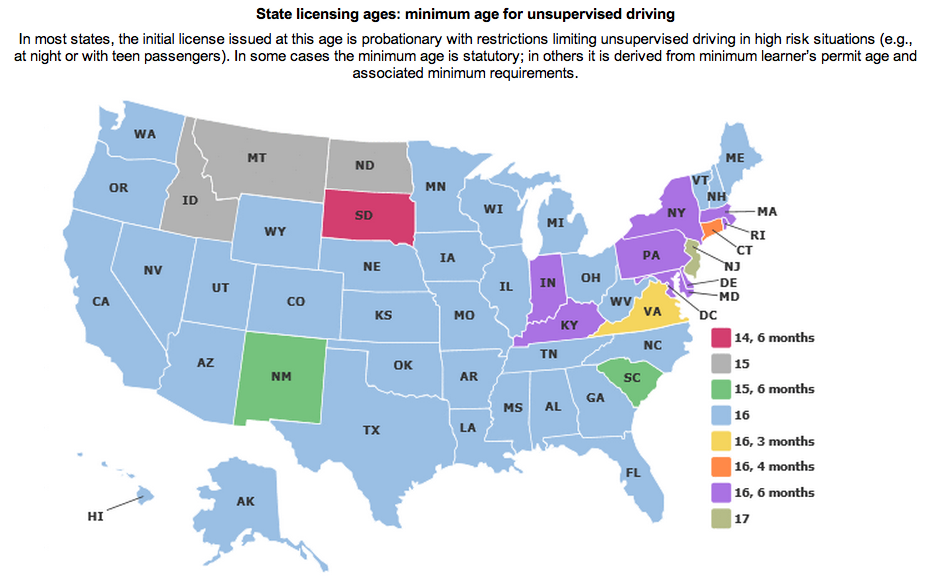 4. Night driving
Most states restrict night driving for novice drivers with Idaho allowing such driving only from sunrise to sunset. In South Carolina, teens may drive to 6 p.m. Several states including Connecticut and Arkansas restrict nighttime driving for teens until their 18th birthday.
5. Passengers
Teens and driving is one issue, but teens driving with other teens in the car has often proven deadly. Some 15 states and D.C. do not allow teen riders at all. States such as Florida, Iowa, Mississippi and the Dakotas put no such restrictions on young drivers.
Many states allow one teen and that person may have to be at least 21 as is required in New Mexico and in New York.
Tougher GDL Laws
The institute notes that certain states can achieve big gains in accident avoidance by adopting tougher GDL laws. For example, the institute estimates that collision claims for young drivers would drop by 37 percent in South Dakota. That state would also see the biggest drop in fatalities among teens, estimated at 63 percent.
Other states that could see a big drop in claims include Iowa and Mississippi with each coming in at 29 percent. Several states including Iowa, Montana and North Dakota could reduce teen fatalities by at least 50 percent.
Will states adopt tougher driving rules to reduce accidents and teen deaths? They might as the trend toward tougher GDL laws continues to grow.
Said Anne McCartt, Institute senior vice president for research, "Even the best states can do better. There's room for improvement across the board, and states could see immediate reductions in fatal crashes and collision claims as soon as the beefed-up provisions are in force."
Strengthening driver education programs is another approach states might mandate as most such programs fail to equip teens to handle all driving conditions including inclement weather.
---
Map photo courtesy of the IIHS.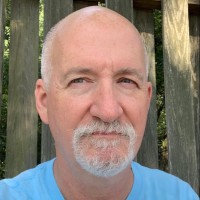 Latest posts by Matthew Keegan
(see all)