2018 Piedmont Classic Chevy Club Car Show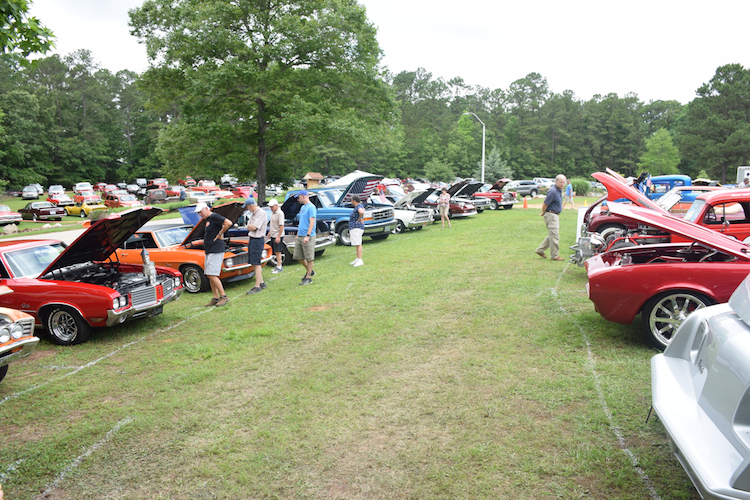 As an automotive writer, most of my focus is on what's new and upcoming, thus the "auto trends" moniker. But I also know that the industry has a rich history spanning nearly 150 years. Keeping an eye on the past while looking toward the future supplies the right perspective about the motorized conveyances we love.
When an opportunity to take in a local show comes up, I like to seize it. And not just any show, but one featuring the classic cars that define America. The 2018 Piedmont Classic Chevy Club Car Show is one such event, held on the Saturday preceding Memorial Day.
This year's event was the 29th running of the show and it was a good one. Indeed, Hemmings listed it amongst its featured shows for the weekend. With Lake Wheeler Park in Raleigh, NC, serving as the venue, I knew it was one event I had to attend.
I'm glad that I did, because this car show was better than I had expected. One special note: our war dead were remembered — Greater love has no one than this, that someone lay down his life for his friends (John 15:13). What a pleasant surprise to hear a young lady sing the Star-Spangled Banner.
1968 Chevrolet: 50 Years Later
This year's show celebrated the 50th anniversary of the 1968 Chevy. That year featured such model names as Bel Air and Biscayne; Camaro and Corvette; Corvair Chevelle, and Caprice; Impala and Nova. Not to mention various "C" and "K" trucks and the Suburban.
Most of those models were present and the ones on display were entered for judging. The club welcomed owners of other US brands, including AMC, Buick, Cadillac, Dodge, Ford, Lincoln, Mercury, Oldsmobile, Plymouth, Pontiac and Studebaker. As long as the vehicle was made in the US and was from 1992 or earlier, they qualified.
I did not stay around long enough to learn who won an award. Contestants plunked down $20 to enter, otherwise, admission to the general public was free. Proceeds from the show benefited the private, nonprofit Raleigh's Hilltop Home. The home serves children with severe developmental and medical disabilities.
2018 Piedmont Classic Chevy Club Car Show
As for the models on hand, the following represent the photos taken. The first group includes stories gleaned first hand from the respective owner.
If I got something wrong, feel free to leave a comment and I'll make the necessary correction.
---
1967 Cadillac de Ville Convertible
Several vehicles on hand also prominently displayed "for sale" signs, including a 1967 Cadillac de Ville Convertible. This beautiful specimen of Cadillac hugeness looks factory new with its white body, white sidewall tires and a red interior.
This model is powered by a 429 cubic inch (7.0 liters) V8 engine with a four-barrel carburetor and has a three-speed automatic transmission. This engine makes 340 horsepower.
The owner was present and said he was asking $38,500 for it.
---
1950 Chevrolet Fleetline
Not displayed on the green, but sitting in the lot directly across from the field was a 1950 Chevrolet Fleetline. This model was also for sale, with a listed price of $8,500. Some wheel well rust was evident and the interior has seated many passengers for nearly seven decades.
The Fleetline was a subset of the Fleetmaster. All models have a 215 cubic inch (3.5-liter) inline six-cylinder engine making 90 horsepower.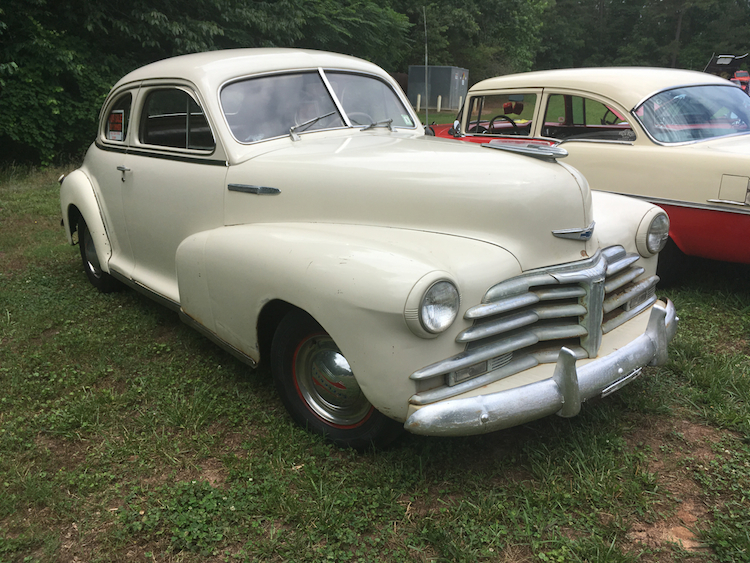 ---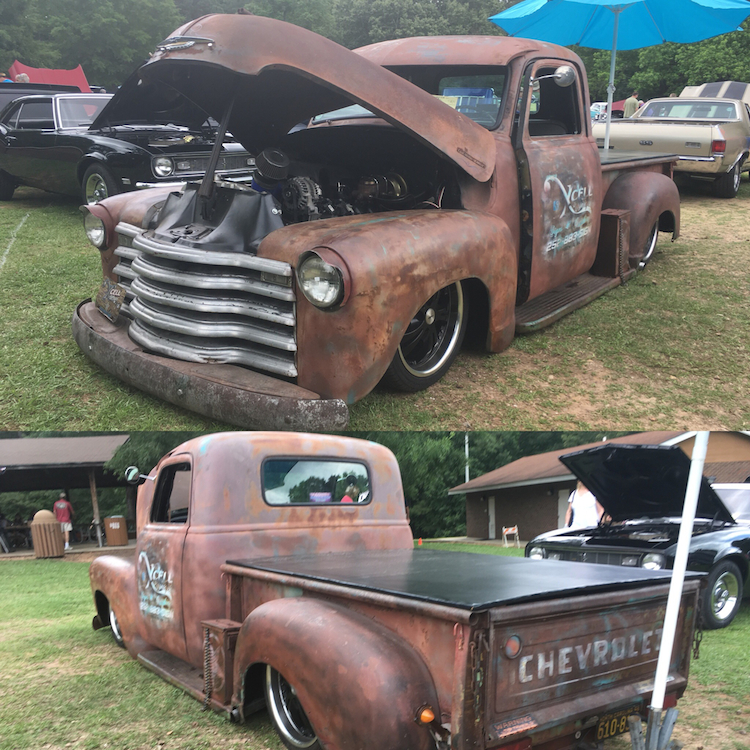 ---
1968 Plymouth GTX
The owner of this 1968 Plymouth GTX told me he purchased this model from the previous owner for just $5,000. He replaced the original engine ($7,000) with one displacing 480 cubic inches, otherwise it is true to the original and showroom clean.
With an estimated value of approximately $21,000, the owner stands to enjoy a handsome profit should he decide to sell it. He plans to keep it and keep driving it about three days per week.
---
---
---
1946 GMC (General Motors Truck)
---
1956 Ford F100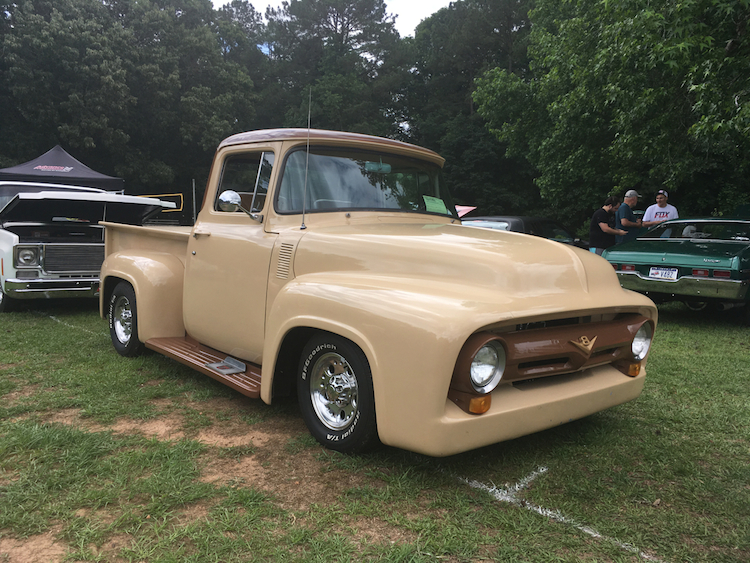 ---
1992 Ford Mustang 5.0
---
---
And the best of the rest. Simply click on any photo and it will enlarge.
[Best_Wordpress_Gallery id="13″ gal_title="2018 Piedmont Classic Chevy Club Car Show"]
---
See Also —How to Get Out of a Car Lease Early
---
Additional Spotlights
Spotlight: 30th Annual Piedmont Classic Chevy Club Car Show
Spotlight: 24th Annual Rod & Custom Show Presented by the Stray Cats
Spotlight: Capital City Cruisers 2018 Car, Truck & Bike Show
Spotlight: American Children's Home Show-off Show
---
Piedmont Classic Chevy Club Car Show (2018) photos copyright Auto Trends Magazine. All rights reserved.
---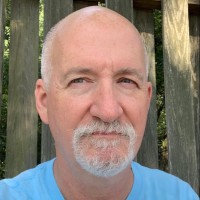 Latest posts by Matthew Keegan
(see all)